First Step Guide - How to start trading at FTMO
Thank you for your interest to become an FTMO Trader. The Free Trial is your first step to becoming our FTMO Funded Trader. In the Free Trial, you can try FTMO's evaluation process free of charge. There, you will have to follow the rules of the real Challenge and you will gain access to a wide range of professional applications and services.
Table of contents:
Registration
Login Credentials
Platform Installation & Login
Start Trading
Registration
After you sign up on our website at www.ftmo.com/en/sign-up/ you can apply for a Free Trial from your Client Area.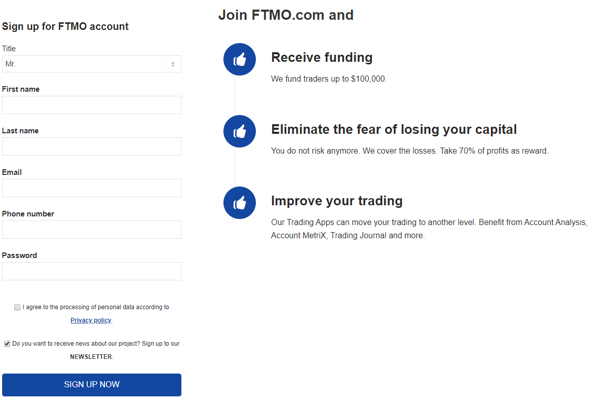 Access your Client Area by going to www.ftmo.com/en/client-area/. You will also receive an email after a successful registration. Sign-up for the Free Trial by clicking on the Free Trial button in your Client Area.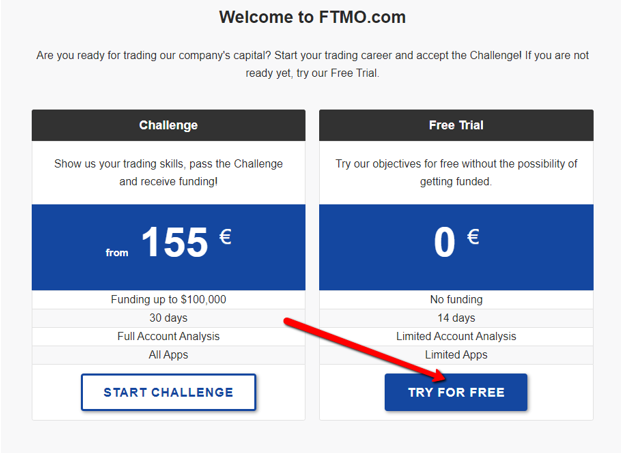 Otherwise, you can also directly apply for the Free Trial here: www.ftmo.com/en/free-trial/.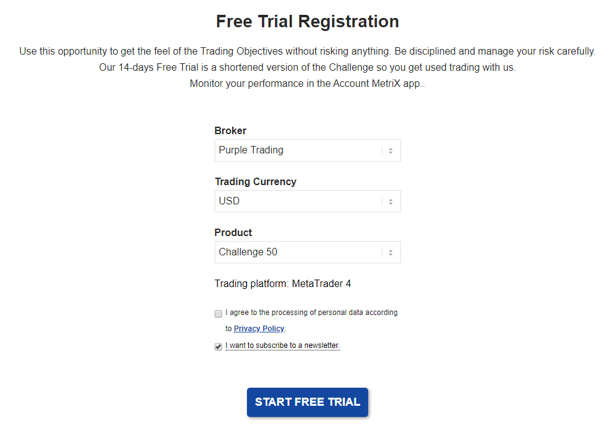 On the Free Trial registration page, you can set up your account. Choose your account currency and your evaluation. We offer two risk types, normal and aggressive (A). Aggressive Challenges allow you to take more risk as the risk limit are higher in the aggressive version. For more details about the rules, please visit: www.ftmo.com/en/trading-objectives/.
After successful registration, you will be redirected to a page with your login credentials to your trading platform. A copy of the login credentials will be sent to your registered email address.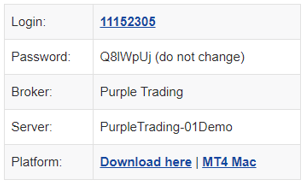 In the next section, we will show you how to download the MetaTrader4 platform both on desktop and mobile devices.
Platform Installation & Login
Desktop
On the Login Credential page for your Free Trial or in the Login Credential email, you will find a download link for the Purple Trading MetaTrader4 Platform.Otherwise, please download the MetaTrader4 Platform through the following link: DOWNLOAD
After downloading the platform, please open the downloaded file to proceed with the install. With the successful install, please open the Purple  MetaTrader4 Platform and enter your Login Credentials to access your trading account.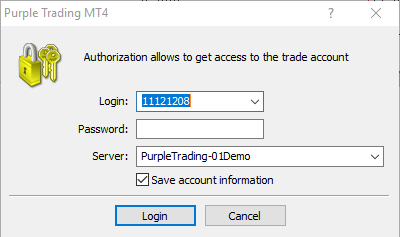 Please make sure that you enter the Login Credentials and server correctly. Try not to copy any blank spaces and avoid confusing similar letters such as capital 'i' and lowercase 'l'. (I/l).
Mobile
If you are trading on a mobile device, simply search MetaTrader4 in Google Play or AppStore.
After you open the mobile trading platform, go to Accounts > Login to Account > choose server > Login Credentials.
Congratulations. Now you are successfully logged in and we can start trading.
Start Trading
Desktop
In your MetaTrader4 platform, you can find the instrument list in the market watch. Please be reminded that the Free Trial at Purple Trading, you are only allowed to trade ECN instruments. You can find the full list of instruments in the instrument list (Ctrl + u).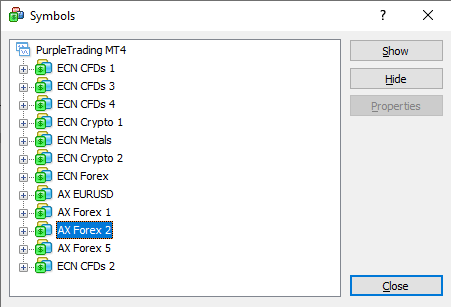 Mobile
To enable all ECN instruments on your mobile platform, please press on the plus-sign in your market watch and select all ECN instruments in the ECN folder.
Now your platform is set up to start trading. For further instructions on how to open a transaction, please visit our academy at: https://ftmo.com/trading-academy/.
Về FTMO
FTMO đã phát triển một quy trình đánh giá gồm 2 bước để tìm kiếm các nhà giao dịch tài năng. Sau khi vượt qua thành công quy trình này bạn sẽ được quản lý một Tài khoản FTMO với số vốn tài trợ lên tới $200.000. Quy trình đánh giá đó hoạt động như thế nào?