Frequently Asked Questions
Can I trade news?
In the FTMO Challenge and Verification, you can trade during news without any restrictions.
After you pass the Evaluation Process (consisting of the FTMO Challenge + Verification), and unless your account type is Swing, you should be careful when trading during news releases.
Following is the trade restriction table for our FTMO Traders with specific types of reports and instruments. Only our FTMO Traders having the FTMO Account or FTMO Account Aggressive account types are NOT allowed to execute any new trade or close an existing trade on the targeted (as per the table) instrument in the window of 2 minutes before until 2 minutes after the release of the below news announcements. To clarify, we define executing a trade as opening or closing either a pending order (including stop loss or a take profit) or market execution. You are allowed to hold your trade(s) on the targeted instrument(s) that were opened more than 2 minutes before the restricted news event. Be reminded that if your Stop Loss or Take Profit is activated/filled during the restricted time window of 2 minutes before until 2 minutes after, it may be taken as a violation of the FTMO Account Agreement.
Other non-targeted instruments can be traded normally. E.g. You can trade EURGBP or AUDNZD during the US – NFP release. However, you should not open or close USDJPY or GBPUSD during the window of 2 minutes before to 2 minutes after the NFP release.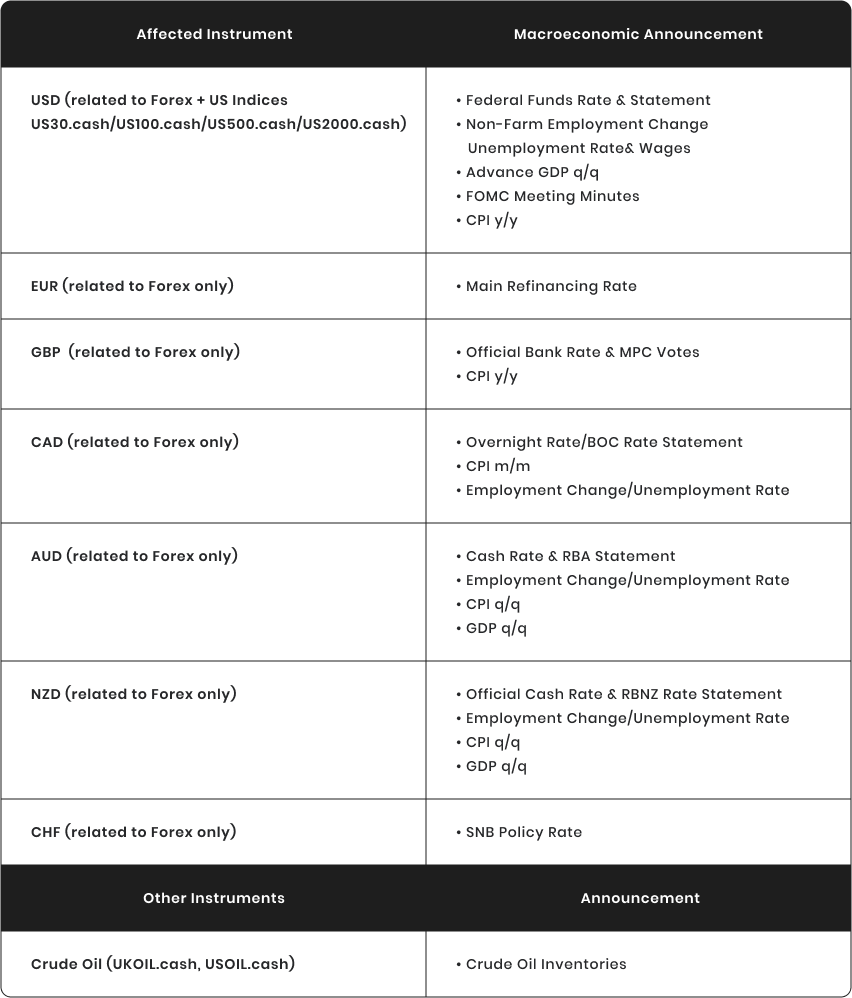 The news releases schedule can also be monitored in our Economic Calendar, where these restricted events are marked by a red background fill:

Please note again that the above restrictions do not apply to FTMO Challenge or Verification accounts. Also, these restrictions don't apply to FTMO Traders having the account type as FTMO Account Swing. Unlike FTMO Account or FTMO Account Aggressive, the FTMO Account Swing does not have restrictions for news trading nor holding trades over the weekend.
For news announcements affecting USD, the restriction applies for Forex pairs with USD currency involved, just as for any of the offered Indices, namely US30.cash, US100.cash, US500.cash, US2000.cash.