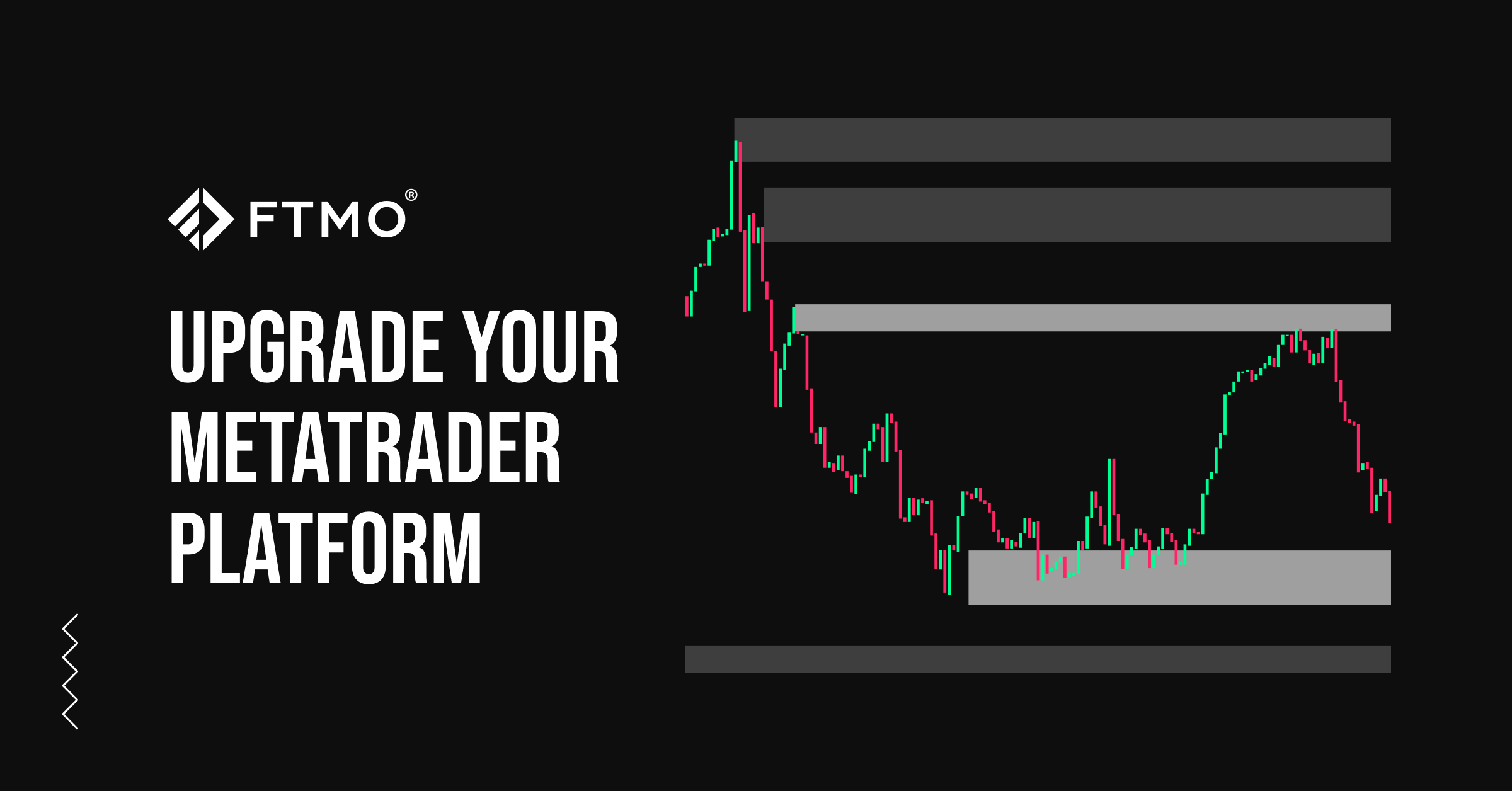 Trading Tips
Upgrade your MetaTrader platform: Top 7 indicators and addons
MetaTrader platforms are very popular among traders due to its ease of use and many analytical tools, but there are still quite a number of interesting features that can be added to make your trading more efficient. Thanks to its open nature, the addition of various features and tools is fairy simple. Check our pick of top 7 indicators and addons in our article.
In this article, we will show you some interesting indicators and add-ons that can make your work in MetaTrader much easier. The big advantage of MetaTrader is its wide user base and simple MQL programming language, which allows you to create new indicators and interesting functions that will complement the already quite wide functionality of the application (you can find a tutorial on programming in MQL here). This allows traders to easily download and install a number of enhancements that will make their trading easier and more efficient, without having to invest money in expensive professional applications. Most of the improvements listed here are available for both MetaTrader 4 and MetaTrader 5.

Volume Profile Indicator
It perhaps goes without saying that trading volumes play an important role for many traders when deciding on entries and exits. With Forex as a decentralised market, the volumes are a little more problematic and depend a lot on the broker or liquidity provider, but trading volumes can be used here too. The approach or the Volume Profile indicator, which is often available in professional applications, is also based on them, but unfortunately is not often found in MetaTrader 4.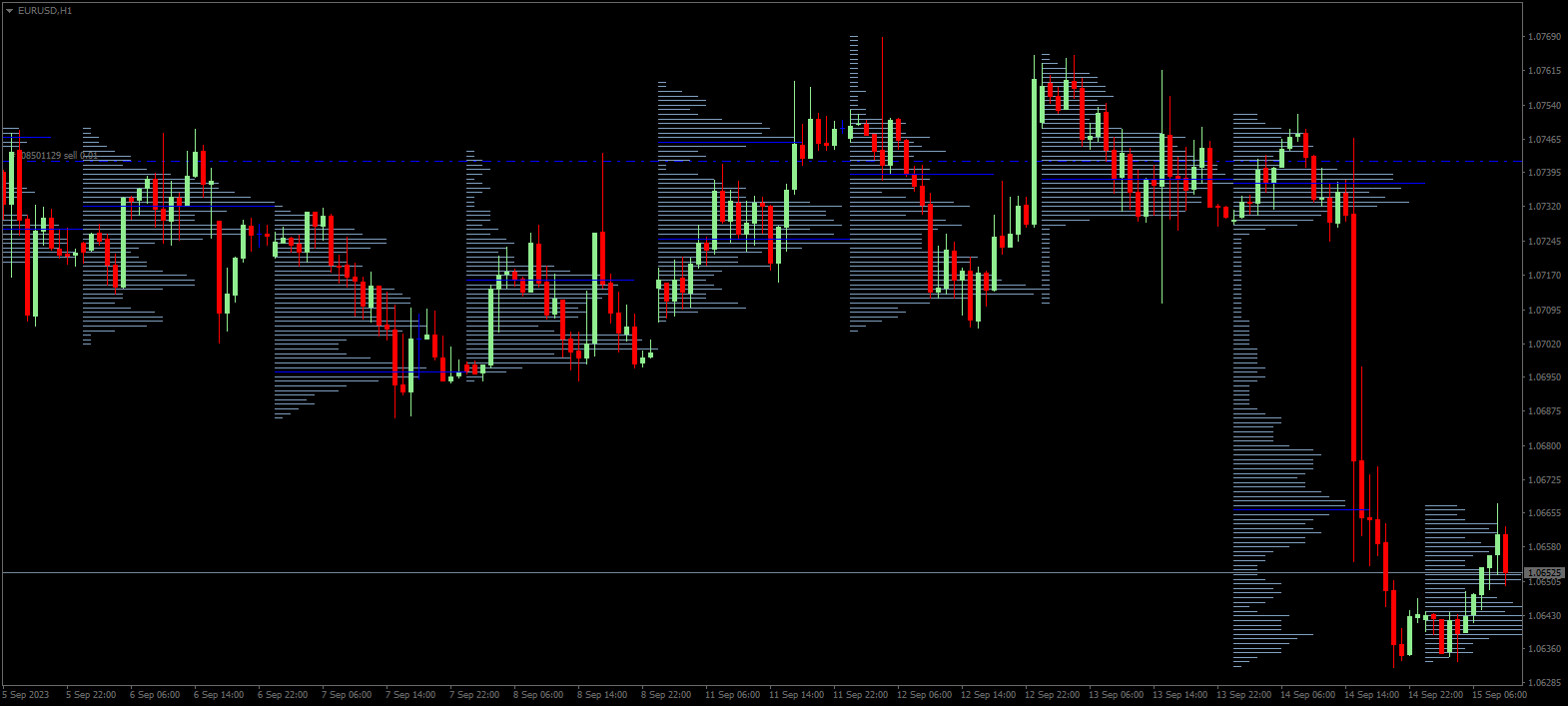 The Volume Profile indicator provides traders with information about the price levels at which high or low trading volumes were executed, as well as the point of interest, or point of control (POC). The latter is considered an important support or resistance level because trading volumes accumulate here and trend reversals often occur here.
Supply and Demand Zones Indicator
Another interesting improvement is the indicator plotting the demand and supply zones. These are levels that every Forex trader looking to make long-term profits should learn to recognize. Since these zones usually coincide with support and resistance levels, they can also be used to identify them.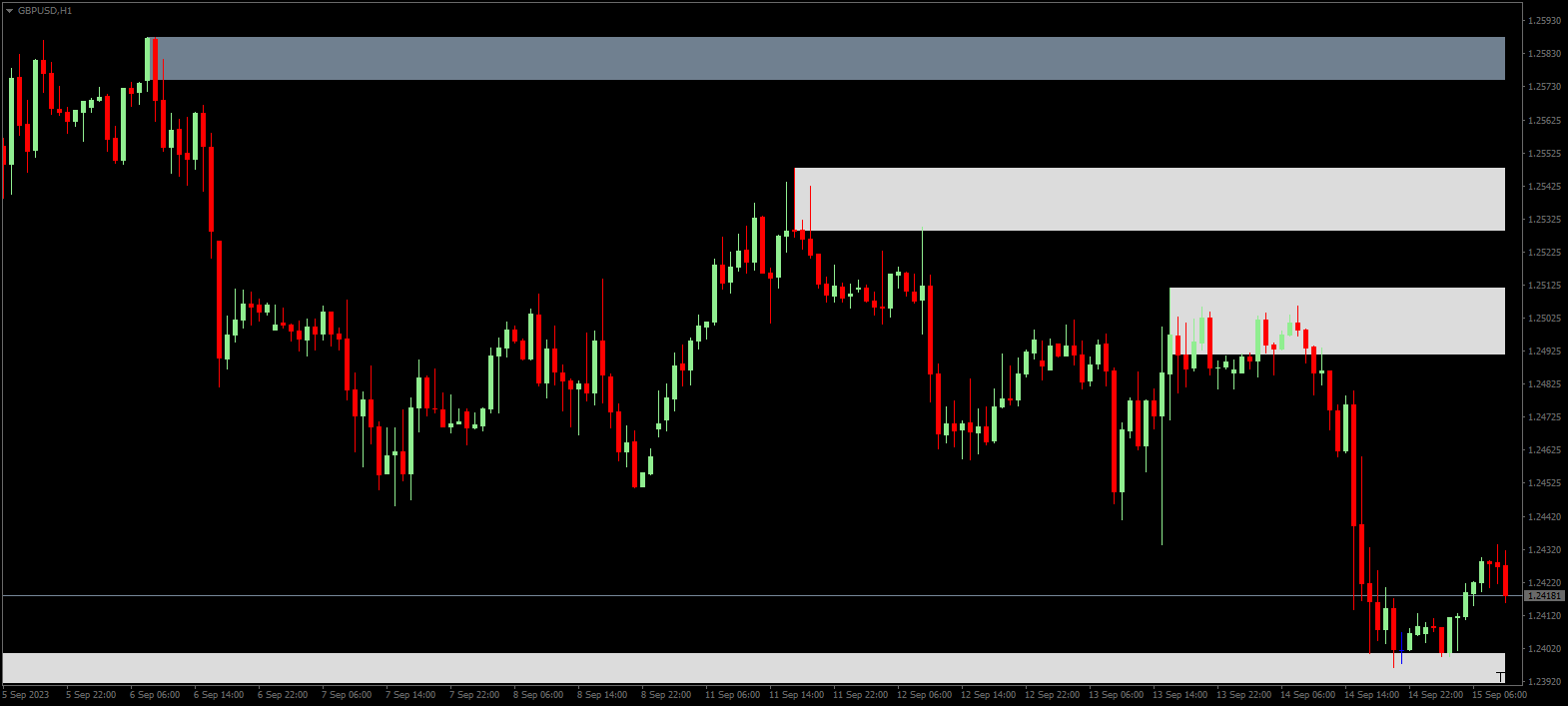 The indicator works on all timeframes and shows supply and demand levels that occurred a long time ago, so the trader does not have to keep track of these levels and laboriously re-plot them on the chart.

Lot by Risk
At first glance, this is a very simple yet very useful gadget, especially for traders who want to follow strict risk management rules and don't want to delay entering their trades.

Simply enter the Stop Loss or Take Profit value, specify the percentage the trader wants to risk, and the indicator will calculate the lot size for the trade that corresponds to that percentage of the account balance. A predefined entry price (Stop or Limit) can also be entered, but if no price is entered, the trade will be executed at the market price.
Candle Patterns Indicator
For those who want to use candle formations in their trading, there is the Candle Patterns Indicator. The most famous candlestick formations are plotted directly on the chart and you can also see if it is a long or short signal. It can be set to show only strong signals, only reversal patterns or only continuation patterns. Sometimes there are really many patterns on the chart and it is useful to filter them. For those who want to learn how to recognize these formations, this tool can be a good learning tool.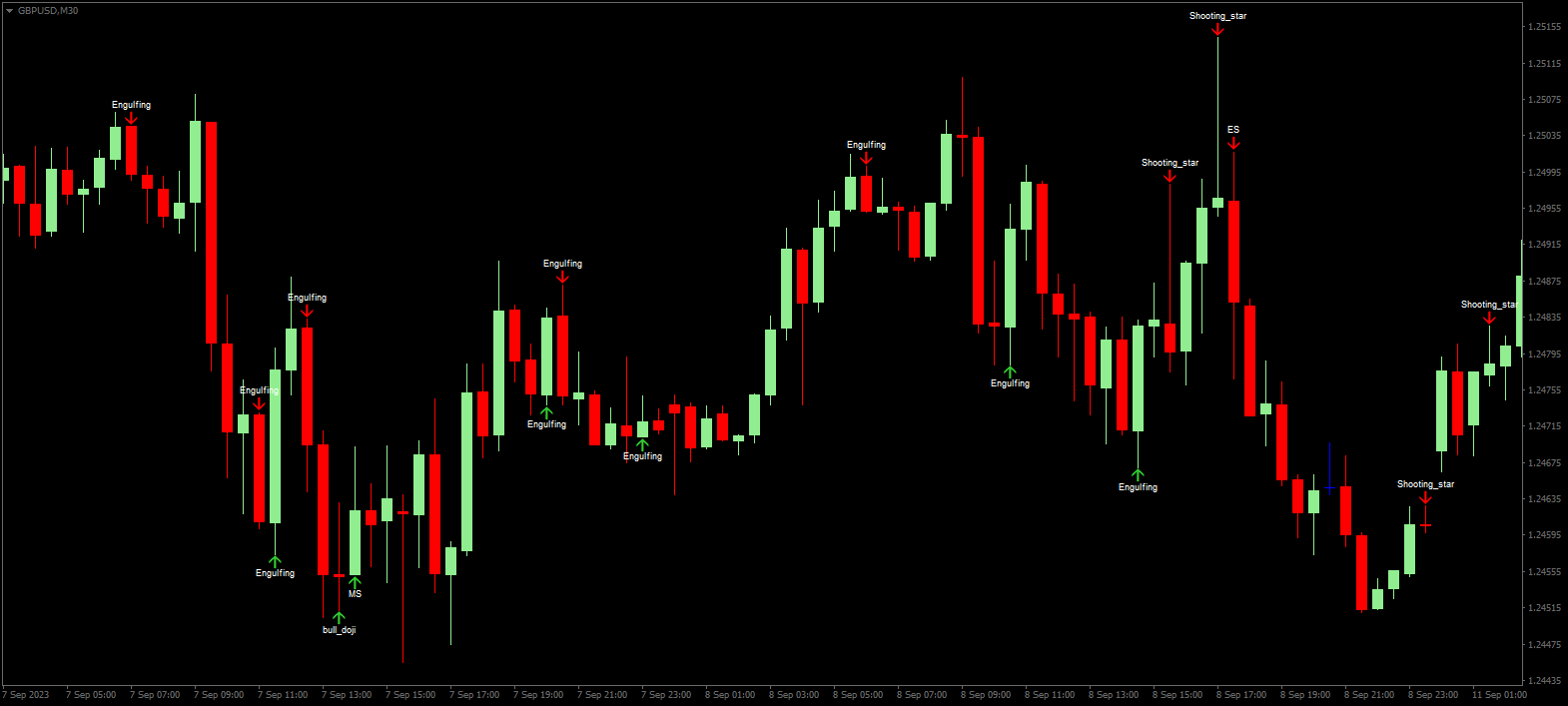 Position Close Button
This simple add-on is especially suitable for traders who open multiple positions and need to close them in the shortest amount of time. You can also set whether to close all positions or only buy or sell positions, and you can also only close pending orders.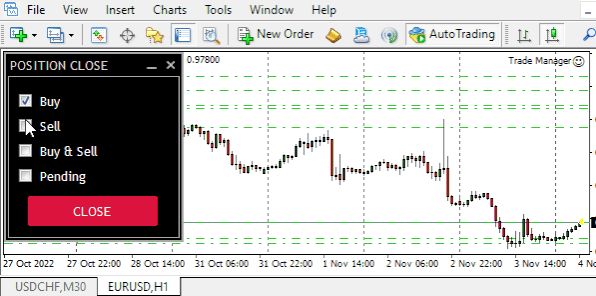 For those who want to have even more control over their positions, an advanced version is available that offers significantly more options when working with open positions. As the author himself states, it is particularly suitable for traders who trade for prop trading firms and want to control daily loss limits even with a larger number of open positions.
Download the basic version here
Advanced version can be downloaded here

Pivot Points. All-In-One
Pivot points are also one of the indicators that are missing from the basic settings of the MetaTrader application, but they are relatively easy to find and download on the Internet. There are a number of different add-ons, but this particular one offers the ability to choose up to four different versions of Pivot Points.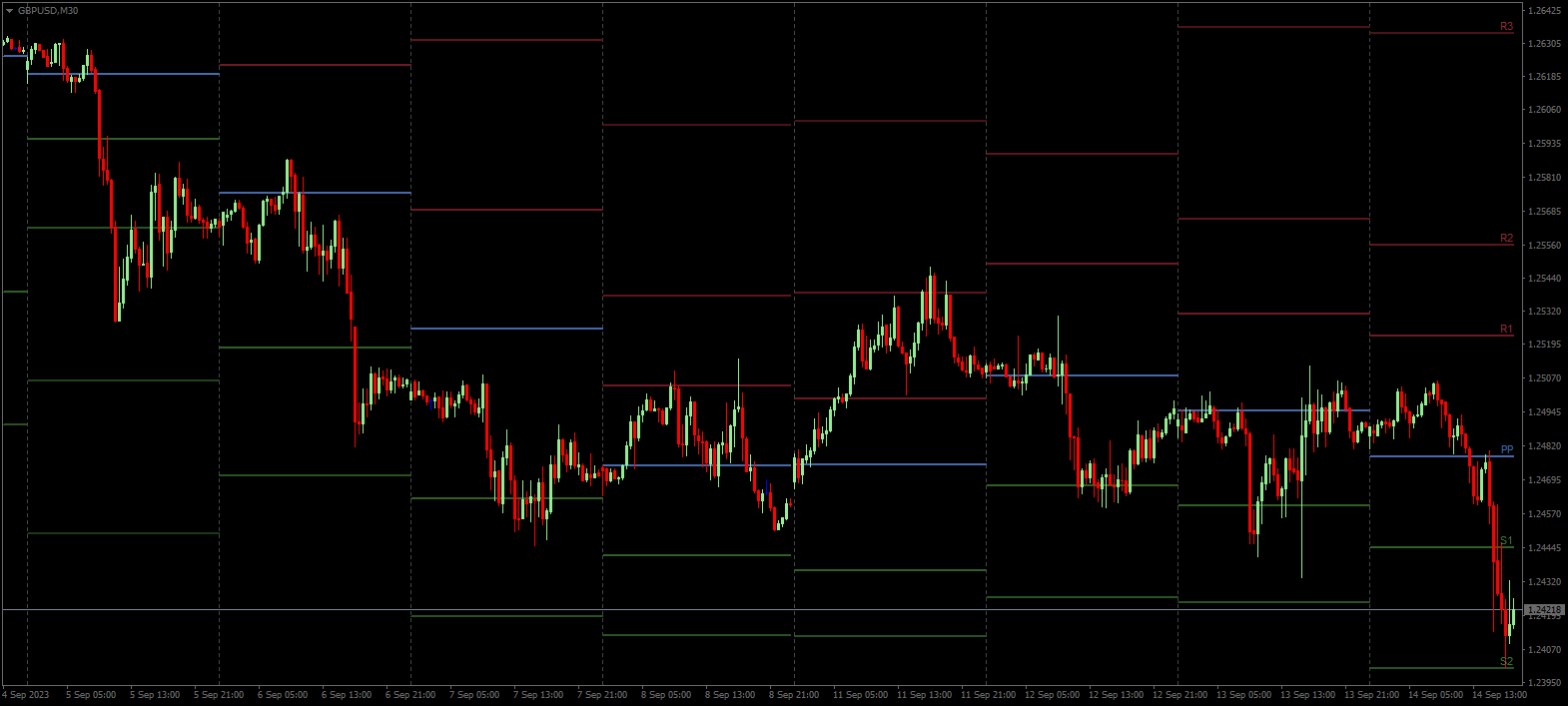 Traders can choose between the classic version of Pivot Points, Camarilla levels (suitable for short-term traders as the levels are closer to the current price), Woodie (places more emphasis on the closing price when calculating the base level) and Fibonacci (which uses the Fibonacci sequence for the calculation).
IBFX Undock Chart
We've already written about the last tweak once, but since it's an interesting addition to the app and still works, we'll include it on this list as well. It's a simple script that allows the trader to separate the chart window from the application, which is not normally possible.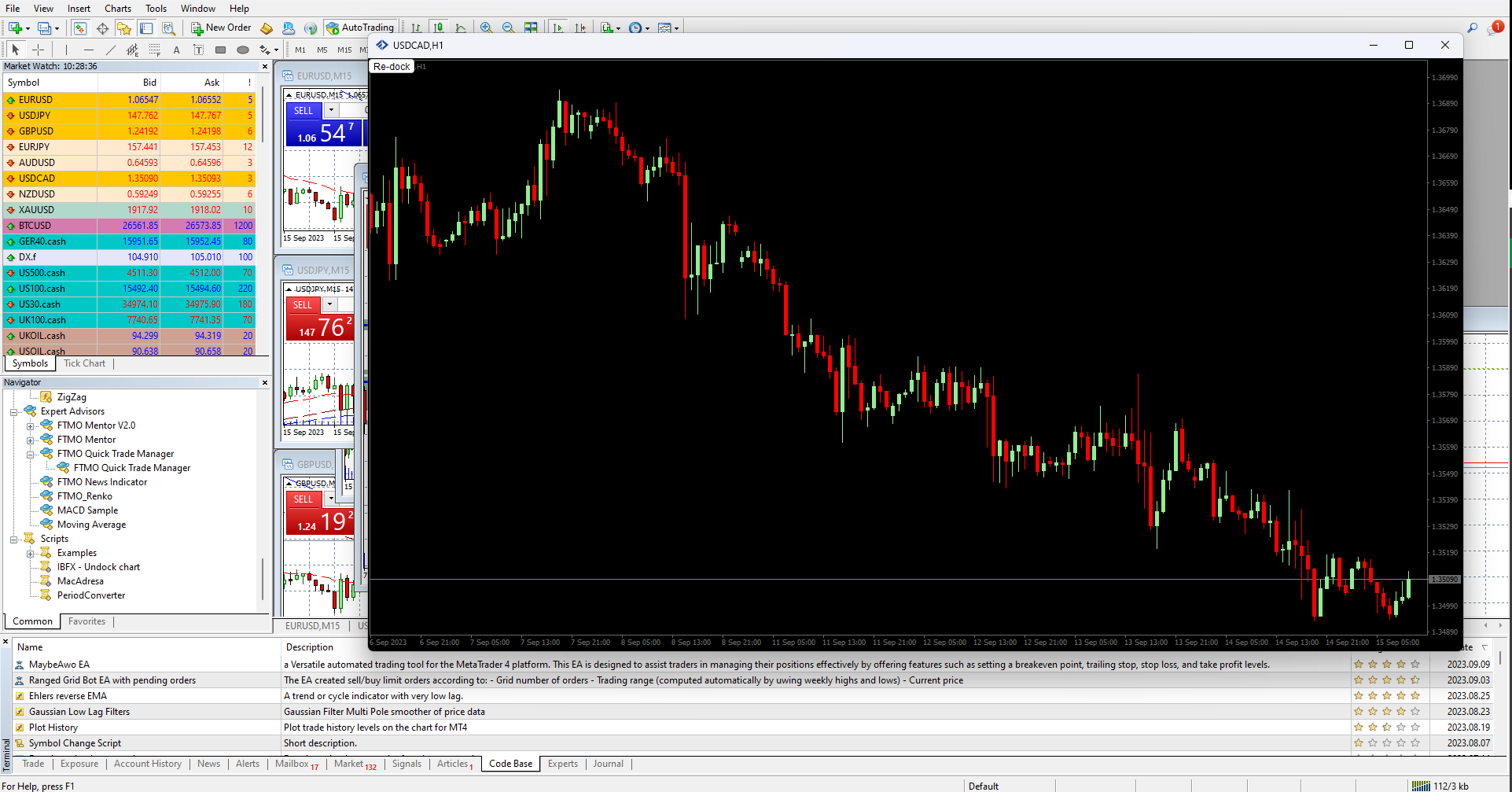 The major benefit of this addition is the ability to track the charts on multiple monitors much more effectively. Once the IBFX Undock Chart script is loaded into the chart, the chart window is separated from the MetaTrader window and can be moved to another screen. It is then possible to return to the initial state with just one click.
About FTMO
FTMO developed a 2-step Evaluation Process to find trading talents. Upon successful completion you can get an FTMO Account with a balance of up to 200,000 USD. How does it work?.