Choosing a trading platform is almost as important as choosing a broker or liquidity provider. It is a working tool that must be clear enough, but at the same time offer a number of necessary features and tools that make the trader's job easier.' How to choose the best platform for you? We will find out in this article.
When selecting a platform, the trader should not focus only on marketing-interesting parameters. The number of tools or indicators available may sound appealing, but for someone who practices classic price action, it may not be necessary. It is similar to choosing a broker, where the number of instruments offered may not say represent the overall quality of its services.
MetaTrader 4 – the simplest and most widely used
This platform has been available to traders and brokerage firms since 2005, when, after several attempts, Metaquotes released version 4.
The main reason why the platform is so popular and widespread among traders is its simplicity and speed. It is an affordable and stable solution that traders and brokerages can easily customize to suit their needs, and at a time when forex trading among retail traders was gaining popularity, this program was offered by most retail brokers as the only solution. With its relatively intuitive controls and a sufficient number of indicators and other tools for its time, MT4 became the standard.
The expanded community of traders and the possibility to program your own add-ons, indicators, and algorithms in MQL4 leads to the fact that the popularity of the program has not declined significantly even after more than 15 years. If something is missing in the basic setup (and not even the brokerage firm provides it as a bonus), it is no problem to find it on the internet, and the vast majority of add-ons are free. Thus, many traders have not even tried another platform to this day because they don't really need another alternative.
In the basic setup, the trader has one window with a list of selected investment instruments and another with available indicators, etc., and these windows can be moved around the side of the chart or deleted. All other information about currency pairs and other instruments is available after a few mouse clicks.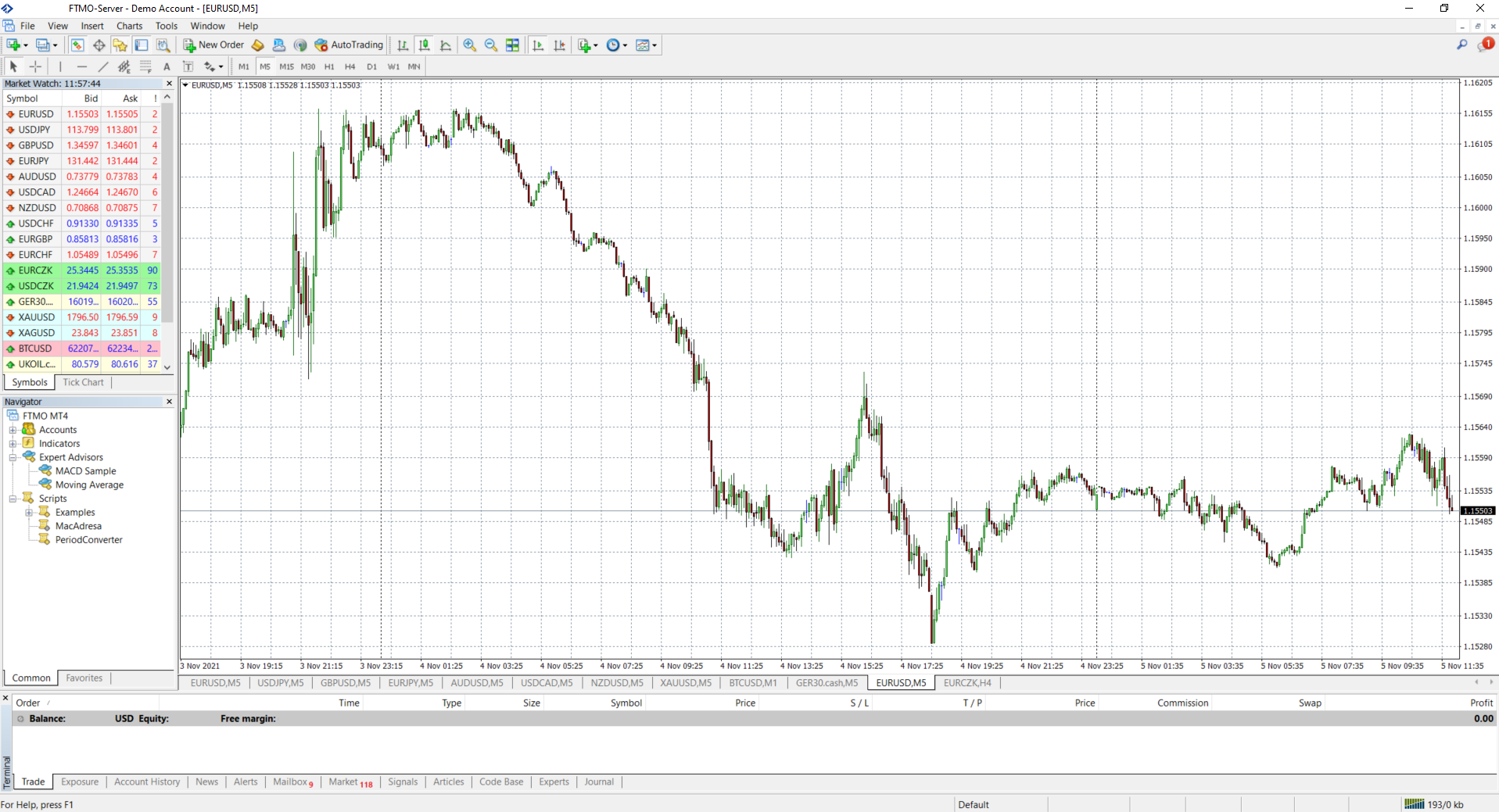 In the upper part above the chart, the trader has the most used tools, as well as indicators. Market orders can be entered with one click, limit orders need to be clicked with the mouse or via keyboard shortcuts and cannot be entered with automatic SL and TP.
The emphasis on speed and simplicity is ultimately behind the fact that today this platform is already quite outdated and the authors of the program have been saying for several years that they will stop supporting this version. However, new updates are still coming out regularly and the program is still very popular despite its obviously outdated look and some missing features.
MetaTrader 5 – still an overlooked alternative
The MetaTrader 5 platform from the same company appeared on the market in the second half of 2010 but never reached the popularity of MetaTrader 4. Most traders consider it to be an upgrade of MetaTrader 4, but it is a different platform that has only the same look and feels as MT4. Once again, MetaQuotes has bet on functionality, stability, and speed rather than upgrading the look.
MetaTrader 5 brings improvements over MT4 in virtually all areas. The programming language has changed, the new version of MQL5 is based on object-oriented programming, based on the C++ language, which gives programmers more options when creating algorithms and indicators, as well as when testing them. For traders who focus on developing and using automated trading systems, this means faster and more efficient testing of their strategies by using a multithreaded approach and the ability to test multiple currencies at once.
Although the popularity of MT4 is still high, thanks to the advantages of MQL5, there are now a large number of tools suitable for the MT5 platform on the web. The latter focuses more on social trading and copy trades, while, unlike MT4, it allows you to chat with other traders through the platform.
However, the main difference of MT5 compared to MT4 is its focus on multi-asset trading. MT4 is primarily designed for forex and CFD trading only, but MT5 also allows you to connect to centralized markets such as commodity and stock exchanges and therefore allows you to trade directly in stocks, commodities, etc.
Traders have multiple options for filling orders, i.e., in addition, to Fill or kill (filled only in the specified volume, or canceled) also Immediate or cancel (available volume filled, rest canceled) or Return (partial fill of order, rest not canceled). For pending orders, Stop Limit orders are also available (only Stop and Limit orders can be placed in MT4).
In addition, traders have up to 21 timeframes available in MT5 compared to the classic nine timeframes in MT4. MT5 also offers traders 82 analytical tools (including 38 indicators), compared to "only" 61 (including 30 indicators) in MT4. In addition, MT5 has the ability to display the economic calendar or market depth directly on the chart and has the ability to display an unlimited number of charts (in MT4 it is "only" 128 charts).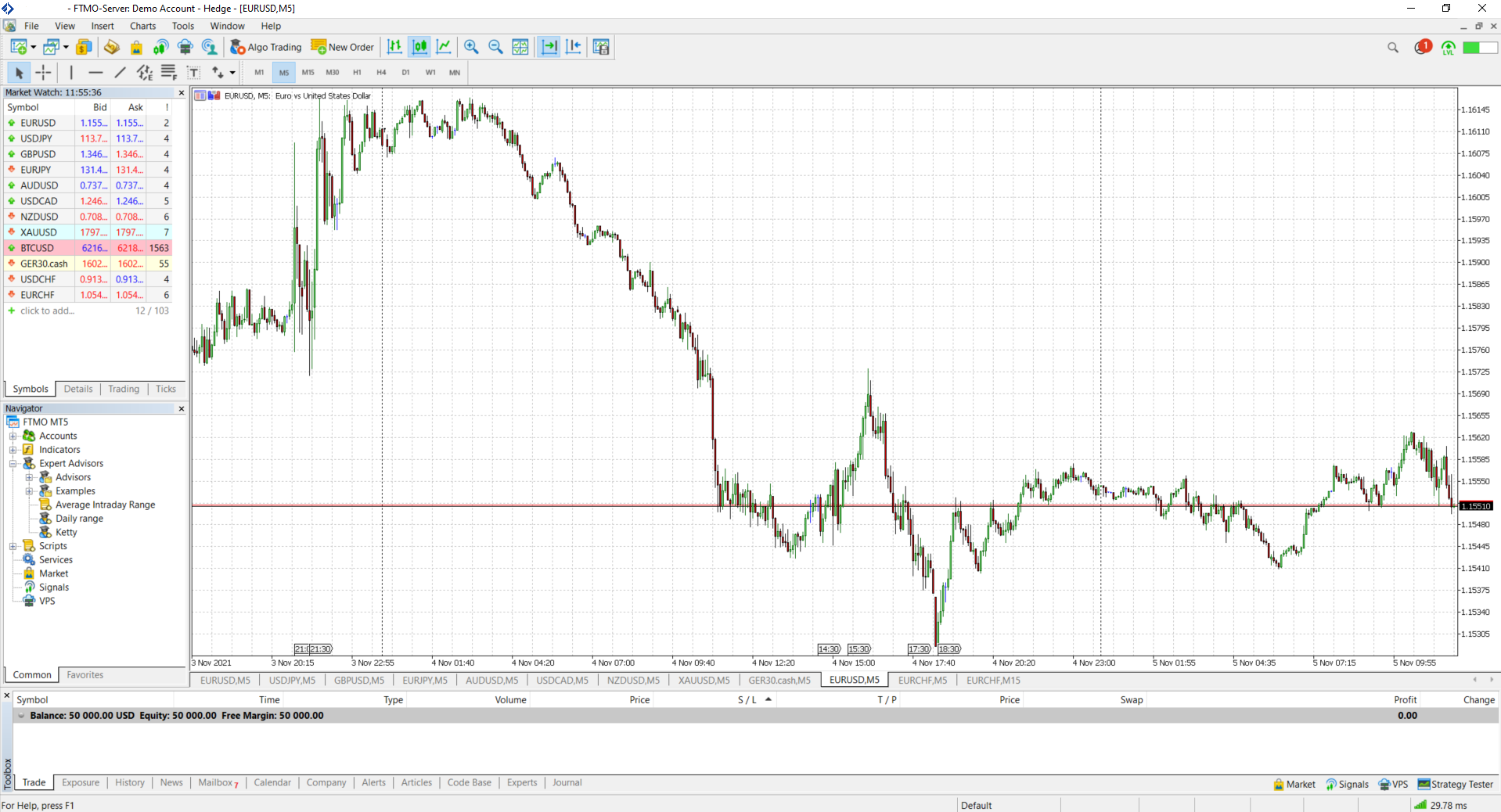 The problem with MT5 and one of the reasons for its less popularity and scalability was its focus on the US markets, or rather adapting to the local rule of no hedging and the need to close positions in a FIFO (first in, first out) manner. In short, according to the US regulation, a trader cannot have two opposite positions open on the same pair, so opening a long position automatically closes a short position (if the trader has one open) and vice versa. Traders must also close positions in the order in which they opened them, i.e. when two long positions are opened, the one opened first must be closed first. In 2016, MetaQuotes did remove this US market-oriented restriction, but its uptake among traders is still growing relatively slowly.
In any case, it can be said that this platform is probably not suitable for traders who test and use automated trading systems and are able to use its potential. For those who do not use many indicators and are after the simplest possible approach, MT4 will still suffice.
cTrader – a modern platform with great potential
Not long after the MetaTrader 5 platform was launched, cTrader appeared on the market. It brings even more configuration options and tools to help traders while offering a much more modern look compared to MetaTrader.
The diametrically different working environment may seem confusing to traders used to MetaTrader, but thanks to the wide range of settings and a number of new features, traders will quickly get used to this platform. Also, cTrader includes many tools already in the basic platform, whereas in MetaTrader the trader has to download them from the internet as third-party solutions.
In the basic setup, the trader sees a single window with a list of investment instruments on one side, which can be completely separated from the platform window. In the second window on the opposite side of the chart, the trader has all the information about the investment instrument whose chart is active (this can be hidden, but not separated). There is the possibility to enter an order including limit orders, pre-set SL and TP, or also maximum slippage (all this is possible with one click from the chart). There is information about the investment instrument, market depth, a calendar related to the currencies in the currency pair, or current news, etc.
Traders in cTrader have even more timeframes available to them than in MT5 (26), and they can choose which ones are available with one click. You can also choose from tick charts, range charts, or Renko charts. Each instrument's chart window (including the toolbar and indicators) can be separated from the platform to make better use of multiple monitors, for example, and even from a separate chart, orders can be entered and edited.
The bottom panel below the chart is similar to MetaTrader, but the history of cTrader, for example, does not show unexecuted orders. Another interesting feature is the ability to set advanced TP, where the position is closed in parts, or SL, where the SL can be moved to BE. However, similar to the trailing stop, these advanced limit orders only work if the platform is open and connected to the internet.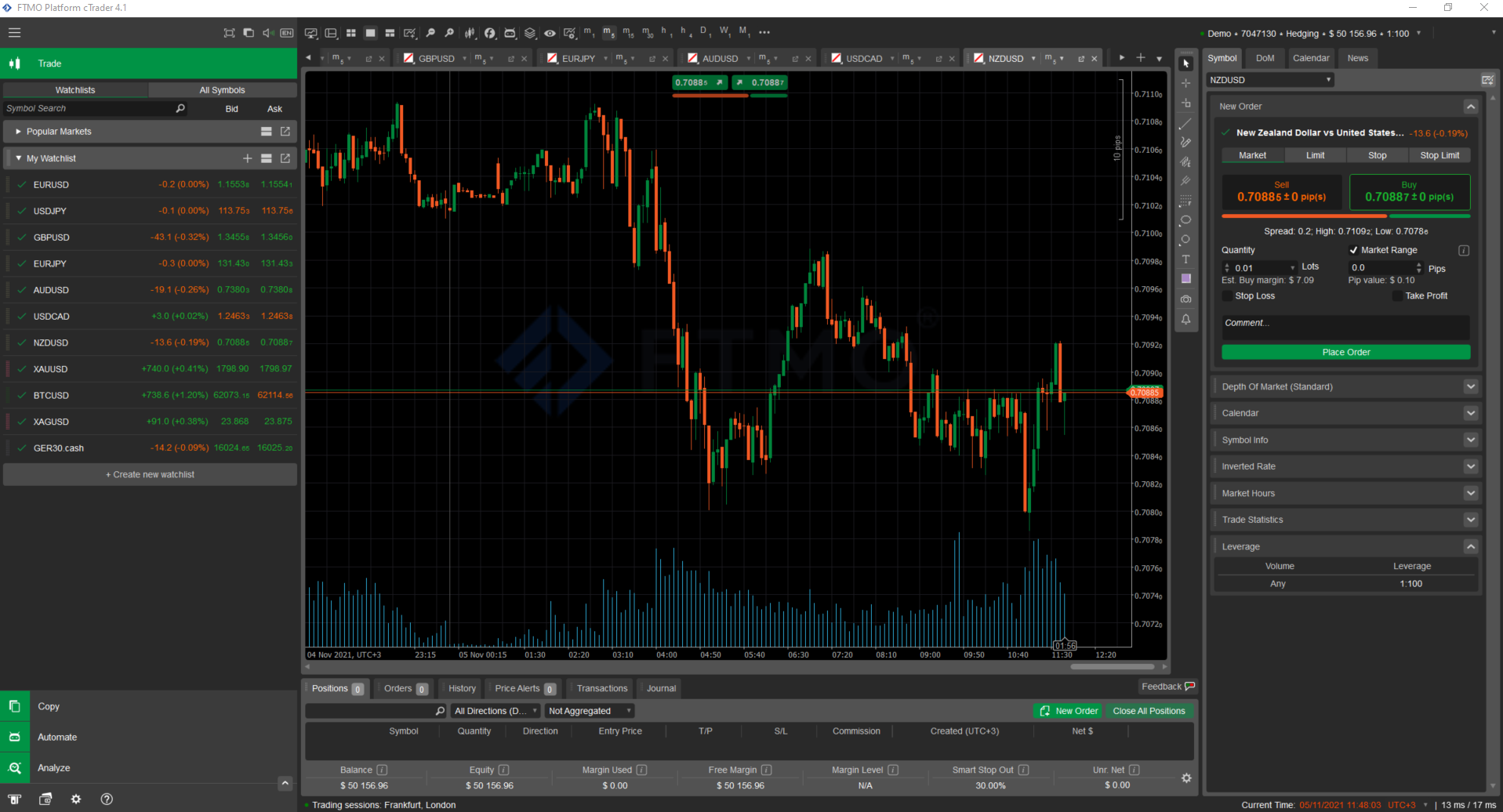 In cTrader, traders can also program and download add-ons to the platform. Until recently, traders were able to write and test programs or indicators in the cAlgo application. Since version 3.0, the aAlgo application has become part of the cTrader platform and has been renamed cTrader Automate (available in the left panel). However, since cAlgo is based on the C++ programming language, it is also possible to use MS Visual Studio, which could be an advantage for many traders proficient in programming.
Traders who have been trading on MetaTrader for a long time may find the transition to cTrader a bit problematic, but they will probably get used to it very soon. For those who have not tried MetaTrader before, cTrader may even be a better alternative.
Of course, there are many other platforms and solutions available on the market, which brokerage companies themselves offer to their clients, or clients have to pay a lot of money to use them. However, the three platforms that FTMO offers to its clients certainly provide a robust and reliable enough solution for most traders who are serious about forex.
https://ftmo.com/wp-content/uploads/2022/01/ftmo_logo.svg
0
0
Daniel Kuchta
https://ftmo.com/wp-content/uploads/2022/01/ftmo_logo.svg
Daniel Kuchta
2021-11-05 08:43:34
2022-01-11 17:03:39
Which trading platform is the best for you?