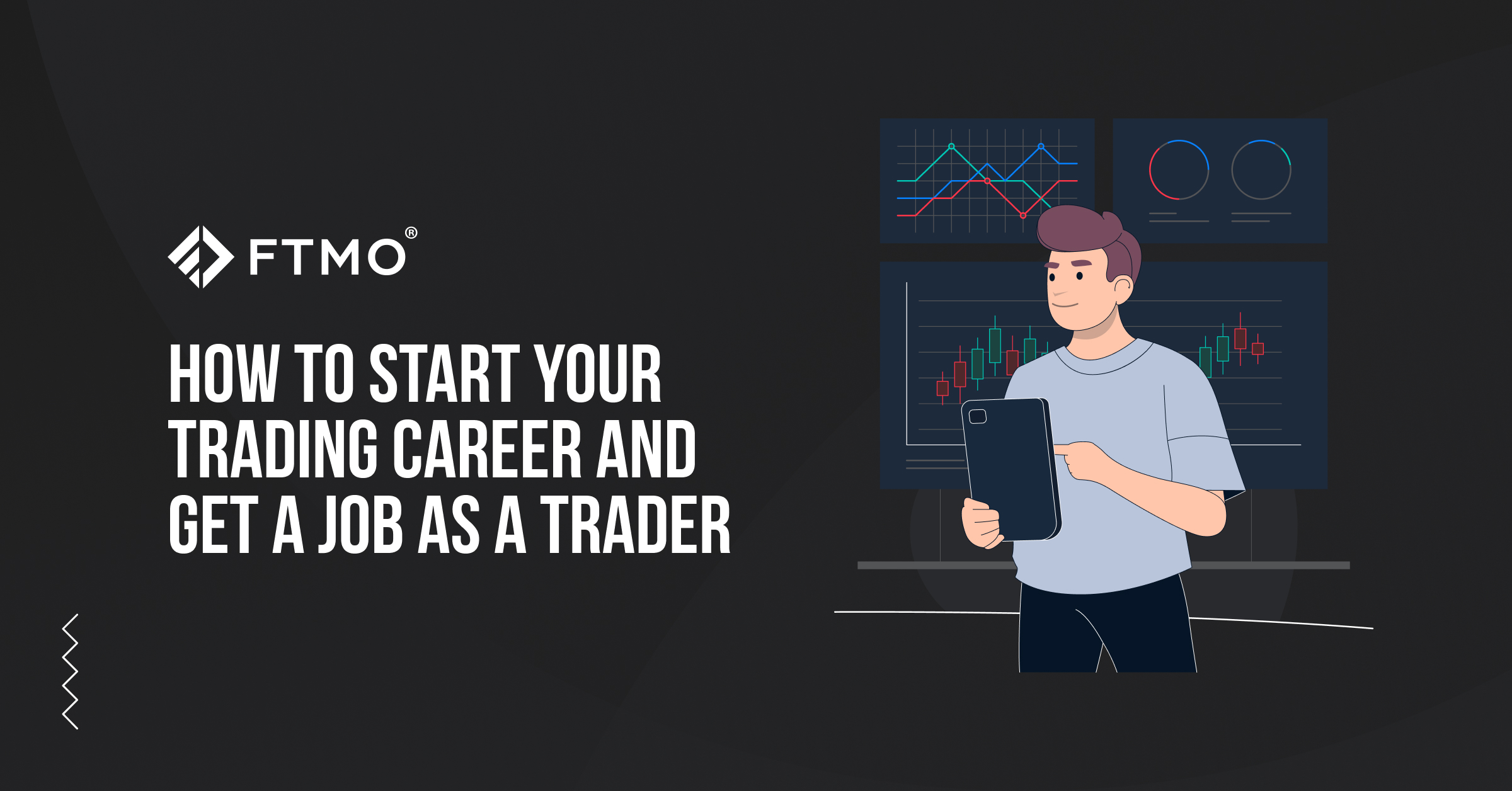 Trading Tips
How to start your trading career and get a job as a trader
Being a professional forex, crypto, stock or commodity trader for a hedge fund is one of the most aspirated goals to achieve in the trading world. With the advancement in technology (smartphones, tablets), now anyone can potentially turn this hobby into a viable professional career. Is it a path you see yourself on? In this article, we will show you the way!
How to start your trading career and get a job as a trader
It's the same as starting any new business or brand, jumping in without preparation is asking for disappointment. We realized there are a lot of things that every trader MUST have in place if they want to turn a side hustle/hobby into a trading career.
So the main question is, how do you start a trading career from nothing?
The best scenario for starting out as a professional trader is a nice long term track record with a big capital size. You can find investors or trading companies/hedge funds to offer them a trading partnership for some capital gain percentages in return. However, we know that it is not easy to prepare for a long-term track record, so if you don't have that kind of track record, what can you do? 
The first thing that you can do is create some kind of track record to show your trading progress and strategy. People involved in professional trading will understand that it's not easy to prepare a nice track record with big capital, so it's okay if it's an account with a few thousand pounds or a cent account with just a few hundred bucks. All that matters is that it is a real account that shows that your trading strategy is robust, without significant swings in equity and that you can control your emotions while you trade. 
What the companies/people would like to see is that you have a good work ethic, that you have a potential strategy or a strategy that could be improved. An important aspect also is one's passion for the market. These companies will understand that you are coming to them because you don't have the funded trading account to trade with. Keep in mind that there is no need for excuses and this should not deter you.
All you have to do is go to the company and say "I don't have the capital, however, I have traded on accounts with a small capital and here is the track record of my progress."
This is why the best thing to do is to prepare any kind of track record to show your performance and strategy to your future investors or partners. 
Based on the track record the investors will see what percentage of return they can expect and your track record describing what your strategy is. People are not looking for a big percentage of return, they are looking for a long risk strategy that could give them some kind of return in the long run. 
However, if you do not have a track record rather you have a demo, that is a different story. This option is not the best and you probably won't get anywhere with a demo, this is because investors will be concerned with why you didn't at least try to invest a small amount of money as most of the brokers use deposits that are lower than a thousand pounds. Therefore, using a demo account is not the best, instead prepare a small account and try to build a nice track record on it. 
Another thing these companies don't want to see is a ''rich quick'' scheme. They want to see that you enjoy the market and the challenges it brings, you enjoy thinking differently and outside the box, you have a passion for the market and you will do anything to progress yourself.
BUT
We all know that building a long track record takes time and a lot of work so there are also Proprietary Trading Firms just like FTMO.
More often traders prefer to choose FTMO over working with hedge funds. Why? Mostly because we do not require any track record and you can work from anywhere in the world. Another benefit is that the initial balance you can get with FTMO is much higher.
Our traders don't have any required hours of work that need to be put in. Trading with FTMO, traders don't have any salary, but our traders will be rewarded with the percentage of the profit they make in the form of a Profit Split. FTMO provides a solution for traders who can manage larger account size while respecting the importance of risk management and self-discipline. 
There are a lot of benefits to trade for a proprietary trading firm such as: working remotely, access to a meaningful account balance size, performance monitoring, exclusive support, trading & charting platform, performance coach sessions and much more. 
At FTMO, we accept traders without any previous qualification required. We do require our traders to go through our Evaluation Process in order to prove that they have a risk management strategy and so their capabilities can be evaluated before being entrusted with trading account management. 
The salary at FTMO is based on your performance, it is up to 90% payout of the profit you make per month on the FTMO Account, after having successfully completed the Evaluation Process.
Let's have a look at the main difference between the proprietary trading firm and the hedge fund, so you can make the best decision suitable for you.   
Proprietary trading firms differentiate from hedge funds in many ways:
Hedge funds are looking for a low percentage of the profits (20% per year) whereas proprietary trading firms can make a much higher percentage of profit.

Hedge funds capital base is thousands of millions of dollars, which means that it's not possible to make extremely high returns per year (1,000%+).

Hedge funds operate in big markets while proprietary trading firms can operate in both big and small markets.

Hedge funds strategies are also quite different because they speculate on security prices going up or down whereas proprietary trading firms can trade on more liquid markets daily.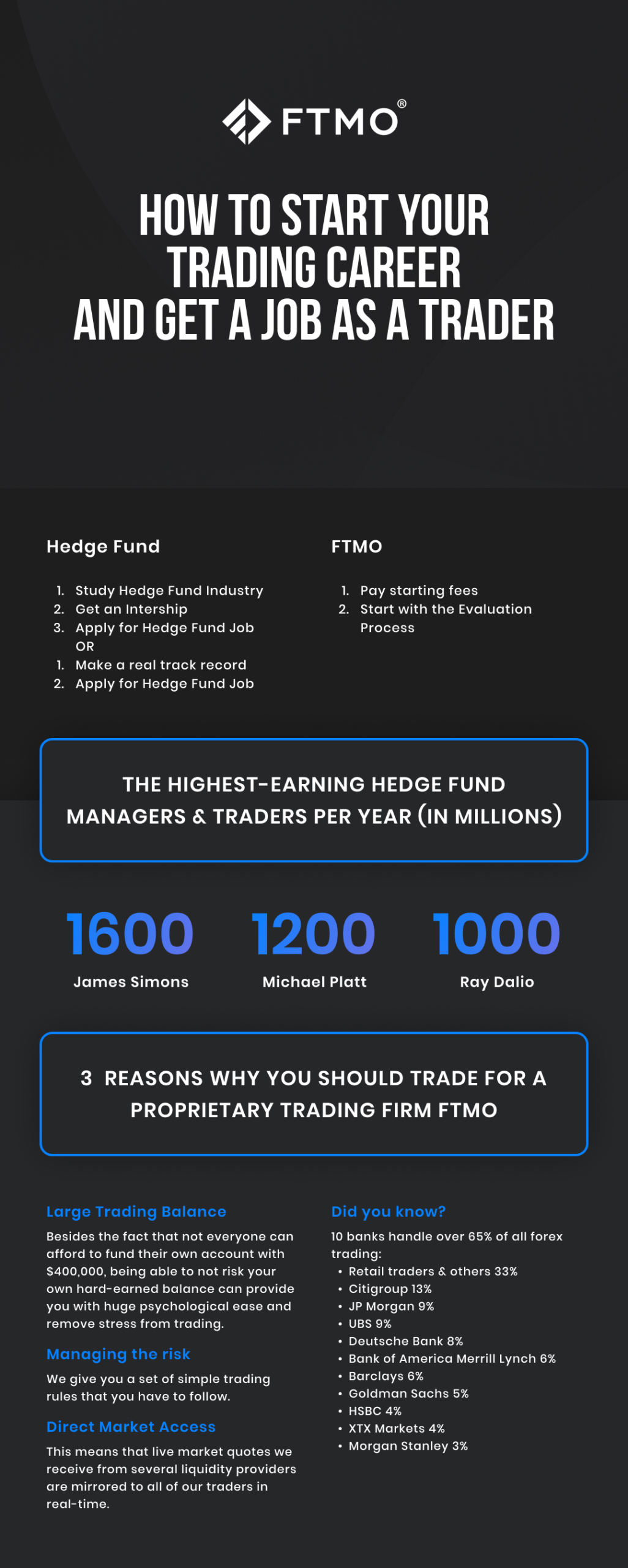 About FTMO
FTMO developed a 2-step Evaluation Process to find trading talents. Upon successful completion you can get an FTMO Account with a balance of up to 200,000 USD. How does it work?.