Discipline is the absolute basis in trading which is why you need to continually reinforce it. Today, we have prepared 4 exercises for you. The aim of these exercises is not to make money and trade the best trading opportunities. Our goal will be a strong compliance with the rules set by us.
Fixed trade result
Set clear output of your trading. For example, a fixed money management with a 1:1 output. Profit target 20 pips, stop loss 20 pips. Take positions according to your trading system, but try never to break the rules of money management. After a week of trading, assess your discipline. Does the trades statement contain exact list of results only + 20 and-20? Then that is great and you have succeeded in the test discipline. If you find other values in the results than + 20 and-20, a mistake must have occurred! Premature outputs from the positions? Shifting of stop loss, break-even? But we did not have that planned out. Identify the error, learn and try again. This might be what the right commercial listing positions could look like.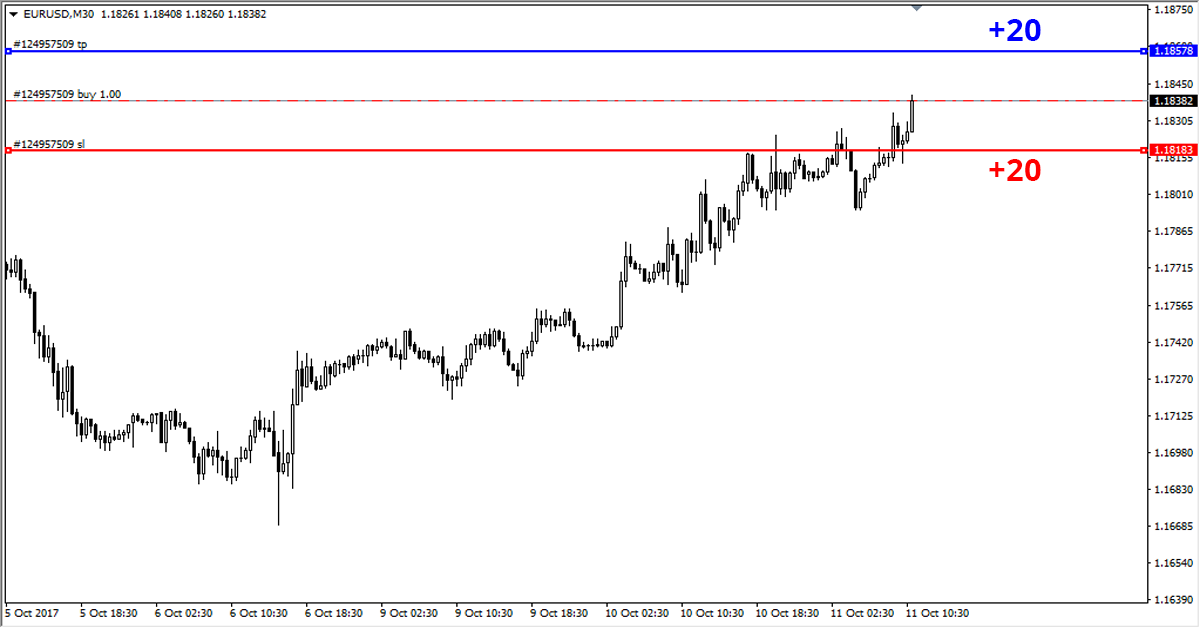 3 trades and that is it
For your trading session, whether you are trading an hour or the whole day, you will only trade 3 position. Think about your inputs accordingly. In no case may you buy more positions than threes. Does a trade opportunity with a high probability of success present itself but it is the fourth position for the session? What do I do? Not trade! The aim of the exercise is not to make money, but to strengthen discipline, therefore, the appropriate response will be passing the opportunity.
Three trades every morning
Get up, analyse the financial markets, take three positions. Set the profit target orders and the stop loss and the trading day ends. The next morning, assess the trades from the previous day and repeat the whole process again. Analyze your discipline again after a week or a longer period. Do you have 15 trading positions a week? Or have some additional trades appeared on your list?
10 trading sessions
If you want to try out a more long-term exercise, we can recommend you our 14-day Trial Challenge. In these 14 days, your task is to complete 10 trading sessions, i.e. at least one trade every trading day. Among other things, your task is to increase the value of the trading account under clearly established rules of risk management – can you? If so, we will provide you with capital to trade with! (If you pass the real Challenge of course)
https://ftmo.com/wp-content/uploads/2017/10/172050-OVULPI-391-Small.jpg
480
719
FTMO.com
https://ftmo.com/wp-content/uploads/2019/02/logo_ftmo.png
FTMO.com
2017-10-10 11:46:41
2020-02-13 11:55:09
Exercises to Strengthen Discipline