This article was sent to us by Peter from Slovakia, who is one of our promising traders. Peter has already had many years of experience in trading and he has decided to share his findings with trading a negative RRR system. This article should definitely be read by everyone trading a system with a negative RRR. Although nothing is impossible in trading, experimenting with negative RRR is also a far more tricky and risky than in the case of a system built on positive RRR.
Author: Trader Peter
I have been trading for years. Like any novice trader, I went through many systems and cross-checking over all time zones. Today, I would like to describe one of my unpleasant experiences with trading a negative RRR. By the end of 2017, I was able to trade a system based on the idea of breaking out the first 15 min. candle at any hour during the London session. The system had a lot of nuances like when to not enter and in six months of trading, I had upgraded some things to this system. I traded it with a stone discipline, and on average, the account grew by 10 percent a month. Everything looked great, at least I thought so. The system had a high win rate because it was set to negative RRR. I split the positions into several parts, and usually, I closed the first part very early. This was guaranteed by a high ratio of profitable trades and, in the short term, it was really good. Over the top of my account, however, the clouds were already being pulled and a beast called the negative RRR was lurking there. With the full confidence and good results on my live account, I've activated the Free Trial and it has done well. In 13 days I completed it for the full profit of 10 percents. You can see the success rate of the account was over 90 percents.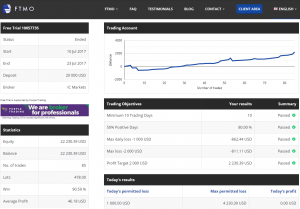 The time has come for a real Challenge. Here, however, the danger of a negative RRR has fully manifested itself. After the initial gain, the full stop-loss happened. I managed to get this under control after the 40th trade, but the subsequent series of full losses could not be fixed. Small profits were no longer enough to make profits nor to a Break Even.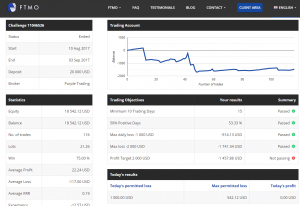 I had some good results in my own account and I rather ended up trading the system after a big drawdown at about 12 percent profit. The equity curve looked terrible and it gave me a nice picture of what a negative RRR might result in. Within 10 days, most of the profits generated for the past six months have gone. This was a turning point when I said that I would only trade systems with a positive RRR.
Do not, therefore, be tempted by psychological well-being and short-term trading results satisfaction, where the profit is several times smaller than the loss. What looks good in the short run, it will eventually get you down over the time and the series of losses on any good system is definitely waiting somewhere to drown you quick.
Thank you, Peter, for this article. We wish you just the best.
https://ftmo.com/wp-content/uploads/2019/02/tradinarticleEN1200.jpg
628
1200
Pavel Dušek
https://ftmo.com/wp-content/uploads/2019/02/logo_ftmo.png
Pavel Dušek
2019-02-05 10:40:29
2020-02-13 11:51:26
Don't get tricked by a high success rate in trading