Not only this trader passed the Challenge 40, but he also agreed to an interview. Read his story and find how the Challenge helped him to be more profitable in his trading.
How long have you been trading?
I have been involved in trading for several years already. Due to my job, at first I did not have that much time for it. I also used to have a pessimistic view on trading because I asked myself the question whether it is even possible to earn any money by trading. So if someone had told me a couple of years ago that I would devote so much time to trading now, I would have responded with a great deal of laughter. I am glad that I managed to complete the Challenge. I have to admit that this is not my first Challenge, but it was thanks to the feedback that I was able to progress all the way to its successful completion.
In what way did the Challenge help you improve your trading skills?
The Challenge has definitely my trading established the much-needed rules which I totally lacked until then. These were mainly money and risk management rules. I started to focus on recalculating the risk, in order to have a precise idea of how much I would have to spend on individual trades. Thanks to the Challenge, I also feel a great improvement in my ability to wait for the trading opportunity. I am also very grateful for your evaluation for exposing my weaknesses that have been hampering my trading. Thanks to you, I discovered that it is not profitable for me to trade on Monday from 11 am to 1 pm. I have learned to avoid these critical moments and now the results are considerably better.
Where do you see room for improvement?
Room for improvement can be found anywhere. As far as I am concerned, I see the largest room for improvement in the RRR ratio, when I would appreciate reaching even higher values. Another area for improvement is the extension of my portfolio of instruments. I am sure that I could find many more, but for the time being these are the ones that I consider to be a high priority.
Could you tell us the basic principles of your trading?
My trading is probably very simple. I use Fibonnaci retracement for more important levels, where I try to speculate on openings of my positions. Most often, I look for opportunities for trades in the trend, which I define by using higher TFs.
Would you recommend the Challenge to others?
The Challenge is an amazing opportunity. I also had some minor experience trading with an account with real money, but let's just say that it did not go exactly as I initially envisioned. I lost the account. Then I started trading with the Challenge and I must say that for me it was something completely different from trading on one's own. Trading without mental pressure and with much more comfort was a really big step forward. I think it is one of the next pieces of the big puzzle of long-term success in trading and I think that this combination with clearly defined rules of risk is a combination that can certainly help many traders just as it helped me.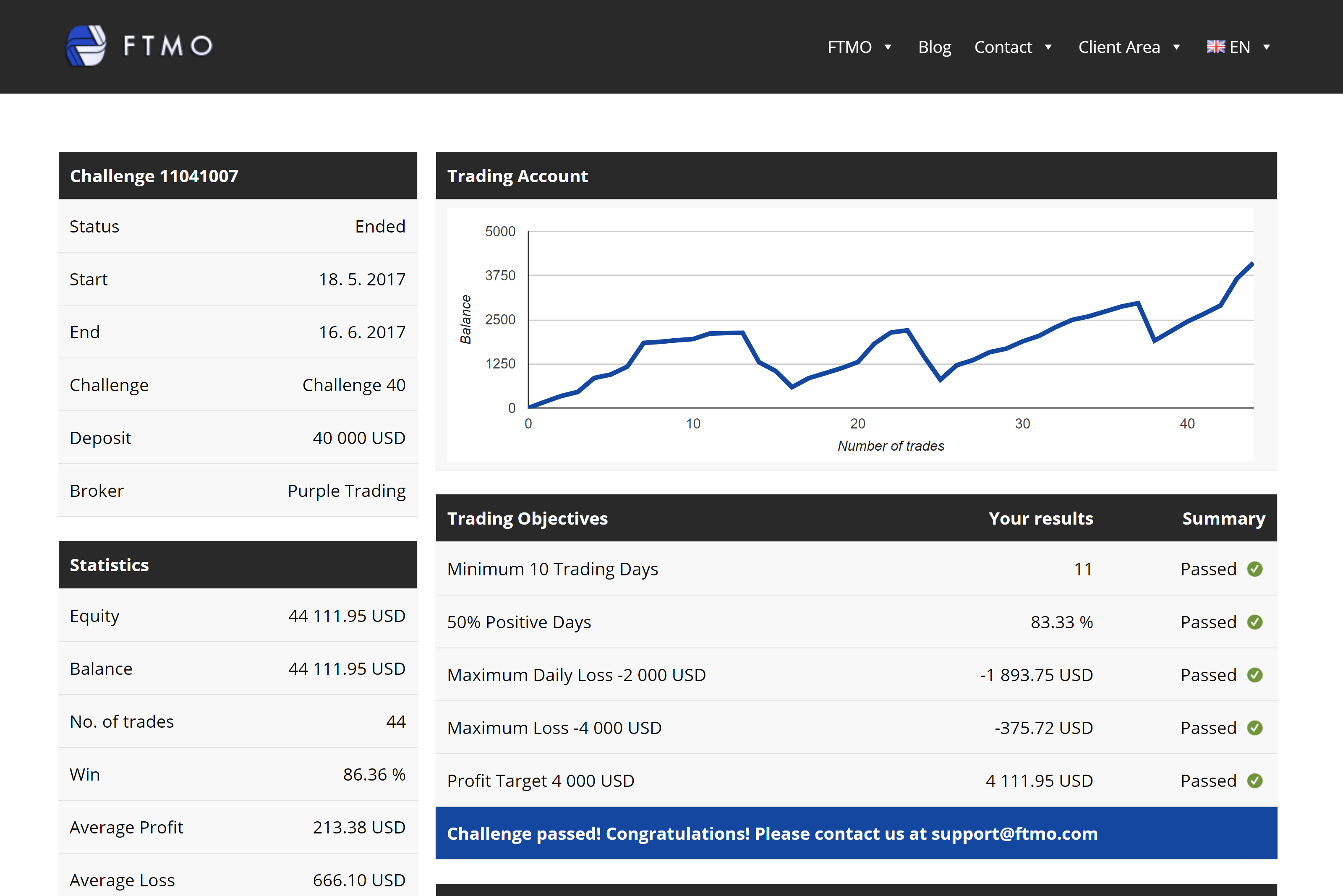 https://ftmo.com/wp-content/uploads/2017/08/ftmo_metrix_2.png
2135
3200
FTMO.com
https://ftmo.com/wp-content/uploads/2019/02/logo_ftmo.png
FTMO.com
2017-08-02 09:19:06
2019-08-02 08:45:12
Successfully Completed Challenge 40