Why to choose us
Following are the highlights that make us far better than our competitors:
One-time fee only (no recurrent charges or other fees)
The fee will be reimbursed to you with the first profit withdrawal
No limits or restrictions on your trading style
No limits on the volume traded (lot size)
No limits on tradeable instruments (Forex, Commodities, Indices, Cryptocurrencies, Stocks-except for delayed stocks,…)
Access to our Trading Applications
A thorough account analysis for every account
The Best Trading conditions (ratio 1:1 of losses vs profit)
A wide choice of brokers in the Challenge
Choice of platforms (MT4, MT5, cTrader)
Leverage 1:100
Discover our Trading Applications and elevate your trading
Enhance your trading & strengthen your mind.
Account MetriX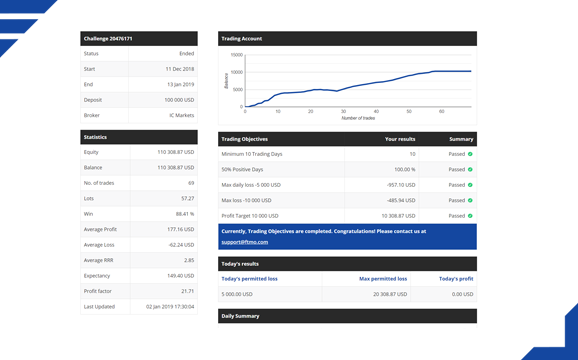 Account Metrix
The Account MetriX is an innovative and unique web application where you can monitor your progress towards becoming the FTMO Trader.
Join the Team Of Our Successful Traders
If you are ready, accept our Challenge and become our funded FTMO trader. You can even try the entire process completely free of charge.