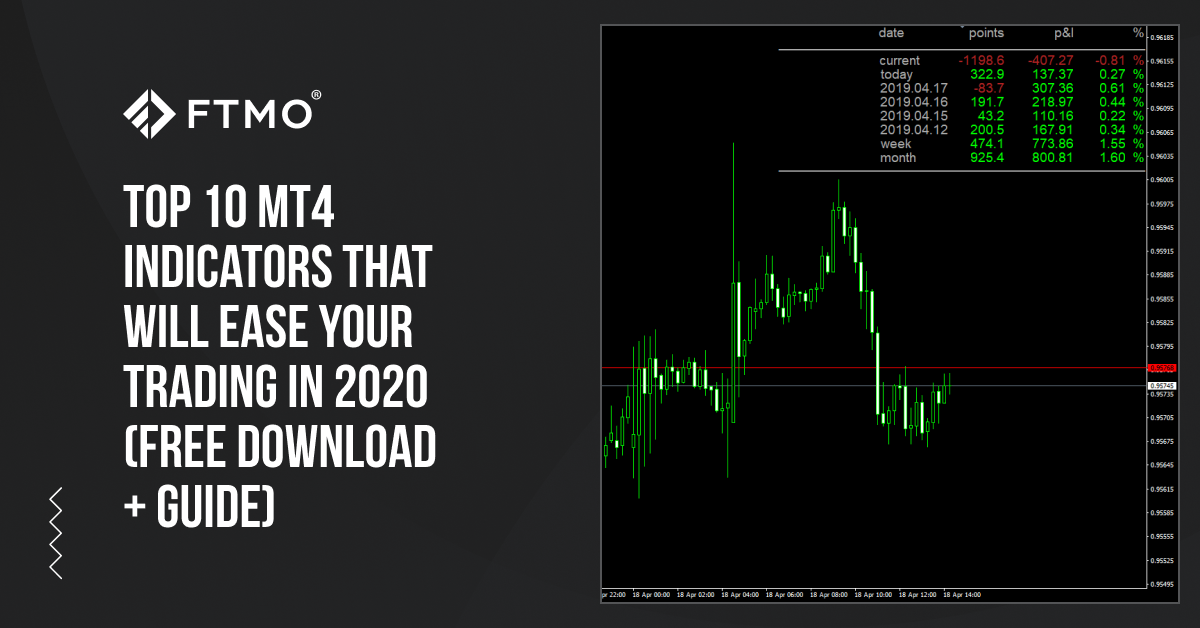 Trading Tips
Top 10 MT4 Indicators that will ease your trading in 2021 (FREE DOWNLOAD + GUIDE)
MT4 is considered to be one of the most popular trading platforms for retail traders at financial markets, especially in forex trading. It's user-friendliness and different charting tools give traders almost everything they need.
Since MetaTrader4 is free, it lacks a little bit with different functions that you can find in professional trading platforms. You don't necessarily need those functions to make you a profitable trader but they can offer a great edge in your trading.
The big advantage of MT4 is the big user base with easy programming software and because of that, there is a lot of free indicators that can be found online and they can give you the edge you sometimes find in other professional software.
In this article, we are going to show you 10 of our favorite indicators, their description and how they work.
Using the right tools and indicators in your charts can play a crucial part in your trading.
If you are a profitable trader and you want to trade with FTMO, you can consider joining our FTMO Challenge and trade with the initial balance of up to $400,000.
MT4 for Beginners
If you are completely new to MetaTrader4, there is no reason to be upset. We prepared a basic tutorial for complete beginners and this is available on our YouTube channel.
You will learn how to set up your first trading account and how to navigate in MetaTrader4 interface and add indicators to your platform.
MT4 Indicators
Position Size Calculator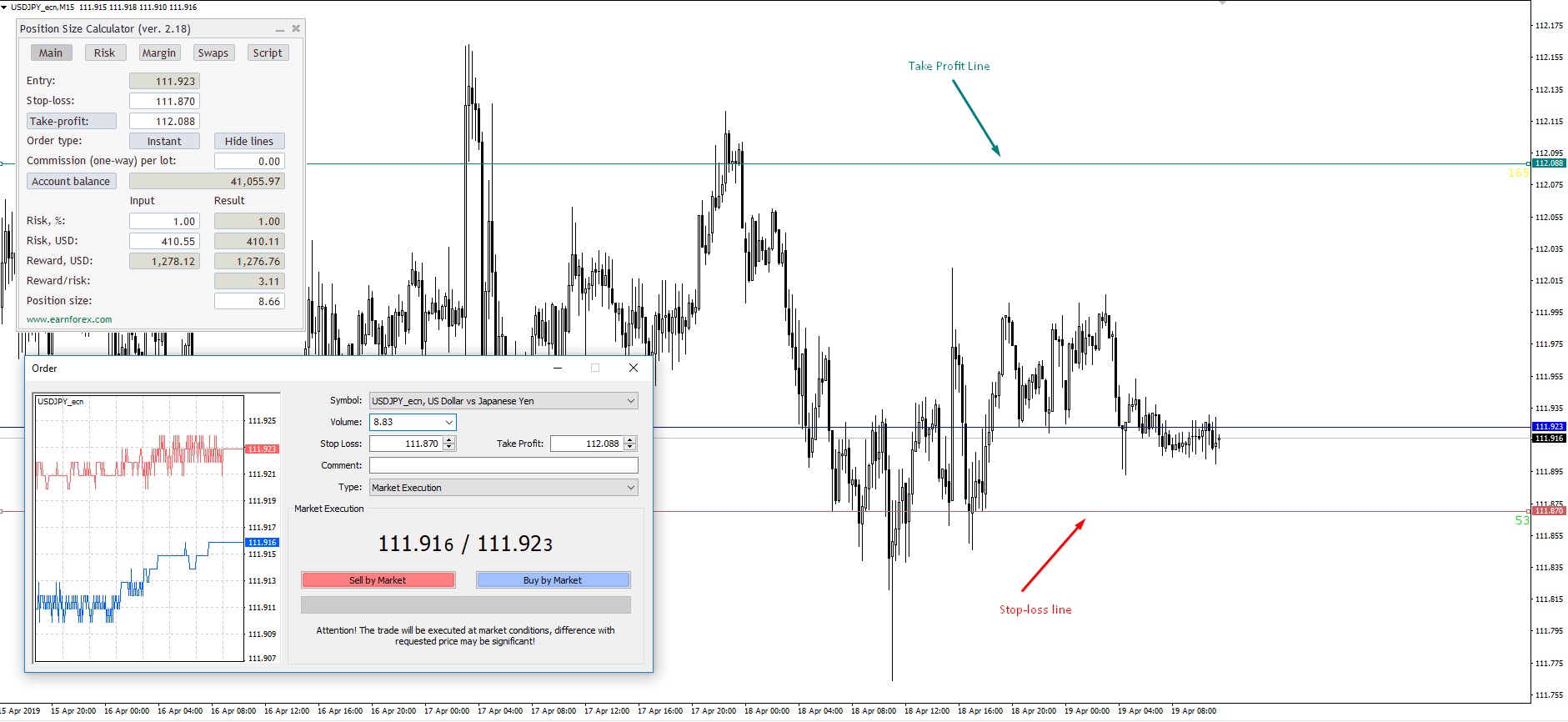 Having proper risk management is a crucial thing in your trading. People tend to look for the best trading strategies online but if you don't have great risk management, you are never going to make it.
If you are opening a new position on MT4, you actually can't see the % of your equity you are risking in a trade.
Of course, you can calculate lot size and pip values prior, but since time factor is a very important aspect in trading and you might want to get into the trade as fast as you can, we recommend to try the Position size calculator.
Position size calculator tells you how many lots to trade based on entry and stop-loss level, risk tolerance, account size, account currency and price of the quote currency.
After you are going to set everything in the indicator, you just simply press F9 for a new order and copy the values into the MT4 box.
Download Position Size Calculator
Orders Indicator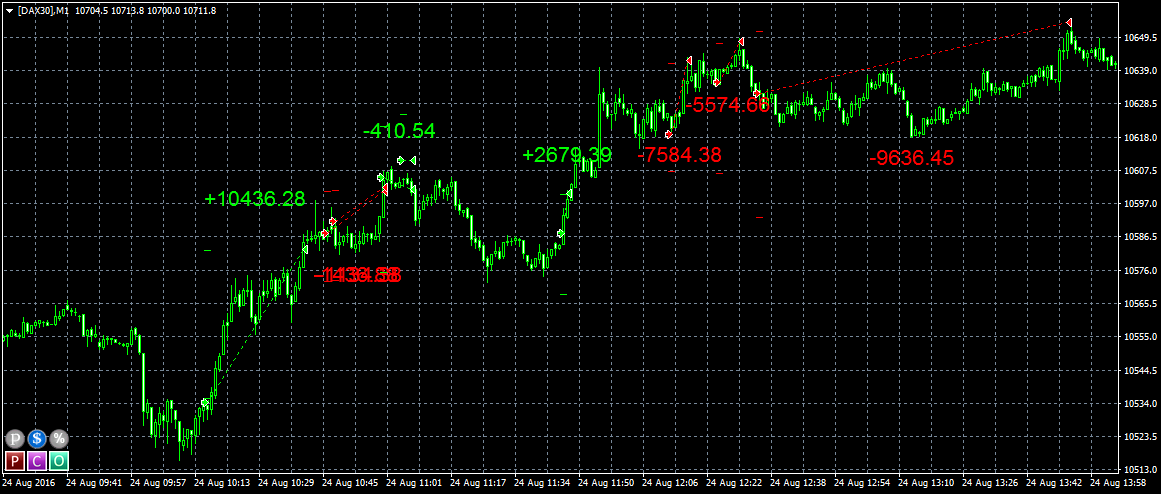 The ability to reflect on your past performance can highly impact your results in the future. Thanks to Order Indicator you can see your past trades right in the chart.
This gives you a nice overview when you entered the trade when you got out and your results.
With this indicator, you can also share your traders on social media.
Once you load Orders Indicator to your MT4, you can set different color variations, type of text and other variables.
Undock Chart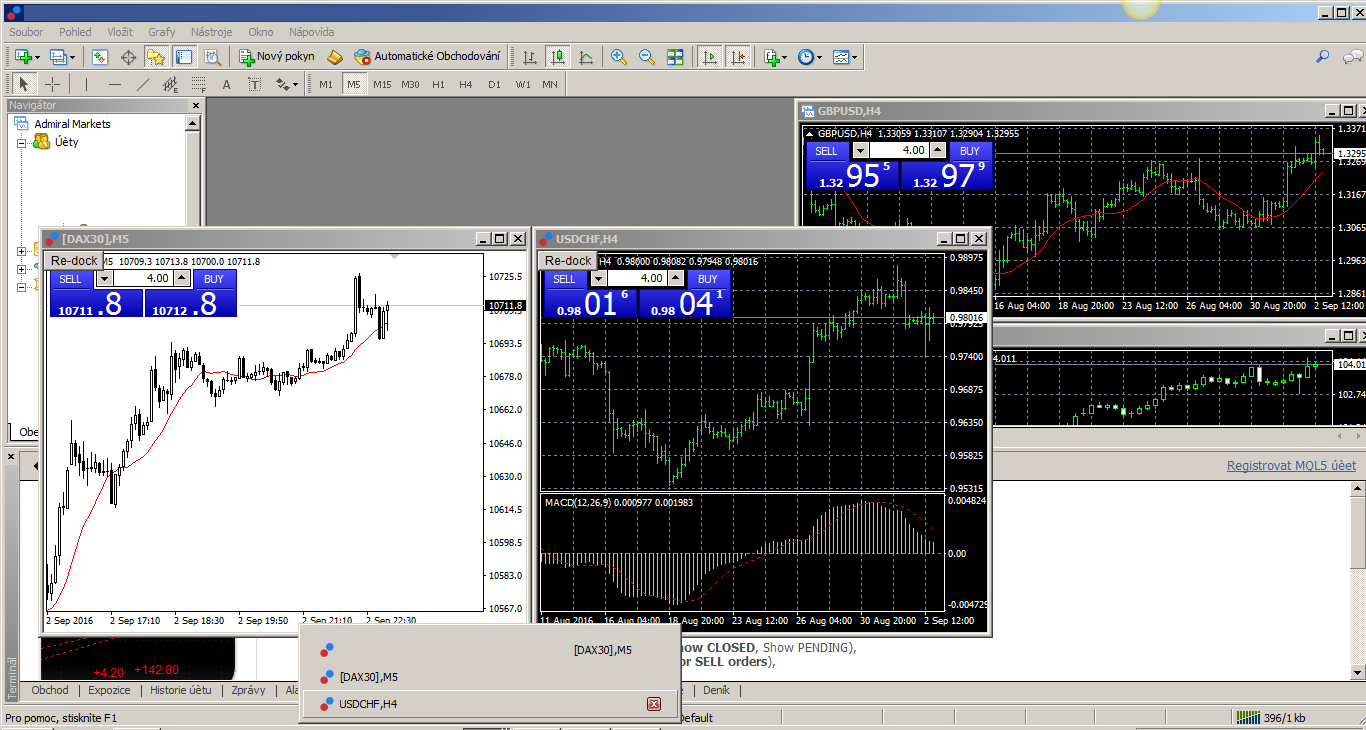 MT4 offers a great interface for technical analysis but has one big problem. You can use it only on one screen, which can be very limiting sometimes.
This simple script from IBFX will fix this problem. You just load the script to the chart you want to move and after it's done you can easily move your chart window to the different screen.
Autofibo
It is pretty much self-explanatory from the name itself on what does this indicator do. It automatically draws the Fibonacci retracements according to the latest High and Low.
The Autofibo uses ZigZag indicator for determining High & Low. According to the ZigZag settings, we can influence the accuracy and size of individual swings.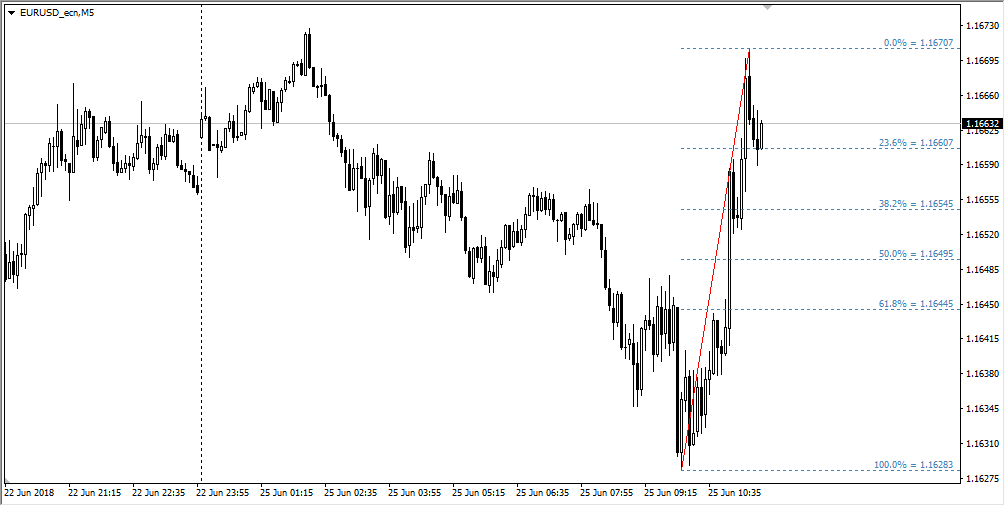 NewsCal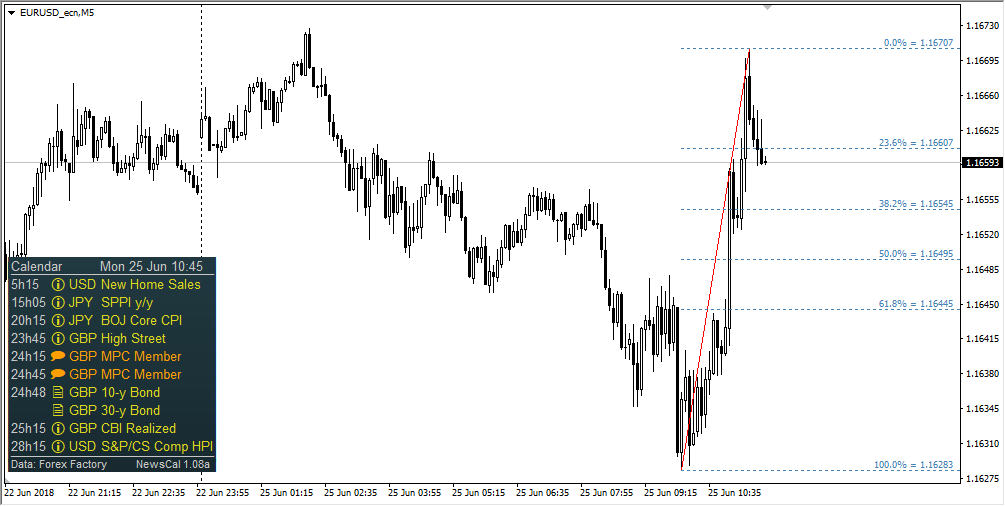 Every intraday trader should be aware of the release of macroeconomic news.
Now you can have the most popular calendar from Forex Factory directly in your trading platform.
Breakout zones
This simple indicator can mark High and Low for the determined time period.
You may use it to set the first trading hour on DAX and together with our Statistical application trade the breakout of this range.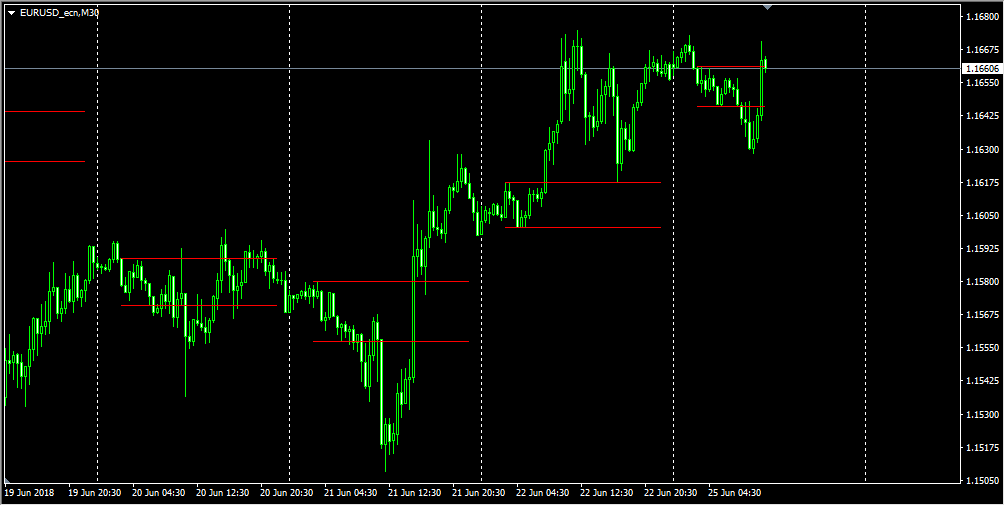 SL & TP values
This simple tool marks the numerical values of your Stop Loss & Take Profit and adds these numbers to the trade lines in the chart.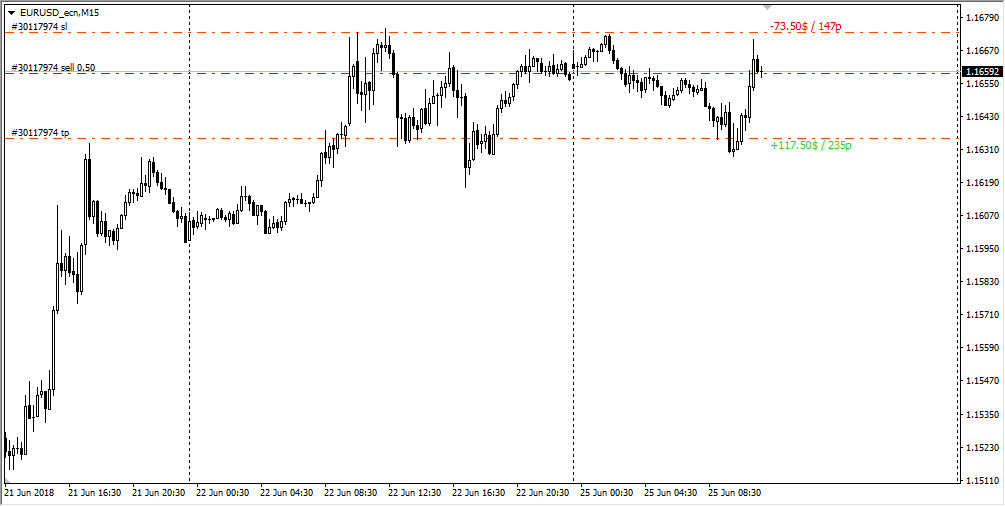 SHI Channel true
Indicator SHI_Channel_True automatically shows Barishpolotv dynamic moving channels on the chart.
This indicator is looking for the most common (based on time) fractals in history and connects them with the line.  After that, it shows a parallel line and maximum fractal at the opposite structure. It also makes a median line between those lines.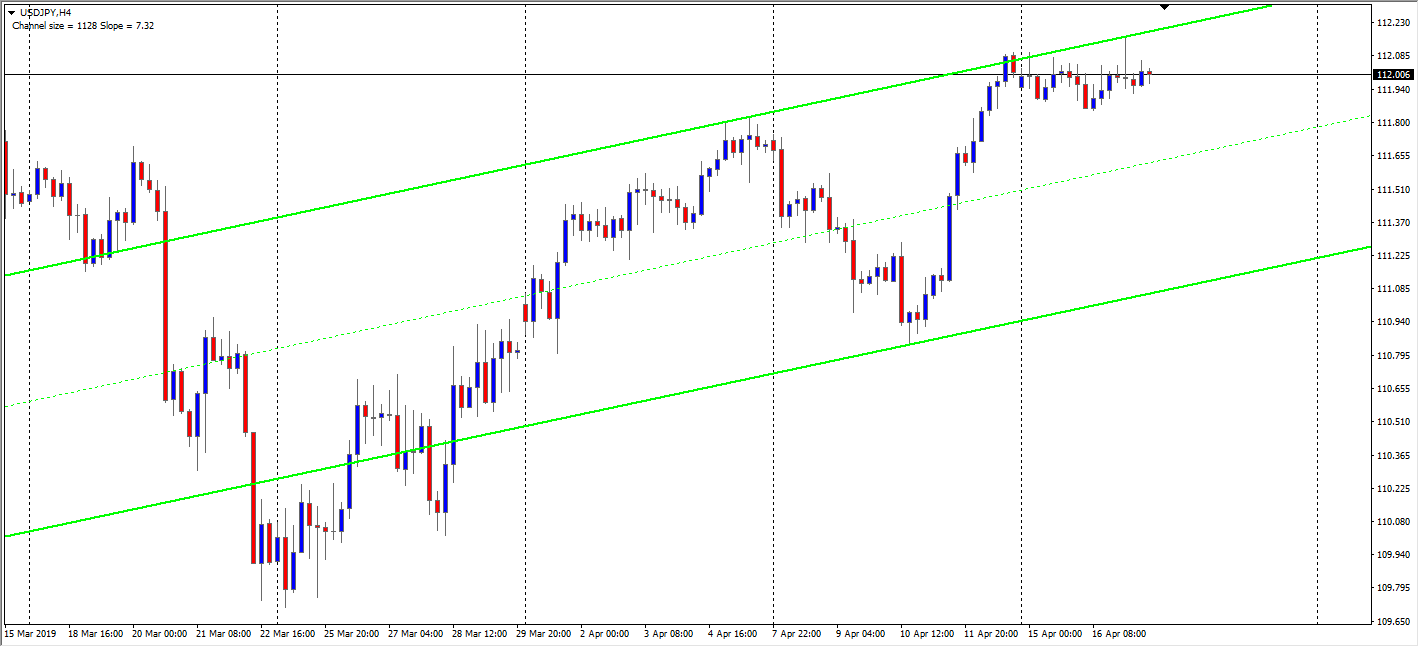 Parameters:
BarsForFract(0) - lenght of a fractal "shoulder"
The classic fractal consists of five candles - extremes and two candles ("shoulder" = 2) on each side.  Nevertheless, the "shoulder" size can be increased. If this variable is set to zero, the shoulder size is defined according to a current time frame and is preset automatically.
The indicator works on all currency pairs and all timeframes including M1.
Usage: 
The indicator is mapping a trend and prints ascending or descending channel on the chart during the price development. Top and Bottom lines can work as levels for reversal move and can help set a place for your stop-loss and take-profit.
i-Profit Tracker
Reliable monitoring of your performance is a crucial part of your trading plan. This indicator automatically monitors results of your trades and shows them in different timeframes.
You can see your results for the current trading day and also 4 days to the past. Also, you can monitor your overall performance in each week or a month.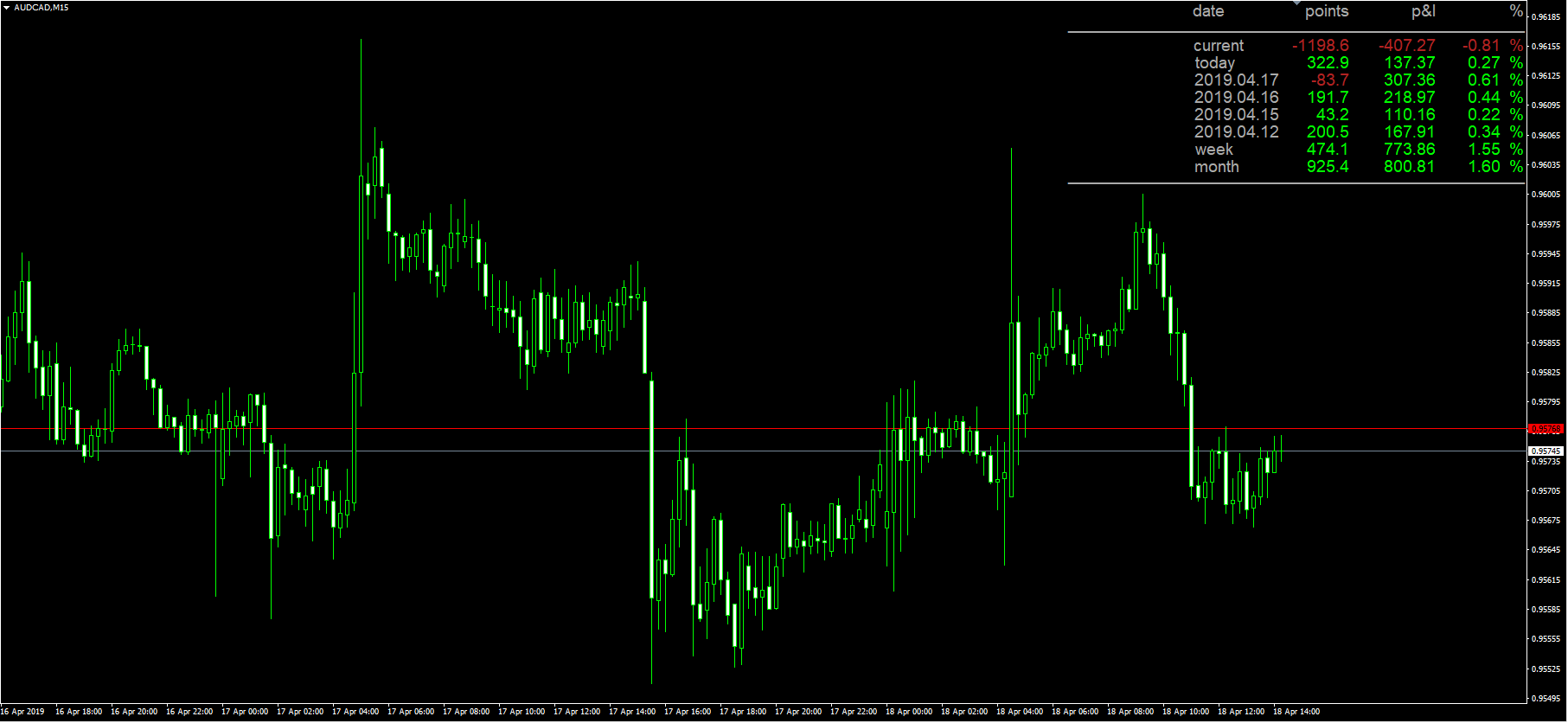 Usage: The indicator gives a simple overview of performance in real-time and sort data at practical timeframes. Don't forget to set your account history in your MT4 platform to "All history".
Xandra Summary
Xandra Summary is a useful tool for every MT4 platform.
In a data block on the right side of your chart, you can see your trading instrument, selected timeframe, current spread, ADR (average daily range) and ATR (average true range) parameters, Low and High of current timeframe, candlestick countdown and the current price of the instrument.
On the right bottom side, you can see a summary of open positions (sell, buy) of your trading instrument (in lots) and overall balance of your positions.
The indicator also calculates an average value of your open positions in the actual chart - all you have to do is make a horizontal line and call it "avgb" (average buy) or "avgs" (average sell). The indicator will automatically move this line to the level where break-even is.

Summary
These were the best MT4 indicators we use in our day-to-day trading.
Do you have any of your favorite ones we missed in this article?
Feel free to contact us and we might include them in the future posts.
Besides these indicators, we offer our own trading applications which are free to use for all FTMO traders. Find out more on how to become our FTMO Trader and trade with an initial balance of up to $400,000.
About FTMO
FTMO developed a 2-step Evaluation Process to find trading talents. Upon successful completion you can get an FTMO Account with a balance of up to 200,000 USD. How does it work?.