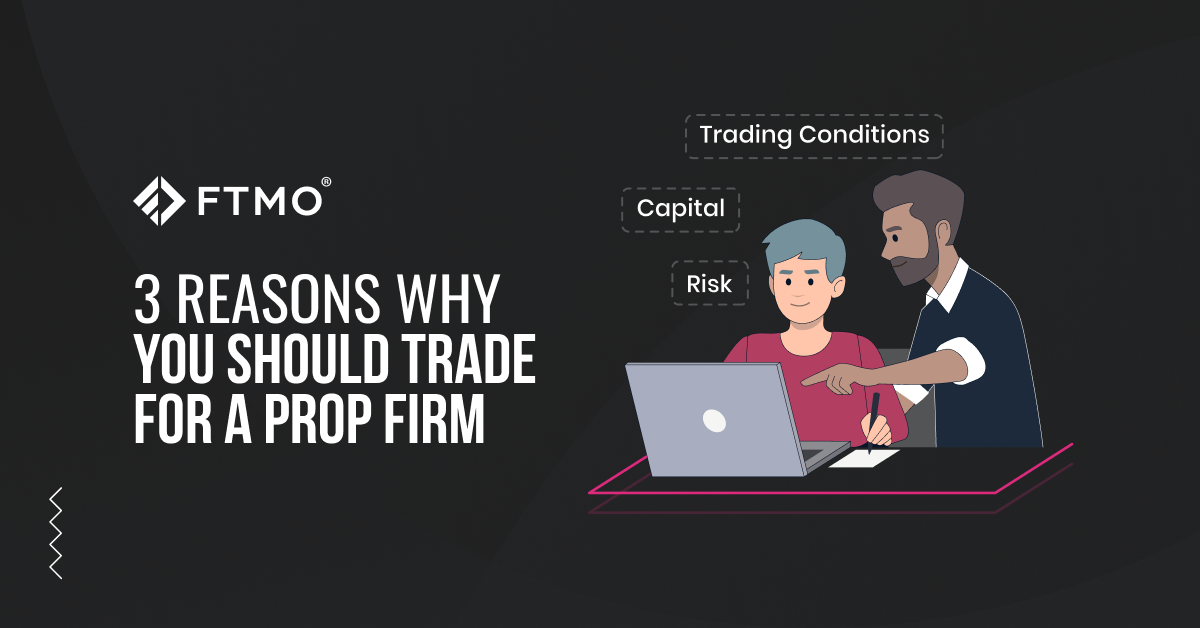 Trading Tips
3 Reasons Why You Should Trade For A Modern Prop Trading Firm
Retail trading, and trading in general,  is often an underestimated profession. Not only that you are risking your own hard-earned money, but you are also your own boss. Although many people say that "being your own boss" is the best thing about trading, it is actually very tough. You must always keep your risk and balance in check and can't afford to make major mistakes. Traders who want to advance their trading to the next level can choose to trade for a modern prop trading firm. What are the benefits of doing so? 
FTMO is a leading firm in the trading industry and offers our traders to work with an initial account balance of up to $400,000 after passing the Evaluation Process. They can trade Forex, Indices, Commodities, Stocks, Cryptocurrencies and a variety of CFDs.
So what are the biggest benefits of trading with us? Let's check it out.
Large Trading Balance
Besides the fact that we are covering all losses for our traders, you can work with up to $400,000.
Those traders that want to start a little smaller can choose between 10, 25, 50, 100 and 200 thousand dollar accounts.
To trade for a living, you need a reasonably sized account size. There is no way around it if you are serious.
And let's be honest, to trade for a living, you need quite a sum of money.
Besides the fact that not everyone can afford to fund their own account with $400,000, being able to not risk your own hard-earned balance can provide you with huge psychological ease and remove stress from trading.
If you start trading with your own smaller account, let's say $5,000, making a 10% gain of your account in one month puts you at $500.
Don't take us wrong, gaining 10% in one month is amazing, but if it is only $500, you will have a hard time paying for all your monthly expenses. If we consider the fact that successful trading consumes a lot of your time and mental capital, making a living of that is practically impossible.
But let's imagine a 10% account gain with a $200,000 trading account.
All of a sudden, you are looking at $20,000 in profits.
Since you are trading an FTMO Account, we only take a 20% cut from your profits. You still keep your 80% split, which, in this scenario is $16,000.
With $16,000, you can make a very decent living.
That's much better, right?
Monthly profits of 10 or 20 thousand dollars are more than enough to live a very comfortable life.
On top of that, we want our traders to constantly grow, which they can easily do thanks to our Scaling Plan.
The Scaling Plan ensures that if you are a long-term profitable trader, only the sky is the limit.
Managing the risk
Almost every serious trader has a trading plan, which they should follow every day.
The problem is that if you trade on your own, you can have a pre-determined trading plan with a variety of risk rules, but once that FOMO or revenge trading kicks in, these usually go out of the window.
Once you start trading for FTMO, those days are over.
Proper risk management is key for every trading success, and we can act as your personal risk-manager, even online.
We give you a set of simple trading rules that you have to follow.
These rules (or as we call them Trading Objectives) consist of maximum daily loss and maximum loss. For example, once your equity gets close to a maximum daily loss, it is a signal that you should stop for the day. Perhaps it's not your day or market conditions are not in your favour.
It is much better to realize something like this early rather than wipe out gains you have been working on for several weeks.
Not only that we give you a set of rules, but we also created a Mentor Application.
This is an extremely helpful piece of software that you can install on your trading platform to have constant access to your trading statistics. It works in both MetaTrader 4 and MetaTrader 5.
Are your positions too large? Are you trading an instrument that you specifically identified you wouldn't trade? Are you getting closer to violating any of the rules?
We can display all of this, in real-time, so you will be more mindful about your trading and being able to prevent any possible trading mistakes.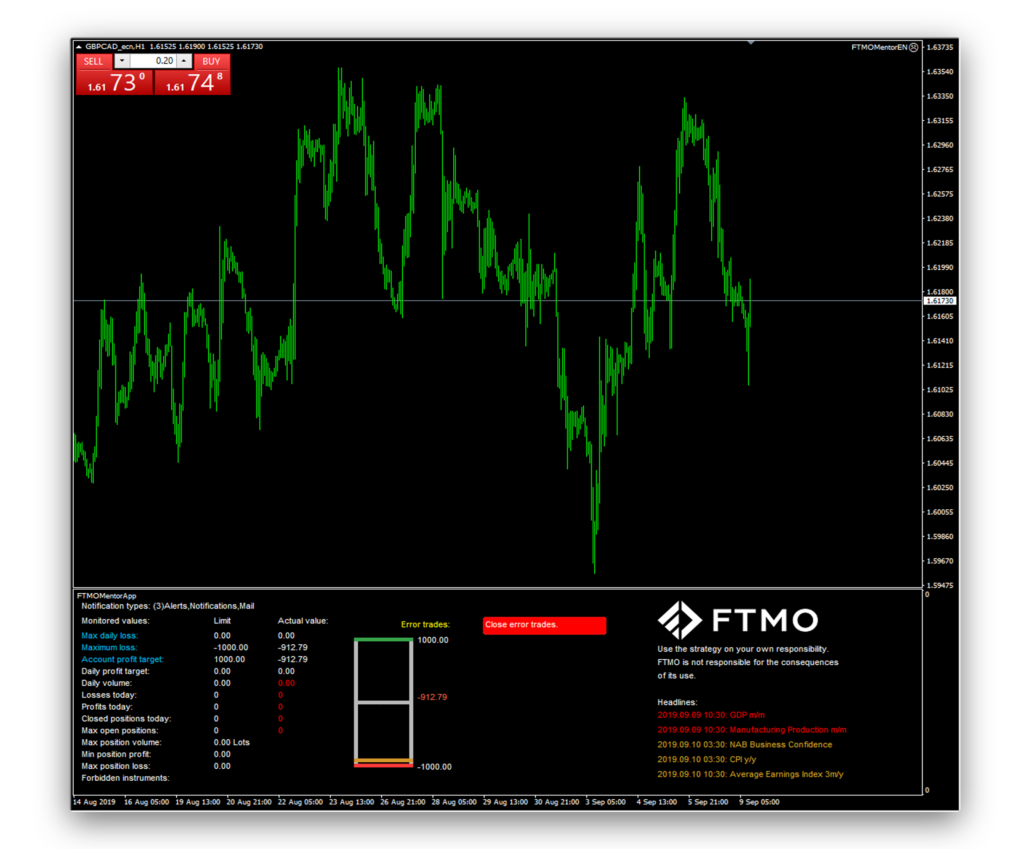 Thanks to our Mentor Application, you can say goodbye to cardinal trading sins like FOMO, overtrading or greed.
We are always monitoring your account, and our rules help you not to turn bad days into disastrous days.
Direct Market Access – DMA
In retail trading, there are two ways how you can access the financial markets.
The first one is called Market Making and the second is DMA (Direct Market Access).
There are always long discussions around these topics and a lot of speculation and confusion in the wide public about market manipulation and other unlawful or unethical practices.
FTMO adopts the DMA execution model solution for all of our clients. This means that live market quotes we receive from several liquidity providers are mirrored to all of our traders in real-time. This, of course, comes with the execution fills the same as on the live accounts.
Being independent on one provider gives us the option to have very tight spreads and low commissions. You won't find conditions like these anywhere else.
Because modern prop trading firms are built on investing in top-class traders, it is important to give them the best conditions.
If a trader is profitable, FTMO is profitable along.

Conclusion
We always want to see progress in everything we do.
Progress in trading can be achieved by a larger account balance that is easily accessible thanks to FTMO.
Another type of progress can be seen in the risk management part of trading.
You are likely to lose the psychological struggles that trading brings when you are not risking your own money. On top of that, you will get trading conditions that are adopted by professional and experienced traders.
Join traders from all over the world and get a chance to progress your trading to a new level.
And, do you know what is the best thing? If you are still undecided if you should start trading for a modern prop trading firm like FTMO, you can try the free funded trader challenge aka FTMO Trial Account.
About FTMO
FTMO developed a 2-step Evaluation Process to find trading talents. Upon successful completion you can get an FTMO Account with a balance of up to 200,000 USD. How does it work?.