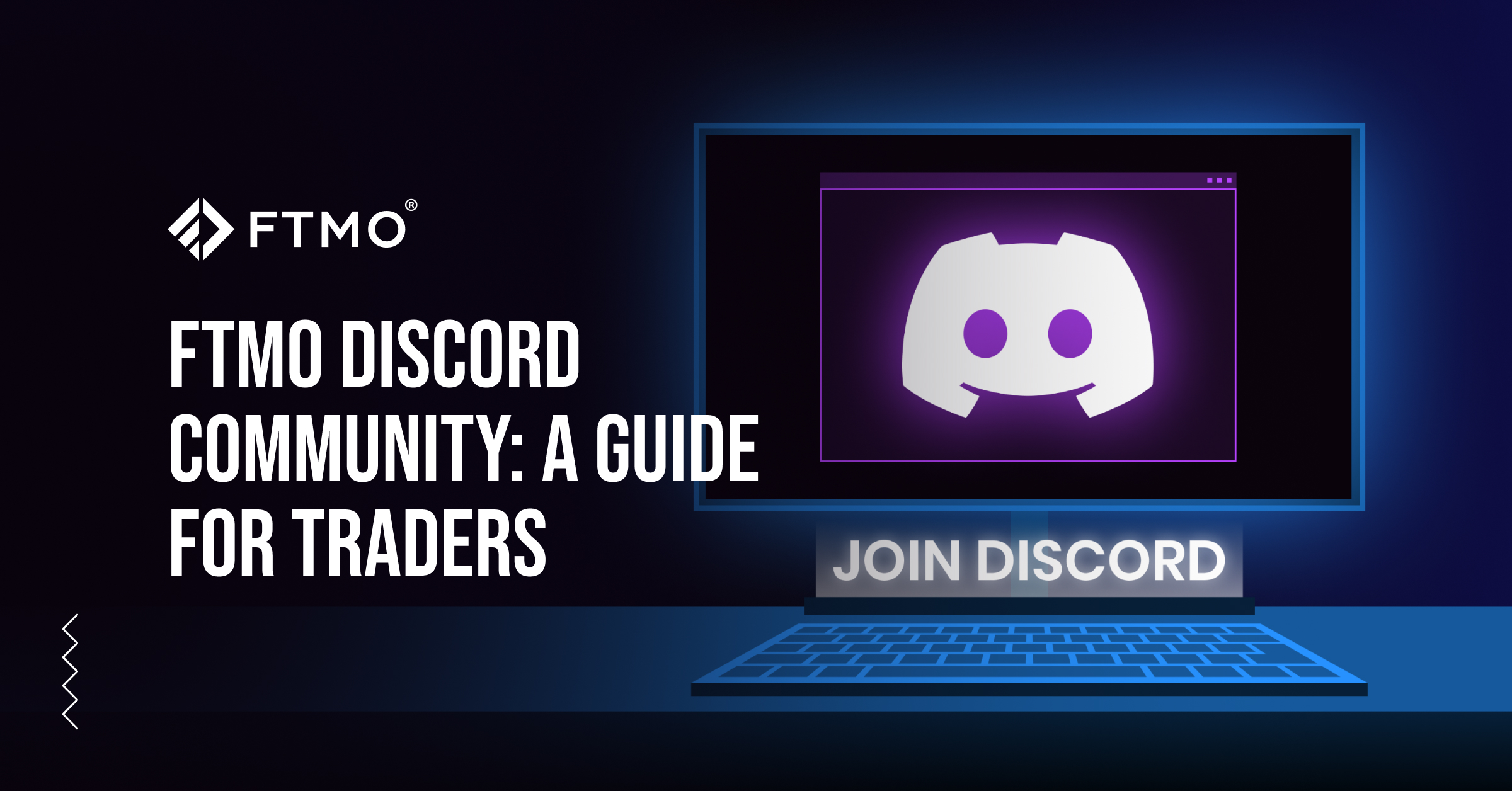 Trading Tips
FTMO Discord Community: A Guide for Traders
Welcome to the FTMO Discord community – a dynamic and engaging hub tailored exclusively for our traders. This guide aims to guide you through the important components of our FTMO Discord server and allow you to take full advantage of its features and connect with other traders.
Introducing Discord: Your Gateway to Connection
Discord is a widely used communication platform that facilitates the creation of communities, makes it easy to connect with friends, and participate in text, voice, and video discussions.
Joining and Verification: Your First Steps
To begin your journey, access our Discord server invitation link provided here. Make sure you have an active Discord account. If not, create one. Once you click the link, proceed with the sign-up instructions.
Once you've joined using our exclusive link, the first task is to complete the verification process. This crucial step ensures the security of our community by preventing malicious actors. If the verification is successful, you will be granted the "Verified" role, which grants you access to the main server channels.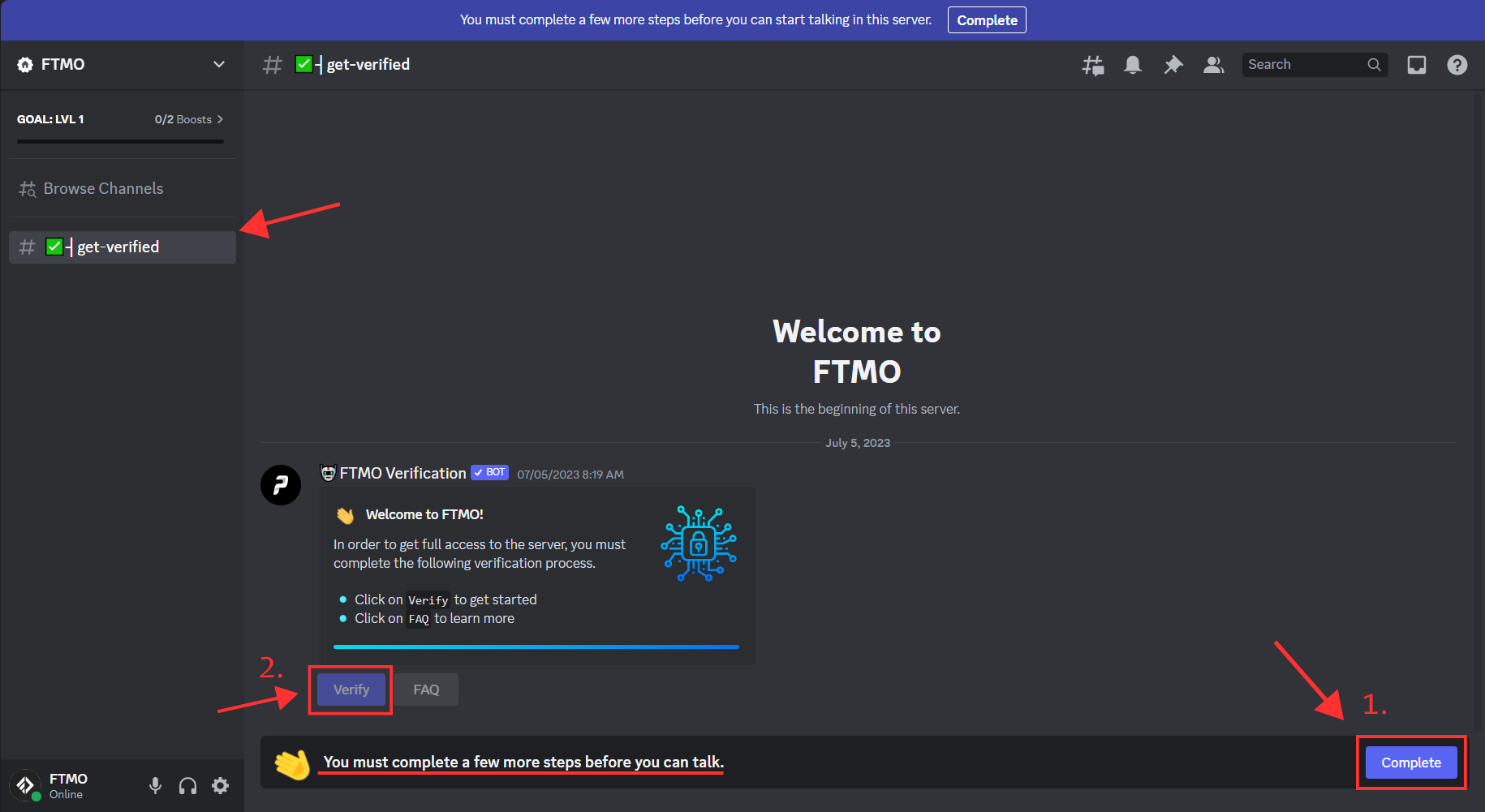 Navigating the Channels: Your Pathway to Exploration
After your verification process has been successfully completed, you are officially a verified member with full access to our Discord server.
The server is divided into different categories, each of which offers different channels to enhance your trading experience.
Exploring the Essentials
Start your journey by learning the basics found in the "🚀Start Here🚀" category. In this section you will discover the welcome zone, the house rules and how to contact us.
In the "🙋🏻┤hello-traders" channel you will receive a warm welcome and guidance on important channels. Familiarize yourself with our server's rules and policies in the "📜┤house-rules" channel to ensure a respectful environment. Also, explore the "📞┤contact-us" channel for different ways to reach our dedicated support team.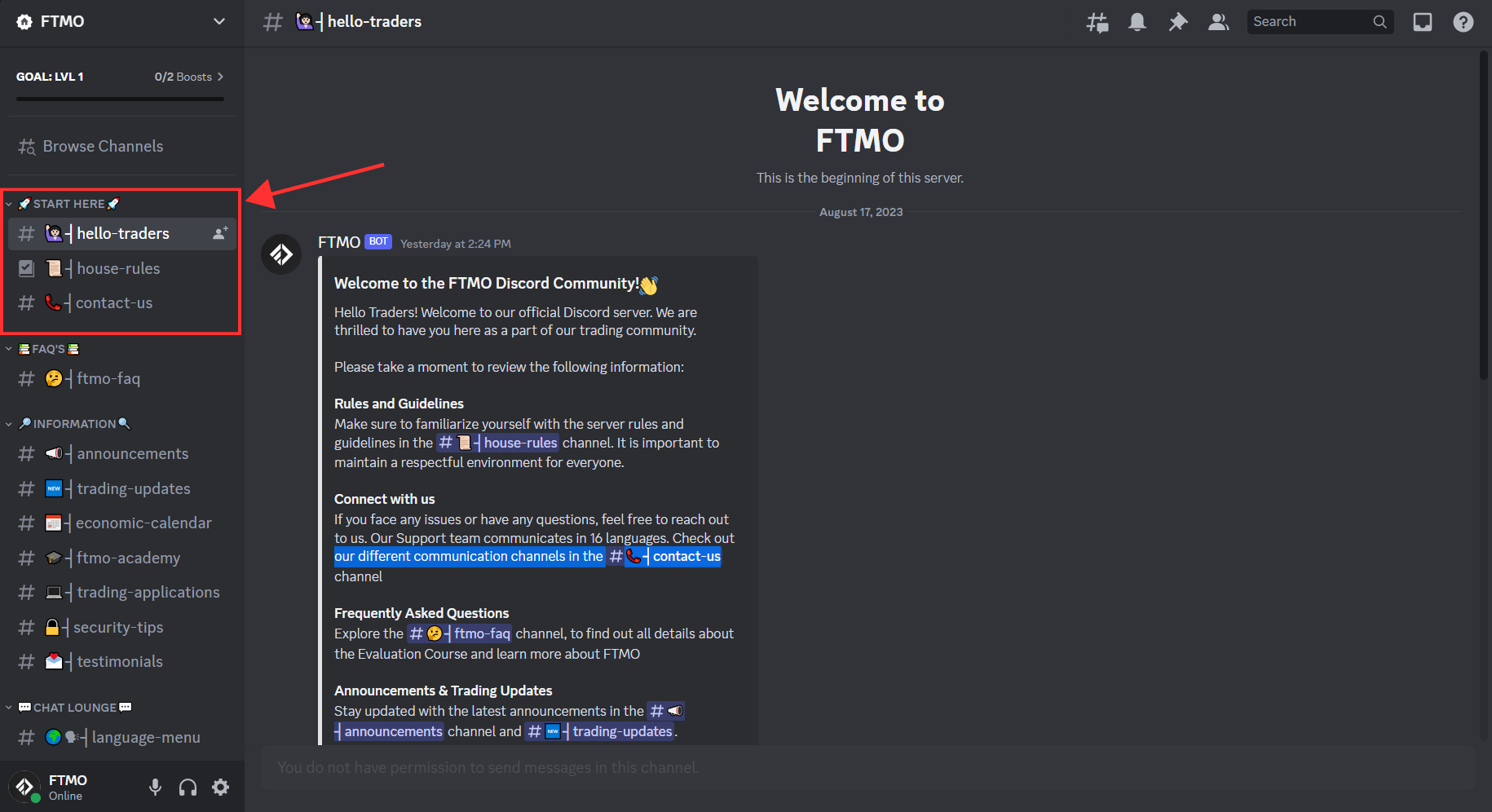 Moving forward, the "📚FAQ's📚" category is tailored to frequently asked questions. This section contains a collection of Frequently Asked Questions that correspond to those found on our website. The "🤔┤ftmo-faq" channel provides a user-friendly FAQ Menu that is easy for you to navigate.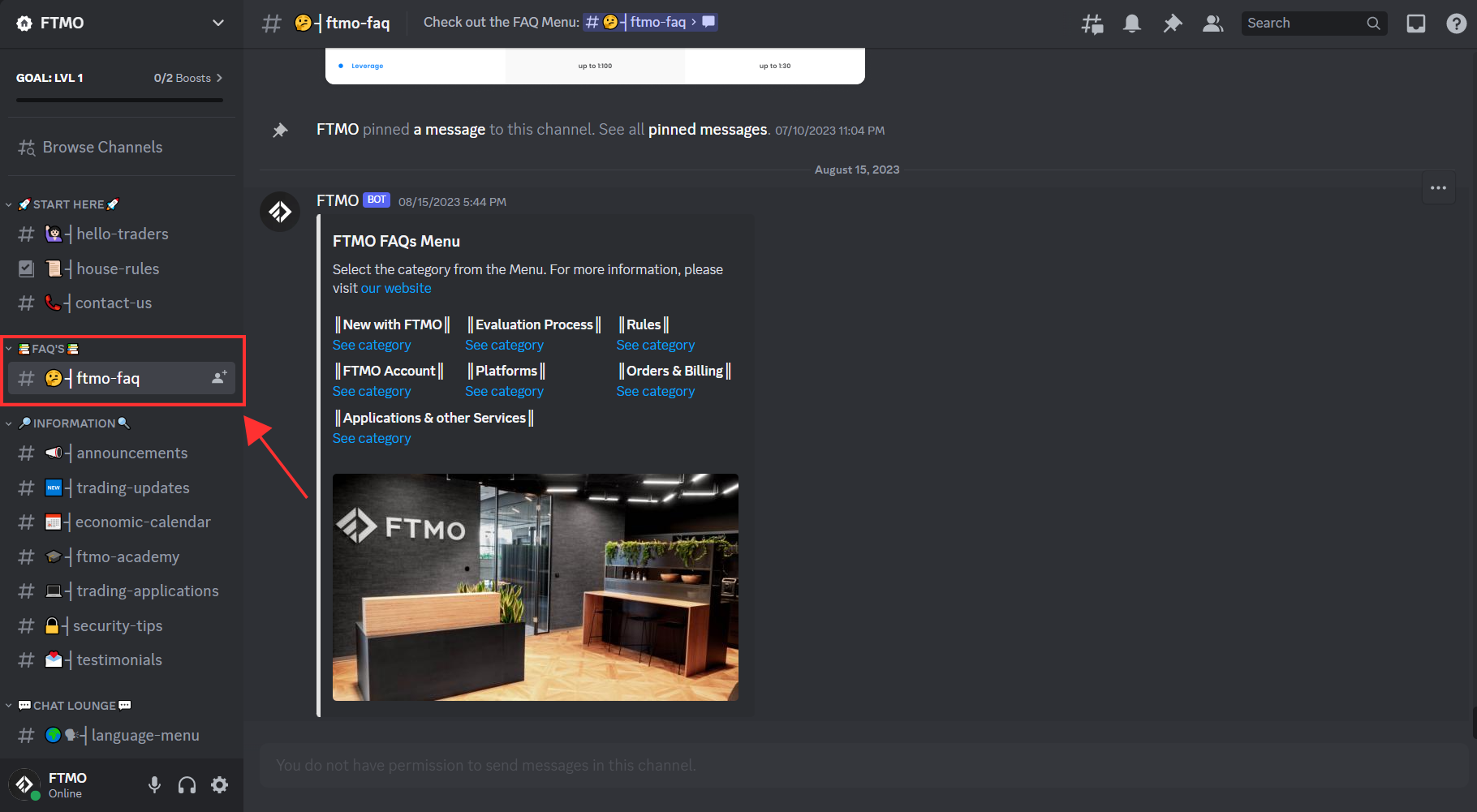 Revealing Important Channels: The "Information" Section
Discover an important section of our Discord server: the "🔎Information🔍" category. This category includes the following channels:
"📣┤ Announcements": Stay well-informed about important updates and service announcements.
"🆕┤ Trading Updates": Receive the latest trading insights, holiday schedules, maintenance alerts, and more.
"📅┤ Economic Calendar": Monitor upcoming high-impact news events.
"🎓┤ FTMO Academy": Enhance your trading knowledge with basic and advanced educational content.
"💻┤ Trading Applications": Immerse yourself in innovative trading tools.
"🔒┤ Security Tips": Get important security insights for a safe trading experience.
"💌┤ Testimonials": Discover reputable trading review sites and share your own success stories.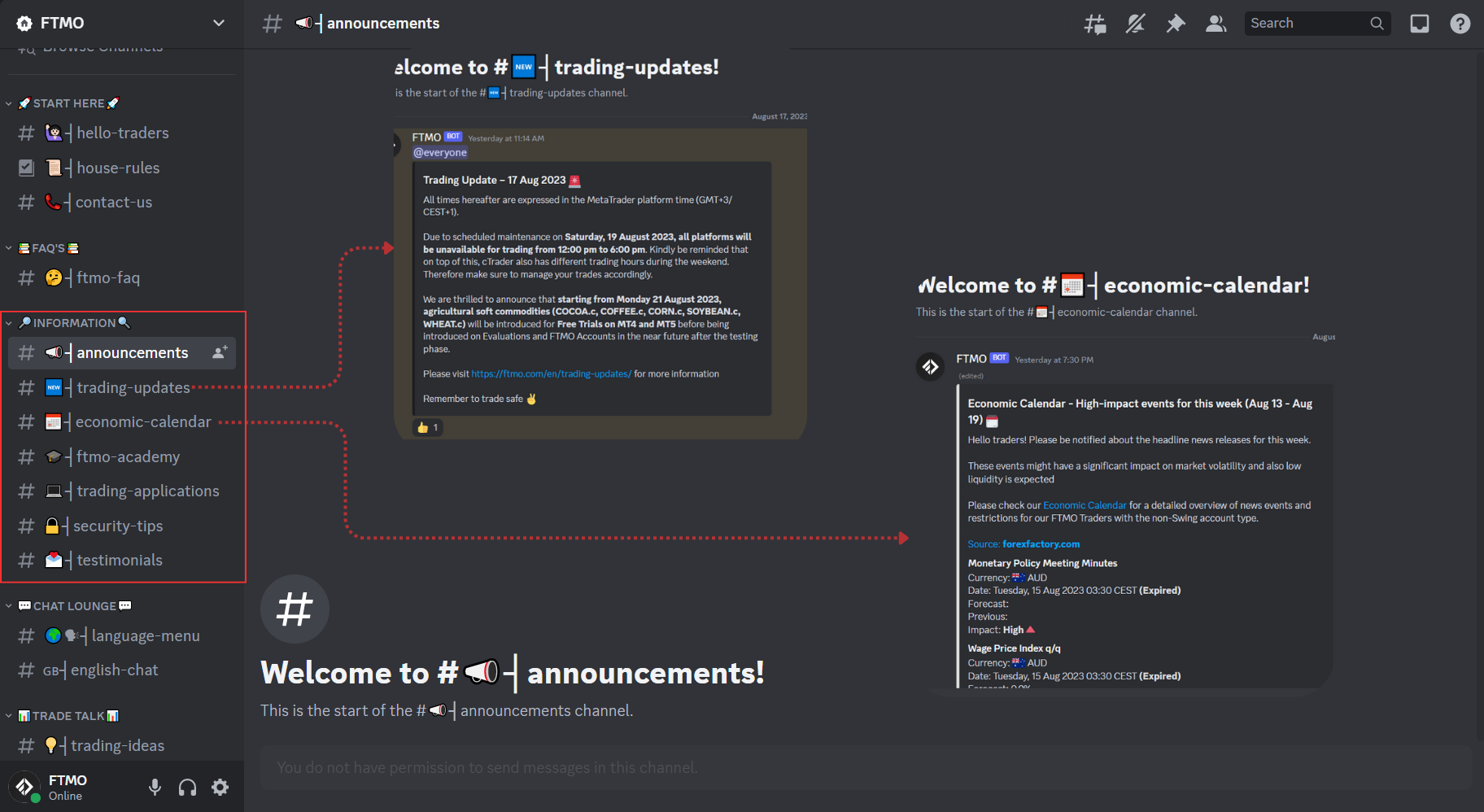 Engaging Conversations and Trading Analysis
Next, you'll come across the "💬Chat Lounge💬" category where chat channels are hosted. Access language-specific channels through the "🌍🗣┤language-menu" channel by reacting with the relevant emoji. For example, react with the Spanish flag emoji to gain access to the "🇪🇸┤spanish-chat" channel if you're a native Spanish speaker and looking to interract with others. You can access up to two language-specific channels at the same time.
The "🇬🇧┤english-chat" channel serves as a general English chat room open to everyone.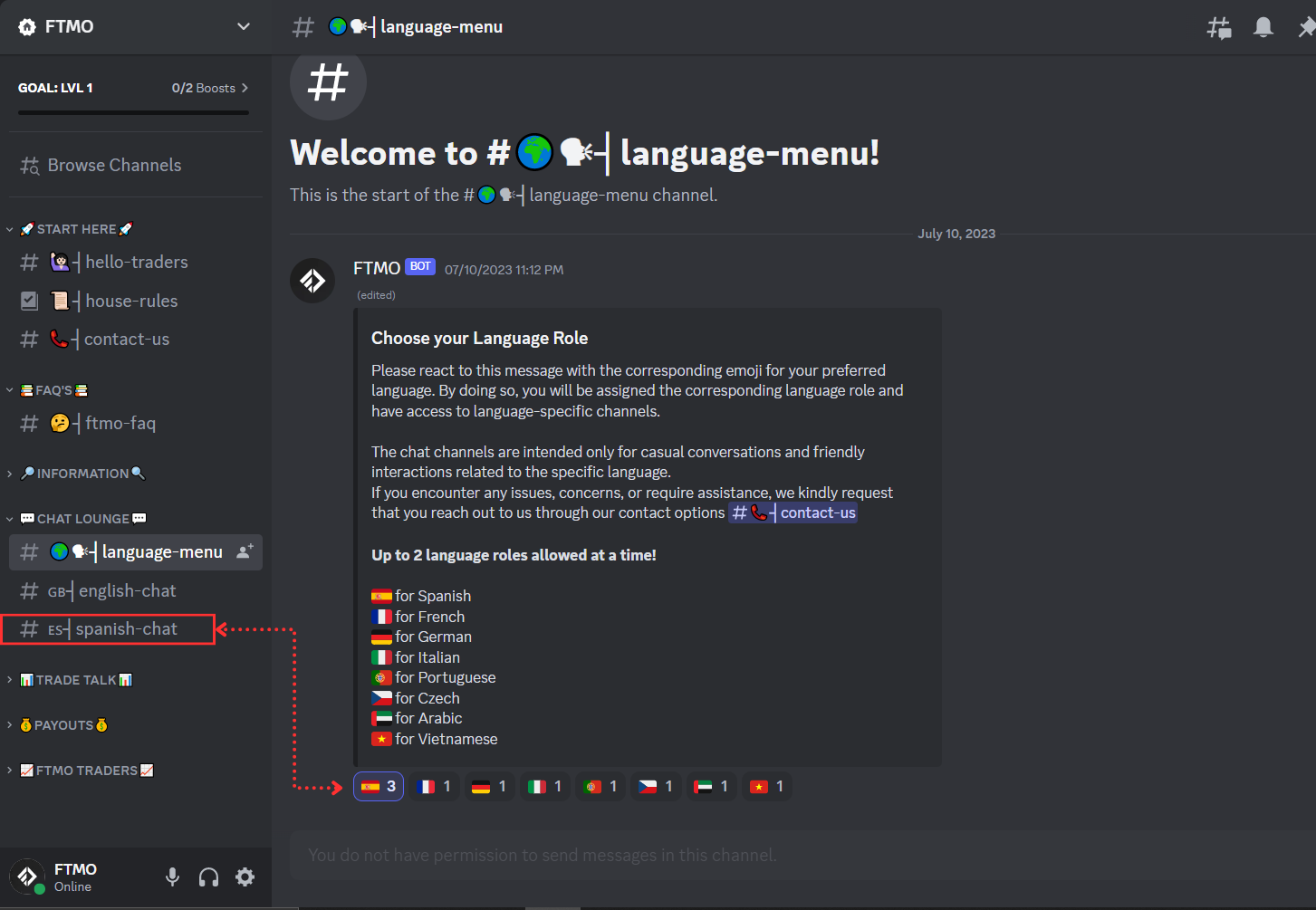 Directly below, explore the "📊Trade Talk📊" category featuring the "💡┤trading-ideas" channel. Here, share your trading concepts, strategies, and analysis. Feel free to attach chart images and showcase your skills to the community.
Showcasing Payouts and FTMO Traders
Discover one of our Discord server's most inspiring channels: the "💸┤profit-splits" channel within the "💰Payouts💰" category. Witness fellow FTMO Traders achieving their dreams and sharing their well-deserved payouts from their FTMO Accounts.
If you're an FTMO Trader, motivate others by sharing your Profit Split certificates or valid proofs. This way you motivate fellow traders (especially beginners) to achieve similar results.
The FTMO Traders' Exclusive Chat Room
In the fast-paced world of trading, collaboration and knowledge sharing can often make the difference between success and stagnation. Recognizing the value of community-driven learning, FTMO has taken a step by introducing a dedicated chat room exclusively for FTMO Traders. This unique space fosters an environment where experienced traders can exchange insights, strategies, and ideas, further amplifying their trading prowess.
Before you can access this channel, you first need to verify yourself as an FTMO Trader in the "FTMO Trader Verification" channel within the "📈FTMO Traders📈" category, following the provided instructions.
Please note that you must have an active FTMO Account for verification; otherwise, your application will be declined. Ensure accurate submission of your registered email address and the FTMO Account number.
Once verified, gain the exclusive "📈 FTMO Trader" role on our server. This role enables you to participate in discussions with fellow FTMO Traders in a dedicated chat room.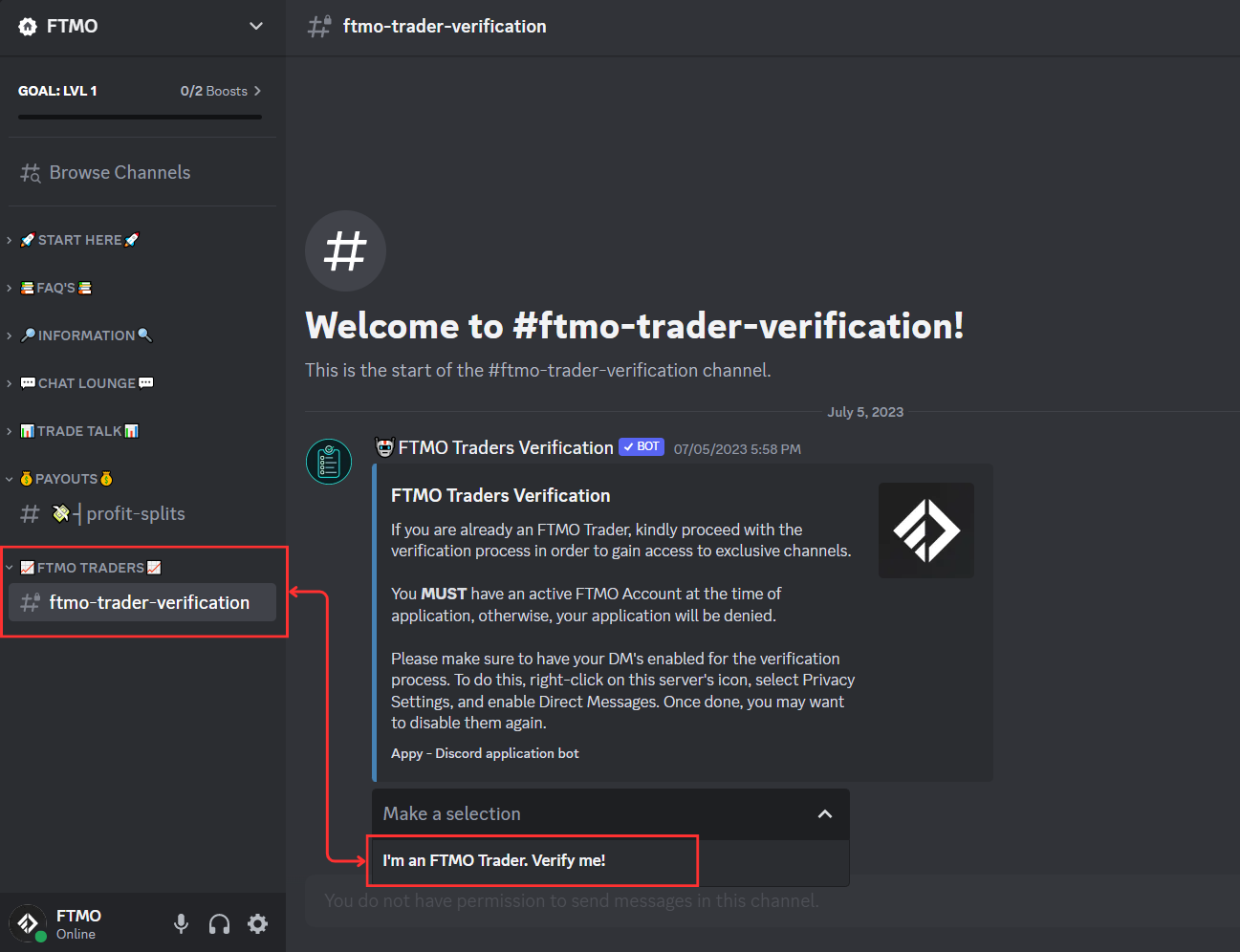 Embark on Your FTMO Discord Journey
The FTMO Discord community is a dynamic space for traders to collaborate, learn, and share. By navigating channels designed for information, engagement, and inspiration, you will be set for a rewarding trading journey. Join us today to maximize your trading potential in this vibrant community.
If you have any questions or need help, don't hesitate to contact us at any time using the contact options provided. We're excited to have you as part of the FTMO Discord community!
About FTMO
FTMO developed a 2-step Evaluation Process to find trading talents. Upon successful completion you can get an FTMO Account with a balance of up to 200,000 USD. How does it work?.