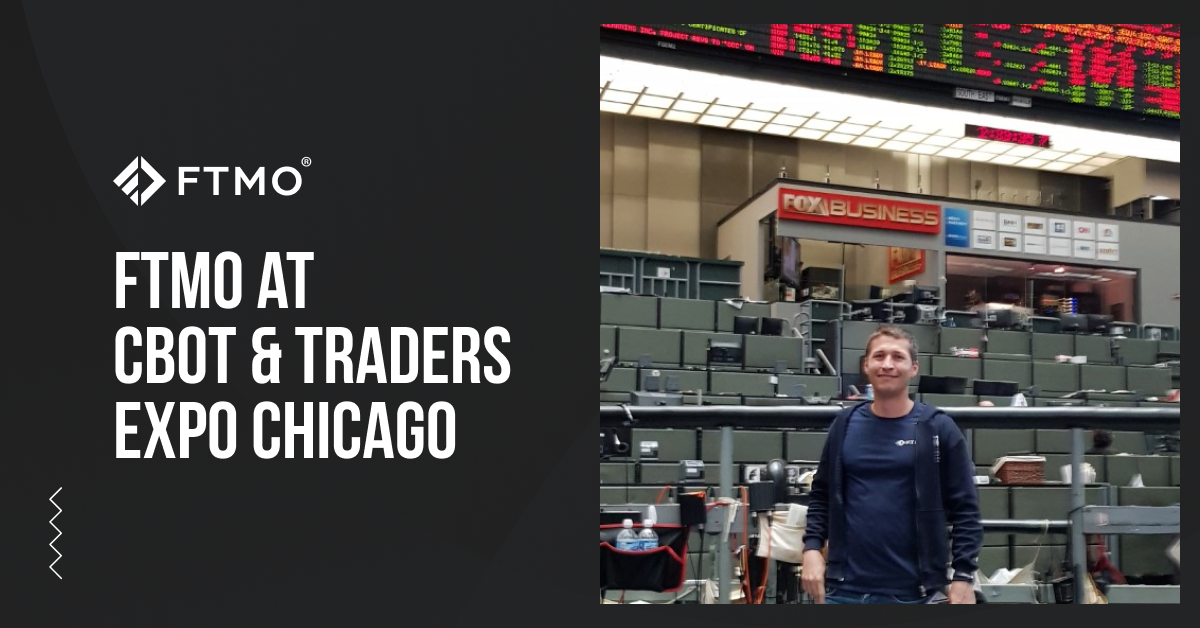 Autres
FTMO at CBOT & Traders Expo Chicago
Not lagging behind and continuously offer even better services, technologies and applications. These are the reasons we decided to visit the trading expo which doesn't have many competitors in the world. We travelled to Chicago, the capital of trading and commodities exchange. As a highlight, we managed to secure a visit to CBOT (Chicago Board of Trade) which is not open for public.
First, let's focus on the Traders Expo itself, which lasted for 3 days and was packed with many interesting speeches by famous trading figures. The venue was set at really big premises of the multifunction McCormick centre. The location consisted of one hall where participants showcased their products. There were another 5 big ballrooms where one could attend speeches and presentations for various trading related topics you could think of.
There were well-known trading figures and speakers, such as Linda Raschke, who was also showcased in Jack Schwager's book Market Wizards. Linda was the main trader of a few American funds and in 2002, she founded her own fund which was, according to BarclaysHedge, placed as number 17 among 4500 funds of a 5-year performance rating. During her speech, Linda spoke about her beginnings and the stories she encountered during her trading career. One topic on the table was her trading style where she prioritizes the use of technical indicators over subjective judgements. Besides others, she discussed her experience during the Flash crash occurrence in 2010.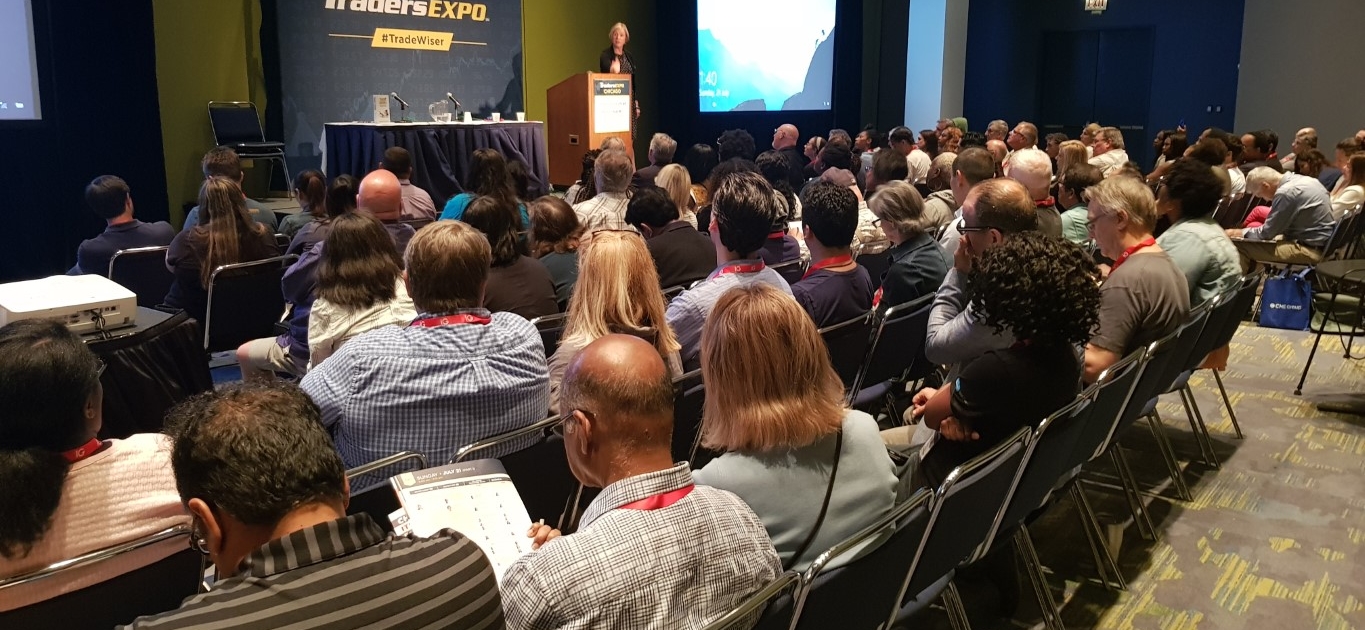 One of the speakers who were present was Tim Sykes who is well-known by many trading fans from the Wall Street Warriors series. He became a shining star after turning some 13,000 USD into 1.6 million dollars while studying at the university. Another big figure present was supposed to be Mike Bellafiore who was also showcased in the above-mentioned series. Mike is the owner of the SMB company and the author of One Good Trade book, which is probably one of the best trading books out there. Sadly, his appearance at the Expo was cancelled.

Another big name we've had a chance to listen to was Tom Sosnoff. Tom is also known for co-creating the Thinkorswim platform, which he sold for 750 million dollars couple of years ago. He then founded the brokerage firm Tastytrade which is now the world's fastest-growing brokerage firm. A big surprise for us was the fact that the CME Group exchange itself took a big chunk of the program as they sponsored some speeches and also having some of them in charge. CME was also regularly organizing lectures for smaller groups of traders. One of the popular lectures was the session about Market Profile, which is still very popular despite its age.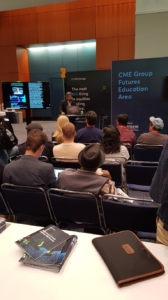 Thanks to the fact the Expo lasted 3 full days, there was plenty of time to diverge your focus into many different instruments. Many lessons were related to Forex itself, then Options, Futures, Cryptocurrencies and ETFs. We also attended psychology speech by lovely and well-known trading psychologist Mandi Pour Rafsendjani and also we sat down to learn from the lecture about taxes. Aside from that, one could attend the signing of various books. One of the authors you could get the book signed by was Alexander Elder with his book titled The New Trading for a Living.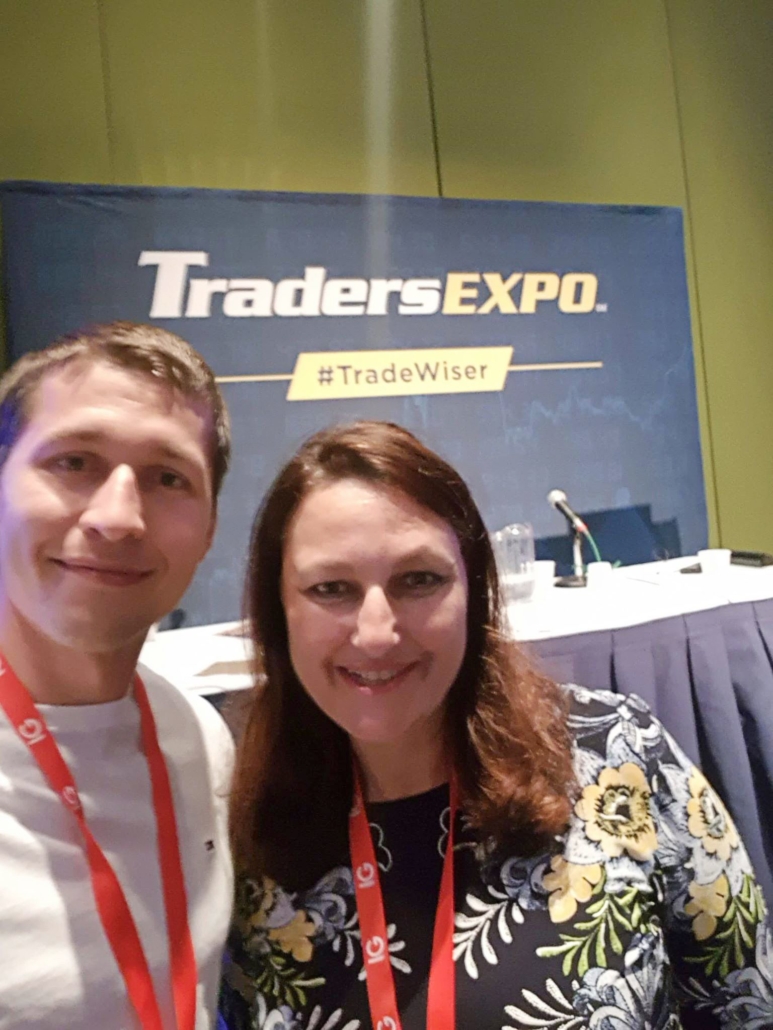 And now, let's get to the exchange floor visit, which certainly was an extraordinary experience. The exchange is not open to the public. We've had privilege getting the permit pass thanks to our contact in one big Chicago based firm. Just as NYSE in New York, the Chicago Board of Trade (CBOT) is a traditional old-style building with its unique architecture. When you stand next to such a powerful structure, you really feel small.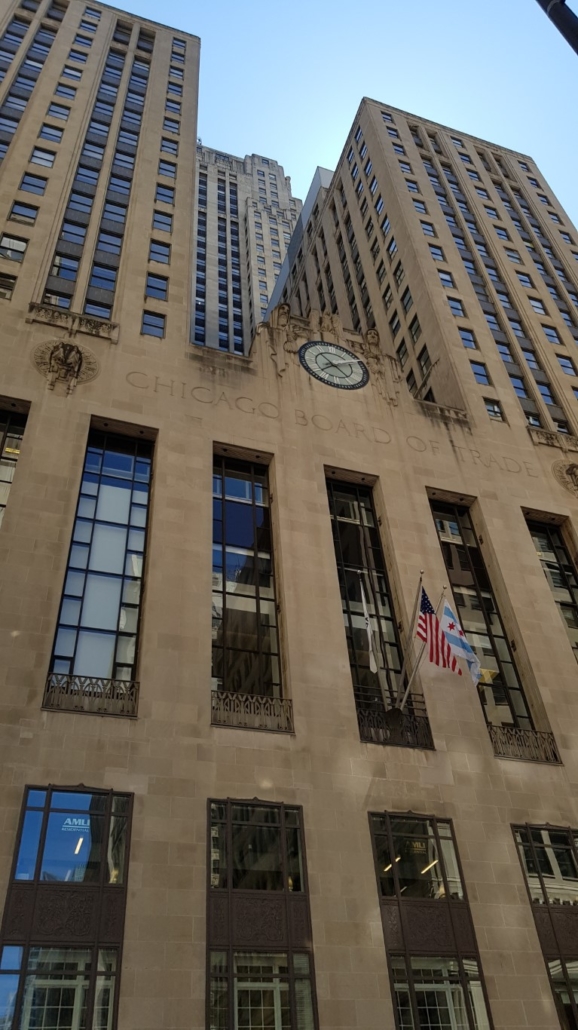 Before gaining the entrance to the pit, you need to go through a series of security checks, which are actually more strict than at the US airports. We got to the floor by around 2 pm and at that time, most of the tradeable assets were closed already and there were no traders on the pits. Nevertheless, the magnificence of the premises was staggering. There are individual pits in the middle of this gigantic hall, which are segregated as per the tradeable instruments. One can see a pit for grains, while just a few meters away there is a pit for bonds. The sizes of these pits differ according to the attractivity of the instruments traded there. Some years ago, the grains pit was notably bigger than now. Not that there was a decline in the number of traded contracts, but there is less interest from the trading companies to place their men on the market floor. Up on the walls, one can see the screens reflecting current prices of the individual instruments.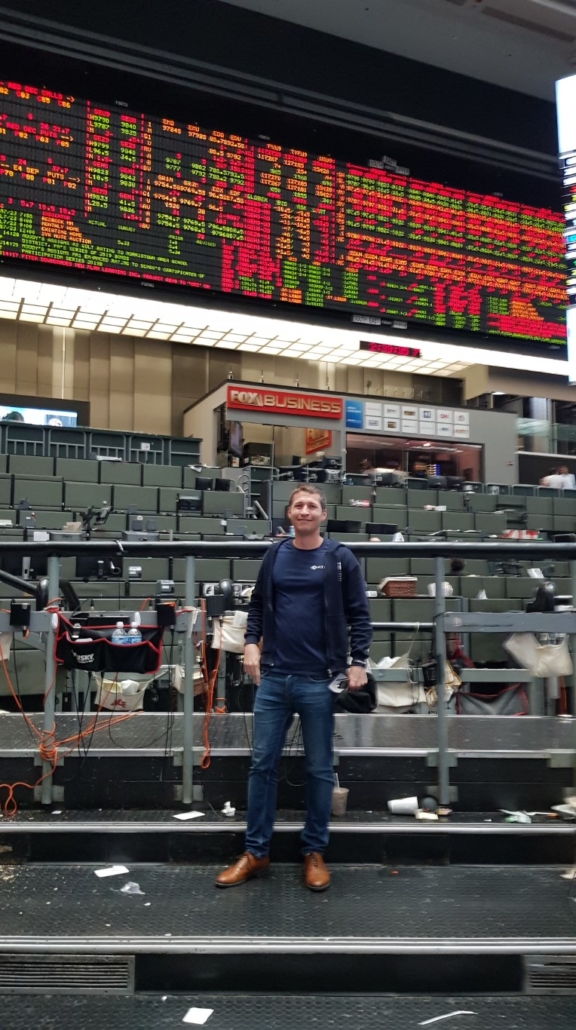 One thing actually struck us. We were shocked to see a complete mess everywhere. Trash was seen at every sight, there were used paper notes, traces of food residues, some spilt sauces and pretty much every kind of litter one can bring along and leave the trash behind. Interestingly, this load of a mess was made in one single day as the floor is being cleaned daily. Another surprise was the old-fashion and outdated equipment that traders use. No expensive screens were seen contrary to our expectations.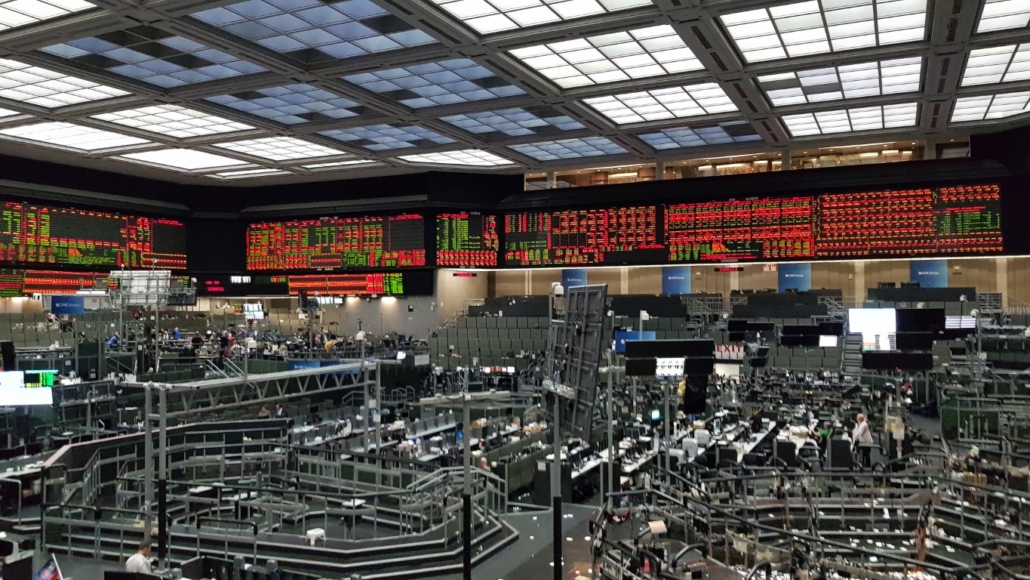 According to our guide, the end of physical trading is inevitable in a few years course as the majority of trading activities is done electronically these days. It is still sensible that big market participants keep their men on the pit in order to sense the atmosphere and the market mood, which can't be read from any remote location. It is expected that the related costs for running the floor exchange will once overcome the benefits of personal gatherings of traders.
We evaluate this visit to Chicago very positively. We have a new inspiration, met interesting people and last but not least we saw trading legends that we know from books or TV. We'll do our best to reflect the gained experiences in our services. This story about Chicago ends with a couple of snaps representing this beautiful city and the trading capital.
À propos de FTMO
FTMO a développé un Processus d'Evaluation en 2 étapes pour trouver des traders expérimentés. Une fois l'évaluation réussie, vous pouvez obtenir un FTMO Account avec un capital pouvant aller jusqu'à 200 000 USD. Comment cela fonctionne-t-il ?.