This fundamental outlook will bring you a couple of up-to-date news from the financial markets of last and this week. Trump is in a full electoral campaign for Republicans to Congress and Senate. In foreign relations, it looks promising with China, while Iran is embargoed by the United States. The Bank of England pushed Sterling high when Mark Carney announced the possibility of further potential interest rate hikes. In the US and Canada, time has changed to winter.
USD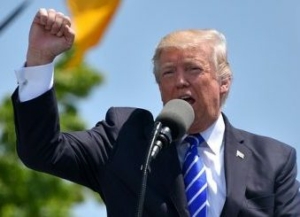 The US dollar was ranging last week and the USD index closed near its opening. The NFP report did not significantly move the markets, although 250k new jobs were added to the non-agricultural sector, which is higher than expected. On the other hand, however, the previous result was negatively corrected. The Unemployment rate remained unchanged at a low 3.7%, but month-on-month wage growth slowed down to 0.2% on the previous month. Markets also rocked developments in the US negotiations with China. President Trump echoed good progress and constructive dialogue with Chinese President Xi and said that the deal on trade tariffs could eventually happen. On the other side, according to Chief economic adviser Kudlow, the situation is not at all good, as talks with China have gone nowhere. In the US, the hot topic now is the Midterm election to Congress and the Senate. President Trump is in a full fire against Barack Obama who is lobbying for Democrats. Democrats, according to recent polls, can win most of the Congress. Today, on Monday, US sanctions against Iran for Crude Oil exports and financial deals came to force, even to countries that trade with Iran. Meanwhile, in Iran, they commemorate the anniversary of the occupation of the US Embassy in Tehran. Relations between the two countries are now very tight. On Thursday, Federal Reserve releases its interest rates. It is expected they remain unchanged, as next increase this year is most likely in December. NFP did not disappoint, and the Core PCE Index, one of Fed's key Inflation indicator, rose to 0.2% in a month-on-month comparison, two-tenths of a percentage point better than the previous one. On Sunday, the time has changed for the winter time in the United States and Canada.
GBP
In the United Kingdom, the main interest rate was set at 0.75% last Thursday, as expected. Also, the MPC votes were unambiguous. Although the Bank of England has lowered the forecast for economic growth, British Pound has picked up the pace and, together with Brexit optimism has jumped up significantly. The related rate report noted that if the economy is to evolve according to the new Inflation projection report, BoE is likely to raise interest rates next year. Mark Carney also mentioned that if there is a no-deal Brexit, the economy will suffer from supply and rising inflation, and consequently interest rates could go up. On Monday, a worse Services PMI was released, and on Friday, we'll see both monthly and quarterly (Prelim) GDP, along with Manufacturing Production. Brexit news will still be an important currency mover.
AUD
We received mixed reports from Australia. The most important, the quarterly CPI, brought a slight disappointment when the result stagnated at 0.4%, although it was expected to increase to 0.5%. There was also a worse correction of the previous quarter in Core Inflation. The day afterward, however, Aussie scored great profits when a very good Trade Balance was published with a result of $ 3.02 billion, the best for the past year and a half. This week on Tuesday, the Reserve Bank of Australia (RBA) announces its Interest Rates. They are expected to be unchanged even this time. In Australia, the rates have not changed since August 2016, and the RBA is still neutral about changes in its monetary policy. Macroeconomic outcomes are mixed, worse inflation but better labour market. RBA is still worried about the global slowdown in economic growth and the domestic housing market.
NZD
There are three major news releases from New Zealand scheduled for this week. On Tuesday, we'll get quarterly reports from the labour market. The expectations are for no change in new job increment, but the Unemployment Rate is projected at 4.4%, a tenth of a percent better. On Wednesday early morning CET, the quarterly Inflation Projections will be published, and the same day thereafter RBNZ announces its Interest Rates, including the RBNZ Report on rates and Monetary Policy. An hour later, Governor Orr holds a press conference. The New Zealand dollar is, among the major currencies, highly sensitive to economic reports and its volatility is significant.
Scheduled Geopolitical events
 Russian Prime Minister Dmitry Medvedev will start a three-day visit to China on Monday.
A meeting of Eurozone finance ministers is held in Brussels on Monday.
Pakistani Prime Minister Imran Khan visits China and meets President Xi.
On Tuesday, midterm elections are held in the United States.
A five-day ASEAN summit in Singapore begins on Sunday.
Pavel Dusek
https://ftmo.com/wp-content/uploads/2018/11/trump-e1541420494591.jpg
245
339
Pavel Dušek
https://ftmo.com/wp-content/uploads/2019/02/logo_ftmo.png
Pavel Dušek
2018-11-05 13:22:45
2019-08-02 10:41:06
Trump has opened to China but closed the door to Iran