Jozef from Kosice (Slovakia) is a trader who he has recently met the conditions of the Verification phase. Jozef has elaborated in an extraordinary way on his trading system and the contribution of the Challenge to the development of his trading skills. You have the opportunity to get acquainted with Jozef's story in this article. It all started at the university:
"I discovered trading for the first time at the university when retail CFD was not yet widespread as it is now. At that time it was a totally new thing for me and trading was almost about random mouse clicks rather than about some sophisticated systems. I gradually shifted to side options, which turned out to be quite acceptable to me. After a while my broker abandoned this trading style, so I had to shift to CFD. I had respect for that, since it seemed much more mentally demanding to me. I was looking for suitable instruments, until a moment when I decided for DAX. With time I started to analyse data from history and to create my own statistics or searching for something on which basis I could assess a probable advantage with an assumption that past repeats itself. But I was still missing something. And that was critical observation from an another person. I couldn't find anything of that sort for a long time until I encountered the "Challenge" by coincidence… The Challenge helped me (so far) primarily in that I found a great source of information about an instrument which I trade with. I was fascinated by statistics already at the university and especially by those explained by our lecturer. I was similarly fascinated when I found the FTMO.com. Last, but not least, it has helped me with my MM and RM. "
How did the Challenge help Jozef move forward?
I have definitely improved a great deal in the area of money management. I started recounting the volume of individual positions according to set risk maximum, which I was willing to undergo in a given trade. Along with easy-to-define (but not as easy-to-meet ) rules of the "Challenge" I have discovered a feeling I have never experienced before. Every evening I was looking for the next morning for the Dax to open.
Where does Jozef see room for improvement?
"You constantly have to work your way up, if you want to be successful. In my case, after completing the "Free Trial" I got rid of all trading instruments except for DAX. I managed to stick to these in the "Challenge" and all my trades were made using this instrument. At the same time I found out for myself that all "emotional" trades cut off a considerable portion of my equity. So this is for me a clear (and personal) challenge in the next stage: to eliminate all these trades. Furthermore, I have to improve my discipline in recording every single trade in my logbook. This form of self-reflection is immensely important as it gives me the possibility to look back with time at my decisions and re-evaluate them."
What is the basis of Jozef's trading system?
"I try to capture the end of short-term correction and enter with minimum SL in the direction of the trend from a higher time frame. To do this, I use several filtering indicators in MT4 such as Hull MA, ADX, SUPERTREND, PSAR and 200EMA." This concerns days when one can expect trendiness. Otherwise, I try to use "MACD, OSMA and STOCHASTIC". "
And would he recommend the Challenge to other traders?
I personally think that trading is immensely difficult. Therefore, from the long-term perspective, only those who are disciplined enough to comply with certain rules will be successful. The rules of money management and risk management which you set were definitely what my trading lacked until then. Therefore, whoever wants to move one's trading to the next level should try to meet the conditions of the "Challenge".
Trader's Challenge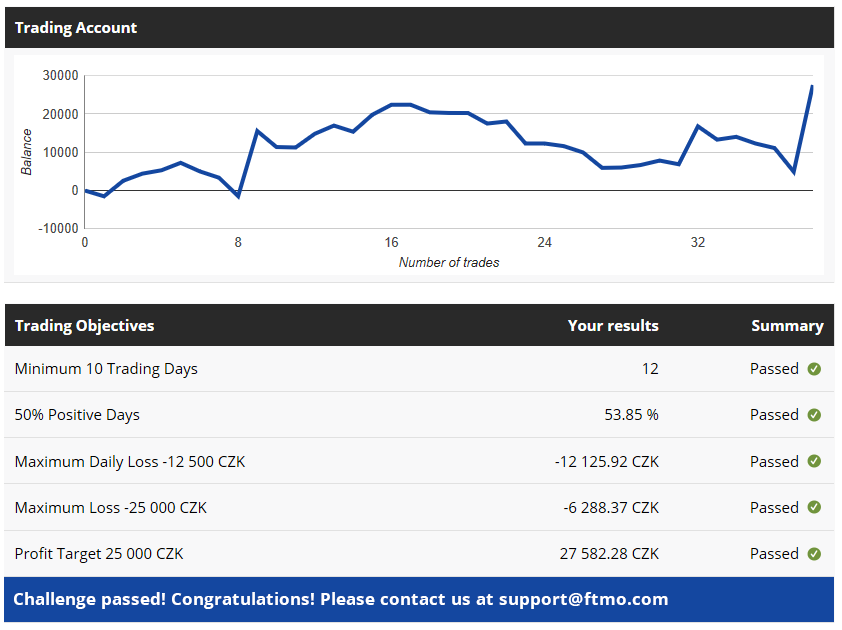 Trader's Verification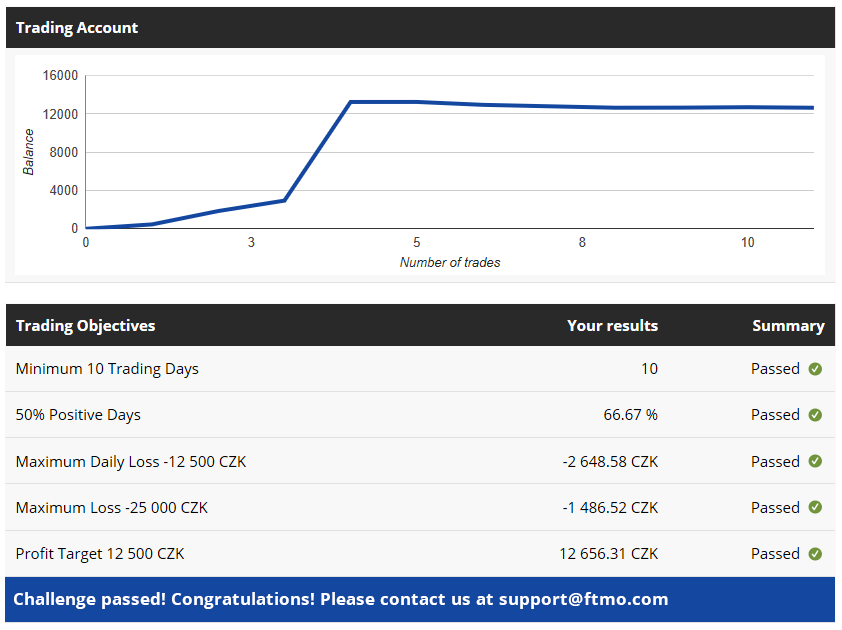 We thank Jozef for the permission to release the article and we wish him plenty of discipline and successful positions on the live account.
https://ftmo.com/wp-content/uploads/2017/09/black-and-white-sport-fight-boxer-1.jpg
930
1280
FTMO.com
https://ftmo.com/wp-content/uploads/2019/02/logo_ftmo.png
FTMO.com
2017-09-22 09:43:17
2019-08-02 08:43:49
The Story of a Trader Who Became the FTMO Trader This Week