This fundamental outlook will bring you a couple of up-to-date news from the financial markets of last and this week.  Investors are eagerly awaiting a Brexit agreement, US stock indices suffered heavy losses while government bond yields are rising again, and the IMF meeting has not brought any major news.
USD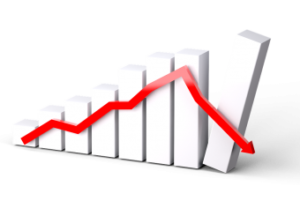 The US dollar went through a big correction last week. Other worries about the impact of trade wars with China have dragged the greenback down, and Fed's recent statements on continued interest rates hikes have prompted another strong reaction by Donald Trump on the Fed address. This has sent the dollar down, along with the worse results of Core Inflation and worse consumer sentiment. In the US stock markets, we also saw huge drops in the S&P500 index (5% drop) and the Dow Jones (more than 1300 points drop). Government bond Yields are still high, ten-year bonds are now at 3.15%, which could further boost the dollar. This week, we expect the results of Core Retail Sales and, in particular, the Minutes from the last FOMC meeting, being released on Wednesday.
GBP
The only hot topic is, of course, Brexit. The deal, which was due to be presented last Wednesday, was "surprisingly" postponed to this week, and on Sunday evening Politico server released the unverified information that the deal had taken place. It was then demented by the Brexit negotiator Michel Barnier himself. In any case, the key issue of the Irish border has not yet been resolved. Macroeconomic data is still in the background. An example could be the worse GDP and Manufacturing Production output of last week, when Sterling eventually ignored the fundamentals and strengthened after Barnier's speech. Brexit will continue to dominate this week's headlines. Data from the labour market, Inflation CPI y/y, Retail Sales and Mark Carney's Friday speech from New York are expected to be potential market movers this week.
NZD
The New Zealand dollar scored nice profits last week thanks to the weakening US dollar. It is possible that this was just a short-term correction in the current bearish sentiment. This week, the CPI index release stands out. Because this is a quarterly result, this report is very significant and is considered to be a market mover. In the second quarter of this year, prices grew at only 0.4%, and now the current print is expected to be 0.7%.
AUD
The Australian economy is very tied to trade relations, especially with China. Chinese currency Yuan is now also on the investors' radar, mainly because of fears that the People's Bank of China (central bank) may intervene in its own currency exchange rates. We are expecting important results from the labour market this week. In August, we saw a high increase of 44k new jobs, but the numbers for September are now expected to be much weaker again, specifically 15.2k. The unemployment rate is projected to remain unchanged at low 5.3%.
Scheduled Geopolitical events
On Tuesday, US Secretary of State James Mattis visits Vietnam.
On Tuesday and Wednesday, there is a European Council meeting taking place.
Asia-Europe Meeting summit takes place in Brussels on Thursday, leaders of 51 Asian and European nations are expected to attend.
On Thursday, European Union economic summit takes place.
Parliamentary elections will be held in Afghanistan on Saturday.
Pavel Dusek
https://ftmo.com/wp-content/uploads/2018/10/stock-crash-e1539595638138.png
245
340
Pavel Dušek
https://ftmo.com/wp-content/uploads/2019/02/logo_ftmo.png
Pavel Dušek
2018-10-15 14:24:02
2019-08-02 10:45:00
Stock Markets turbulence