Time to time, we bring you a short feedback from our traders. This time, it's from Kashyap D., who has successfully passed his Challenge, went into Verification and is currently trading another new Challenge as his progress is very auspicious. Kashyap is our full-time intraday trader from India and is experienced in trading Forex & Indian equities. We wish him all the best to be our next funded FTMO trader!

Tell us something about you. How did you start trading?
I am a 37-year old, male, residing in Ahmedabad (city), Gujarat (state), India. From 2003 to 2008, I worked in leading money exchange firms in India where I acquired basic knowledge about the currency market. However, during that time, I had no knowledge about currency trading. I started trading Indian equities in 2006. Unfortunately, I lost almost all my savings as I did not have any trading plan.
It was only in 2008 (when Exchange Traded Currency Derivatives were launched in India) that I got interested in trading foreign exchange market. From 2008, I was working for a brokerage house and my job was to acquire individual and corporate clients for currency derivatives segment. As a part of my job, I had to keep myself updated about currency movements and owing to this, I stumbled upon technical analysis. Since then, until early 2018, I studied several trading books, backtested several trading strategies and even traded with real money. I had an on-off relation with financial markets, wherein I used to test a strategy with real money and withdrew as soon as I did not get the expected results. Gradually, things started falling into place as I incorporated the psychological and money management principles in my trading plan. Since past few months, I have taken up trading as a full-time activity and I now trade Indian equities, commodities and currency derivatives, applying multiple strategies.
Can you briefly describe your trading strategy?
I am a day trader. I trade during a late-Asian session to mid-US session. Although EUR/USD is my favourite pair, I do look for opportunities on JPY pairs as well. I trade off the 15 min chart, based on momentum. Most of the time, I do not have a directional bias. At times, when I infer a directional bias based on higher timeframe, I do carry the position overnight in expectation of a larger profit target. In such cases, I make sure that the risk size remains the same. I never carry positions over the weekend.
What do you think about your Challenge?
Passing the Challenge has strengthened the belief in my trading skills and my trading plan.
I think, my equity balance curve during the Challenge phase could have been smoother if I had followed the exact rules of my trading plan. In a hurry to finish the Challenge, I slightly deviated from my trading plan when I was near to achieving the target on the 10th day itself. This deviation miserably backfired and prolonged my Challenge to 15 days, which could have been completed on 11th or 12th day.
Has Challenge helped you with anything in particular?
Yes, absolutely. It was like a mirror to me which gave a reality check. It imbibed prudence in me to stick to an already profitable plan rather than trying to rush up to achieve the target before a deadline.
Would you recommend Challenge to other traders?
Yes, I strongly recommend the FTMO Challenge to all aspiring traders, especially to beginners. I believe that adhering to Maximum Daily Loss and Maximum Loss parameters will help in conserving the capital and will make the learning curve less painful. Besides, by attempting the Challenge, you get a shot at realizing the ultimate dream of a Trading For Living.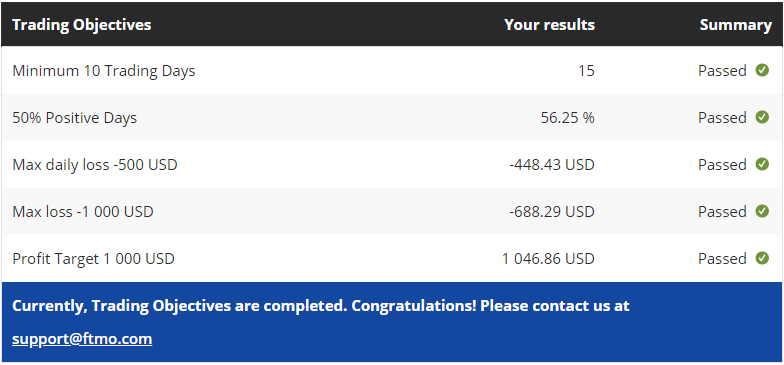 https://ftmo.com/wp-content/uploads/2018/09/trader-interview.jpg
239
340
f.satoplet@ftmo.com
https://ftmo.com/wp-content/uploads/2019/02/logo_ftmo.png
f.satoplet@ftmo.com
2018-09-28 09:00:32
2019-08-02 08:39:19
Psychology and Money Management put things into place - trader Kashyap