This new week has brought another batch of  FTMO traders. All of these traders have something in common as well, they all trade Price Action strategies. Be inspired by their journey and maybe learn something new to incorporate in your own trading approach!
Trader Matthew from South Africa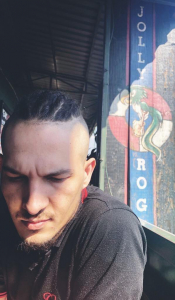 About me:
I am a completely self-taught trader. I have never used a mentor or pursued the use of an inverse narrative of courses and guides used by the majority of traders as a quick learning program. As the majority of traders lose, I decided to take on the journey of trading least travelled - by teaching myself from scratch. Arguably some mentorship programs do help speed the process up, however, at the time, I simply could not afford it and found it very hard to find someone who viewed the markets the same way institutions view it.
I became a trader who would likely follow the path least taken, thus forcing me into mastering my own thoughts and emotions through discipline, perseverance and ambition for knowledge. I started in Trading full time in 2018 as I was introduced to it back in 2016 via my own curiosity in pursuing dividend and positive cash flow investments.
After a few ups and downs within the 9-5 job realm, I had been retrenched quite a few times which deeply shifted my mindset and decided to become an entrepreneur, risking comfort and a stable income was the price to be paid, this lead me on the path to creating my own reality, one of which, I became solely responsible for by starting and setting up multiple businesses from scratch to pursue trading full time.
How do I trade?
I am a Naked Price Action Swing Trader. My trading strategy consists of applying patience and mastery of my own mind first as the most important element before any analysis - the consistency you seek in the markets lies in your mind. Risk management then follows before any entry is even considered as I want to know how much I am risking before seeing any profit.
I use price action as a footprint for following the smart money, I execute my trades by incorporating Fibonacci levels, trading off psychological zones, as well as identifying price action chart patterns all whilst keeping abreast with updated Fundamental & Market Sentimental analysis - I will often wait until price reacts around these certain key levels before entering trades.
Being a swing trader on the higher timeframes (4Hour ideally), my stop losses are usually larger, market noise and false signals are eliminated, however, this allows the market to breathe around my positions and react accordingly in line with the larger participants, resulting in catching the bigger moves made.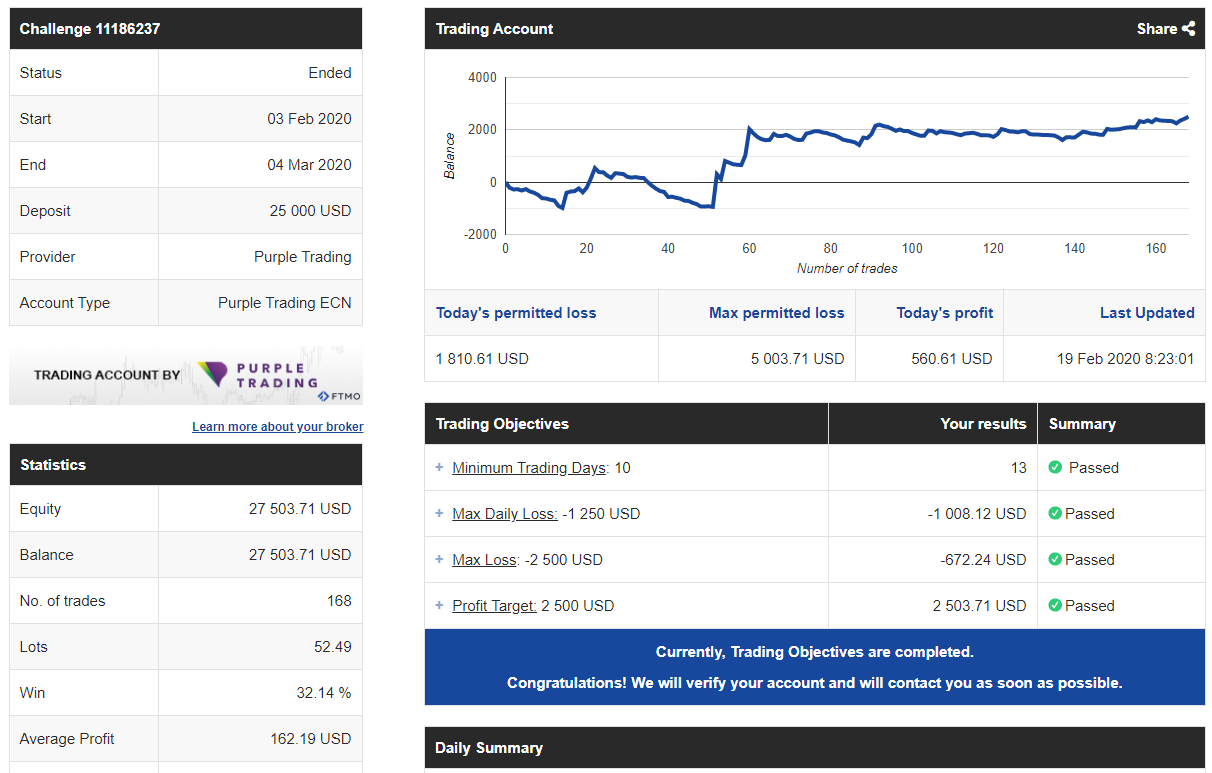 What went well?
These steps are vital in proving to not only FTMO that you can trade but vital in proving it to yourself more importantly that you are able to achieve what you set your focus on.
What to improve?
Exercising vigilance around volatile conditions as well as negative swaps.
Has the Challenge helped me?
Absolutely. My risk management has increased significantly becoming one of the most crucial skills I needed to develop.
Do I recommend the Challenge?
Yes, I would, however, only to those who will take it seriously.
Trader Karl about his Naked Trading Strategy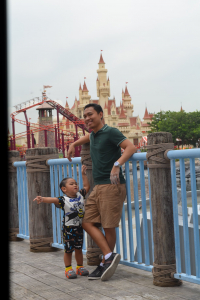 About me:
I've been trading for about 3 years now. During my early days, just like other aspiring traders, I've blown a lot of $$$ on several trading accounts. Since then, I took some time off in trading for a while and focus on educating myself about this trading world that I'm entering. When I thought I had enough confidence, I took my trading to the next level. And to challenge myself further, I took an FTMO challenge and here I am now.
How do I trade?
Naked Trading, that's what I do! I just identify certain price levels (support/resistance) and trend. Shorter time frame to identify the entry, Higher time frame to identify direction.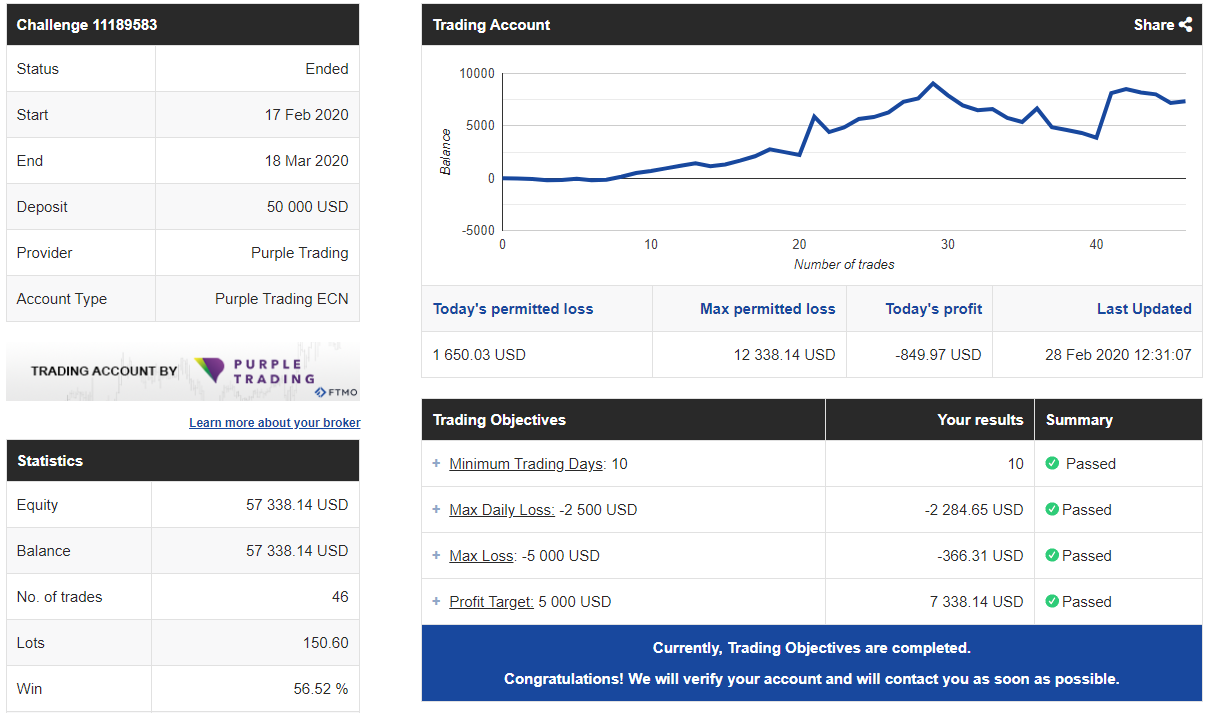 What went well?
I had a great time with the Challenge/verification. It more of tested my patience.
What to improve?
I tend to break my rules of engagement sometimes. Just be more disciplined.
Has the Challenge helped me?
Definitely! All the objectives really make a lot of sense.
Do I recommend the Challenge?
Yes! If you are a retail trader and wants to take your trading to the next level, take a Challenge. Whether or not you pass it, there will be a lot of takeaways you could get because your trading activity is documented through the Account Metrix.
Trader Reinhold shares his 12 years of experience in the financial markets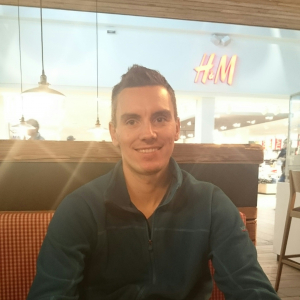 About me:
I started trading stocks about 12 years ago. The stock market fascinated me. A few years ago I started trading with CFD's. In order to get more capital, I signed up for FTMO.
How do I trade?
My trading strategy is a mix of market technology, technical indicators and price action. Daily pivot points, as well as daily highs and low points, also play an important role.
What went well?
It took me several attempts to meet the Challenge. Sometimes I took too much risk, sometimes I was unlucky and another time I was wrong when entering the order. The profit target seduces you to take too much risk. But I was always convinced that the Challenge was to be achieved.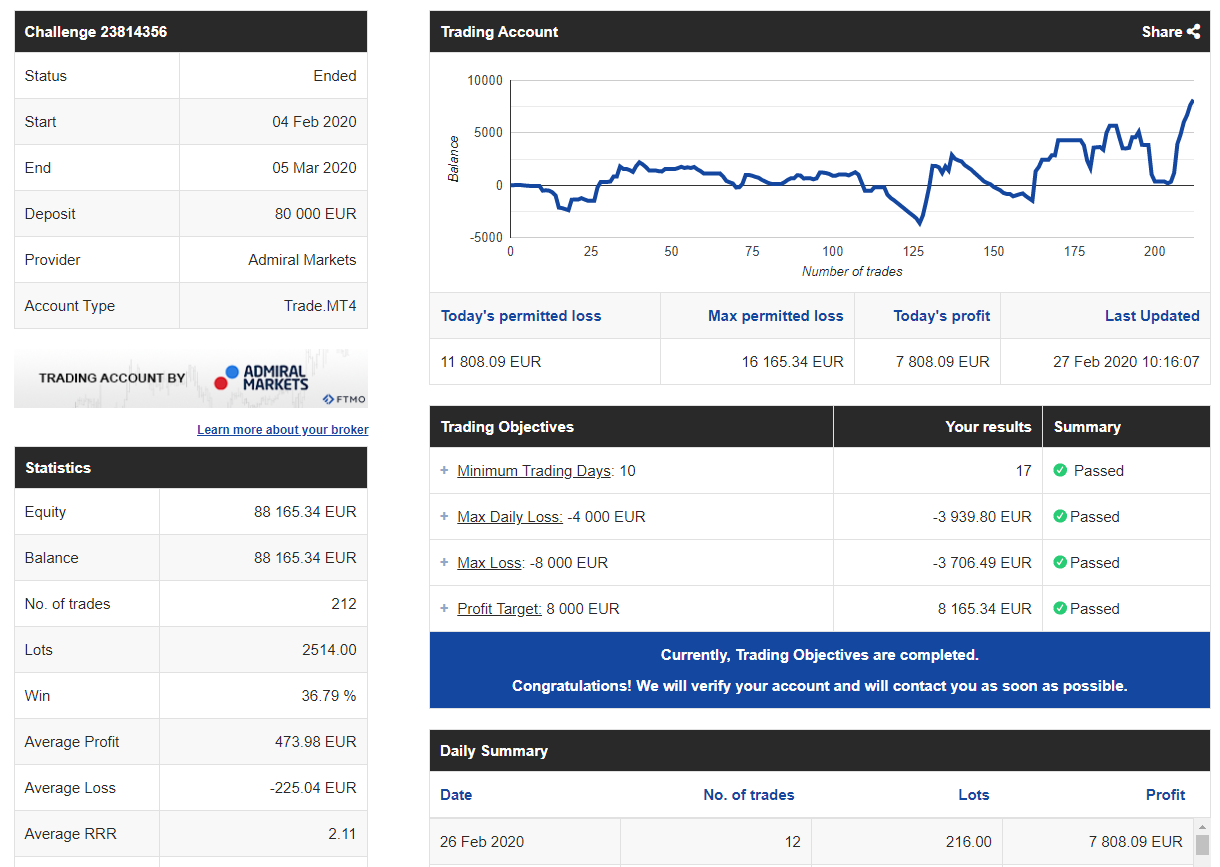 What to improve?
The psychological aspect. If things go badly for a while, several consecutive losing trades I tend to make bad decisions or increase the risk.
Has the Challenge helped me?
I think the Challenge was good to learn to follow the rules. And to limit the risk which is very important when trading. However, due to the profit target and the time factor, one is under pressure
Do I recommend the Challenge?
I can recommend the Challenge to any trader. The conditions are very fair. Don't give up if it doesn't work out right at the first attempt!
Trader Mark, another mentee of our partner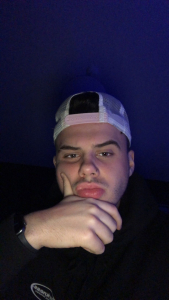 About me:
Hi, I'm Marc, I'm 19 years old. I first started trading when I came across it when I was 17 on flashy Instagram pages showing off designer clothes, nice cars, holidays etc. Blew many many accounts and was using every little penny on high-risk trades that failed me from different telegram signal providers that do not teach RISK MANAGEMENT. Then I went through a few mentors who were not to my liking and wasn't my style of trading until I came across BSAPPSFX. Ben is a great mentor and he has made me consistently profitable and I would highly recommend his service.
How do I trade?
Recent swing points, fibs and fib targets, round psychological levels and a single exponential EMA on multiple timeframes. Only take a minimum of 1:3 RR trades. I would consider myself as being more of a Swing Trader.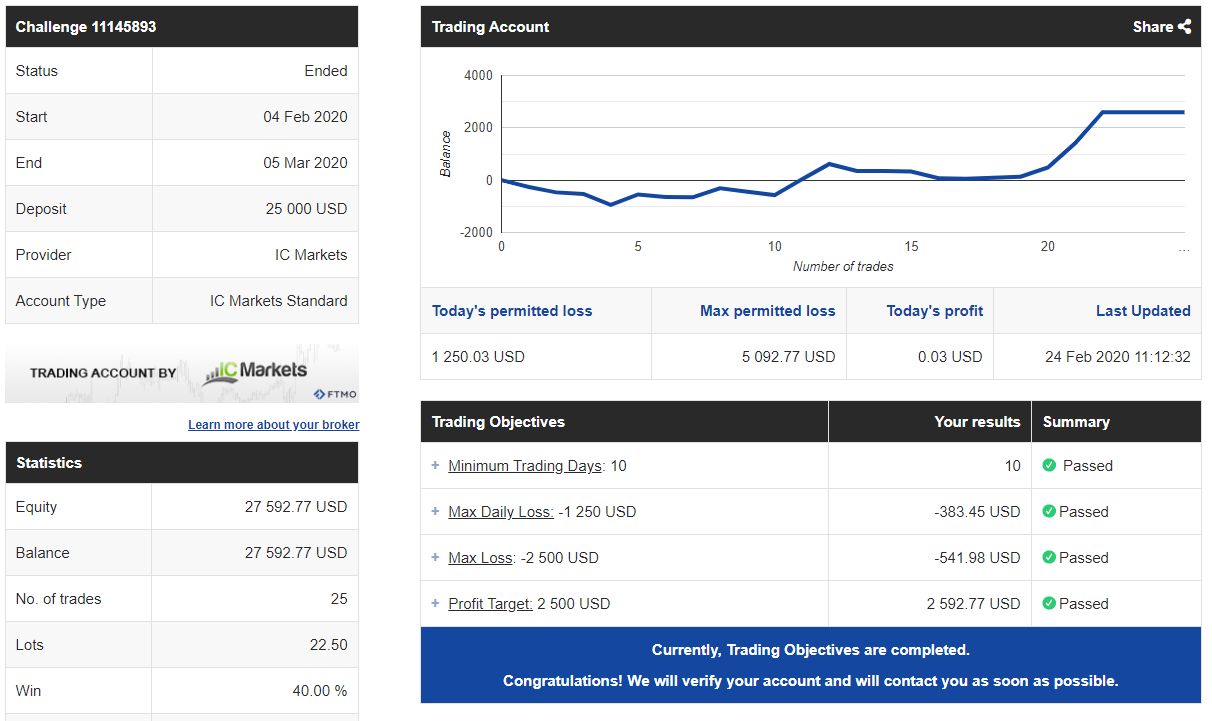 What went well?
I think my Challenge went very well as I was very calm and collected the whole time. The first time I took it I failed and that was because of emotional trading and wouldn't let the charts chill because of fear I wouldn't hit the targets within the given period. I then progressed through and passed the challenge in a week as far as I remember, 7 trading days. I then went on to do my Verification. Took a few losses and went into 8% drawdown I believe which normally would have a large impact on your psychology.
I kept pushing through and was a lot more selective with the next trade I took. Eventually, TP was hit and made back all my loses and an extra 2% in one trade, totalling in a 1:10 RR Trade.
This is why Risk Management saved my trading. I then took a few more losses before eventually, 2 more trades hit TP and I made 10% profit at the end of the verification (5% more than profit target). Again I think I passed Verification in 9 trading days.
What to improve?
Overtrading. I believe that now that I trust my own analysis in the Challenge/Verification, I will only trade my analysis and never anyone else's because you almost take it as confirmation that its a good trade and you will find every reason to take that trade that someone else has taken and convinced yourself that it's a trade worth taking.
Has the Challenge helped me?
Yes. It's the only way you will test yourself whilst having your psychology implemented due to the deposit you place and the larger capital and the numbers you have to deal with. Trust me, it's not very easy paying for the Challenge over and over again so make sure you are disciplined enough to trade and don't try and fluke it. It will not work.
Do I recommend the Challenge?
Yes. FTMO is one of the most professional companies I've come across and hands down the best if you're intending to become a disciplined trader.
Trader James from the US

About me:
I began trading right after high school. I have spent four years perfecting my craft and trying all different strategies until I found what worked. I've had many mentors, taken many courses, and tried many different things, but ultimately it's about finding what fits your personality and what makes sense to you. Keep it simple, the more inputs into your strategy the harder to find the errors. Once I realized this I began to gain traction.
How do I trade?
My strategy now is rather straightforward. I simply trade using horizontal support and resistance, trend lines, and Fibonacci. I primarily trade breakouts with Fibonacci continuation patterns.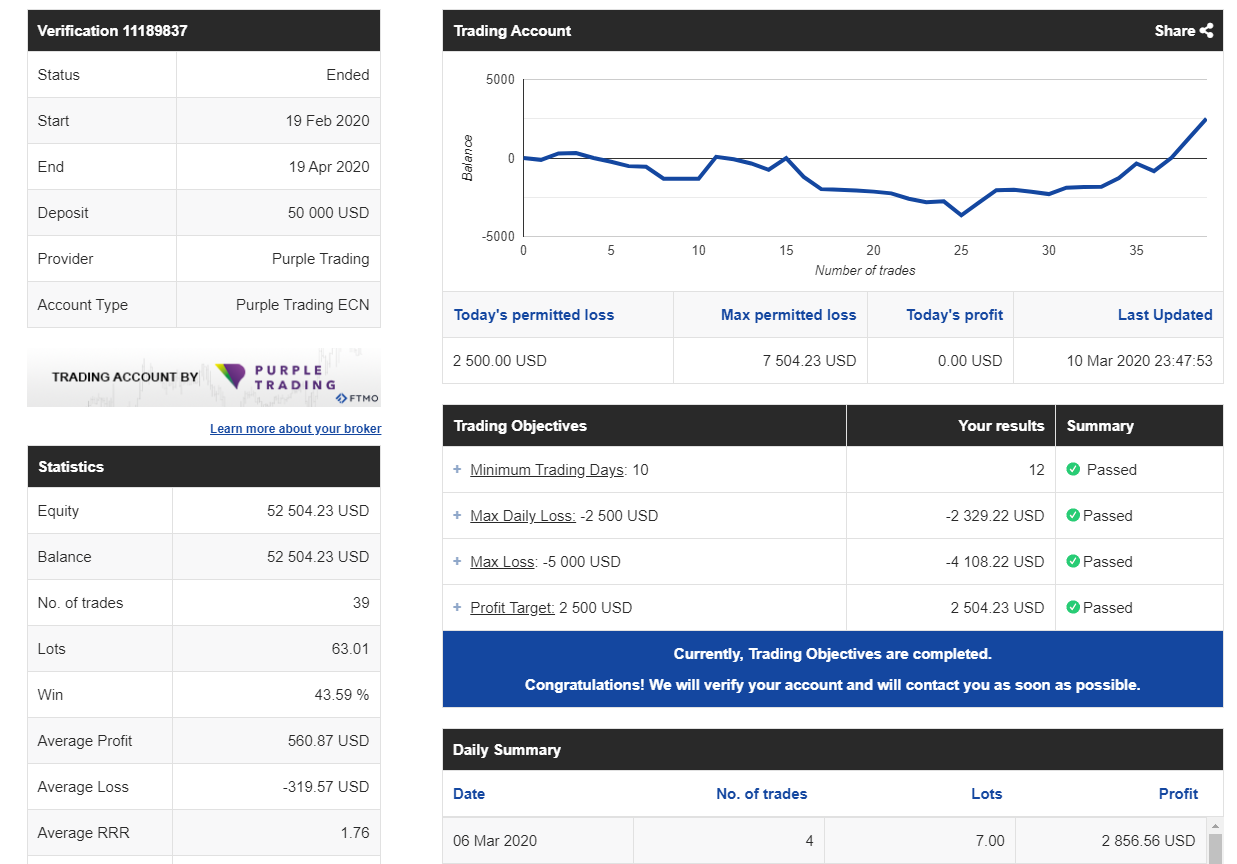 What went well?
This was an amazing experience. Your perspective really changes when trading with a large sum of money. By having risk rules in place, it forces you to really consider which trades you are willing to take. By having some parameters in a boundless game, the challenge/verification forced me to focus and tighten my strategy.
What to improve?
Trying to grow too fast. Even in my verification, I took some trades that were sized a bit too large which led me down a losing streak off the bat. The market is open daily and there will be plenty of opportunities, so stick to your risk rules and trust your strategy to grow the account.
Has the Challenge helped me?
Very much so. As I stated before, having some restriction (but not Invasive to the reader) allowed me to cut the loose ends off my strategy because I could no longer afford to keep them.
Do I recommend the Challenge?
100%. Trading is exciting when you have an account with no rules, but can also be the death of a new trader. Not only that but growing a small account is extremely tough financially and mentally. By getting funded, you remove some of that stress and allow yourself to just trade.
Trader Marc utilizing the trend following strategy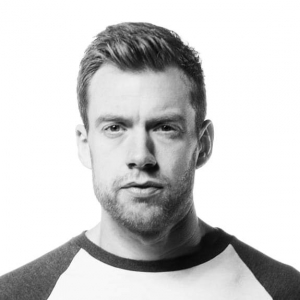 About me:
I started trading in May 2018, I originally became involved through a friend who introduced me to the basics. After attempting to learn; unsuccessfully for 1 1/2 Years I was then introduced to a reputable trader in Australia. Joe taught me a simple strategy that could work with my current 9-5 job, taking the stress out of trading and teaching me a simple and profitable way forward.
How do I trade?
I am a Trend Following, Swing Trader. Primarily focusing on the Weekly & Daily time-frames, looking for long term swing trends.
What went well?
I took on the Challenge after becoming consistent for 4 months with Joe's guidance, I was confident that using the same rigour and some tweaks with my risk: reward I could have a good chance at succeeding. The Challenge, with the % Targets, added a little level of pressure but other than that I am really excited to move forward with FTMO.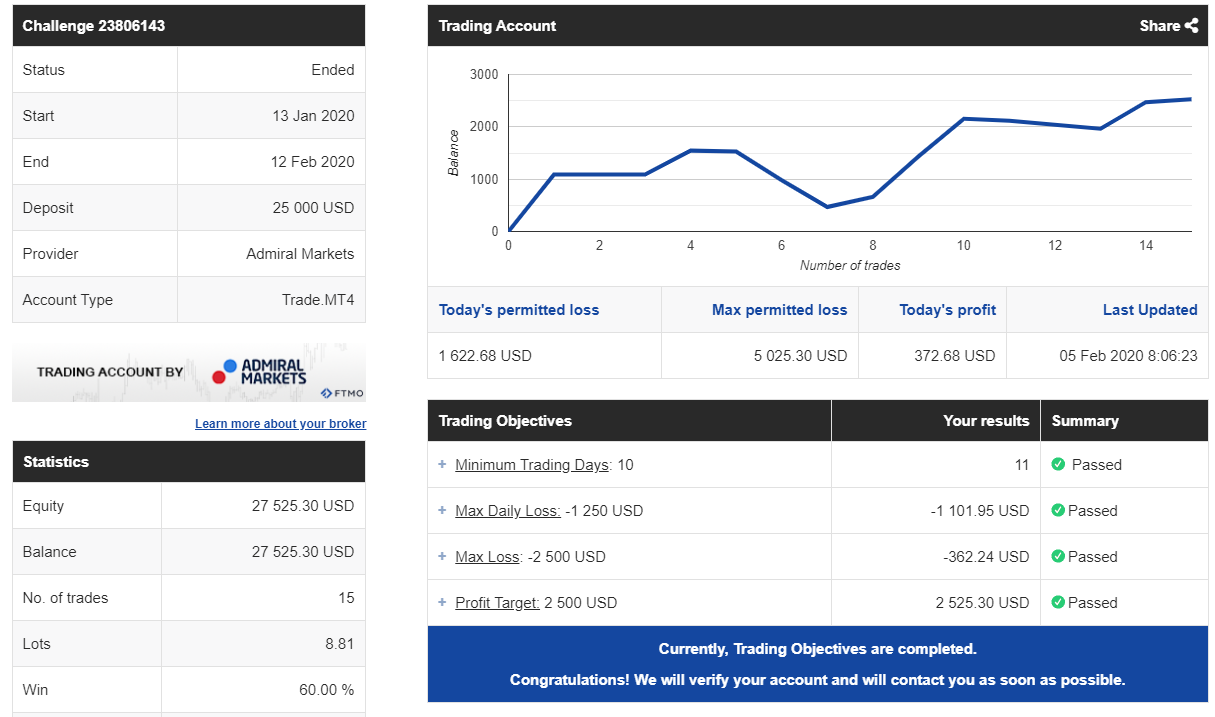 What to improve?
My second Verification phase taught me some tough lessons in patience, closing trades early and missing those large move opportunities. I still need to remain patient and improve my confidence in entry requirements.
Has the Challenge helped me?
I learned a lot in such a small space of time, not just about my trading strategy but also about my mindset and the type of discipline required to be successful.
Do I recommend the Challenge?
Absolutely, I've had a lot of interest in the Challenge through my FOREX Network and Instagram. I would recommend the process and opportunity to become a Funded trader at FTMO
Trader Gary from Malaysia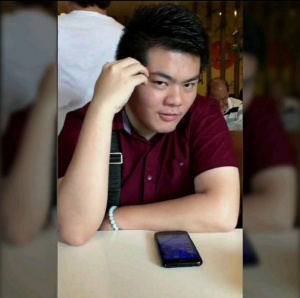 About me:
I'm from Malaysia and I started trading in early March of 2017. Before trading in a live account, I practised on a demo account and attended beginner forex trading course. After practising for a few months, I started trading on a live account but unfortunately, it wasn't going so well because there's so much to learn as a beginner. However, I do believe that persistence is the key to success as we all learn from mistakes.
How do I trade?
My trading strategy is easy. Only pure price action by drawing the support & resistance zones, supply & demand zones and the trendlines. Including some chart patterns, Fibonacci Retracement and candlestick patterns.
What went well?
The Challenge/Verification is very useful towards traders who are not disciplined at all with bad trading psychology like me. It provides opportunities for traders to learn how to trade properly with a trading account with huge capital.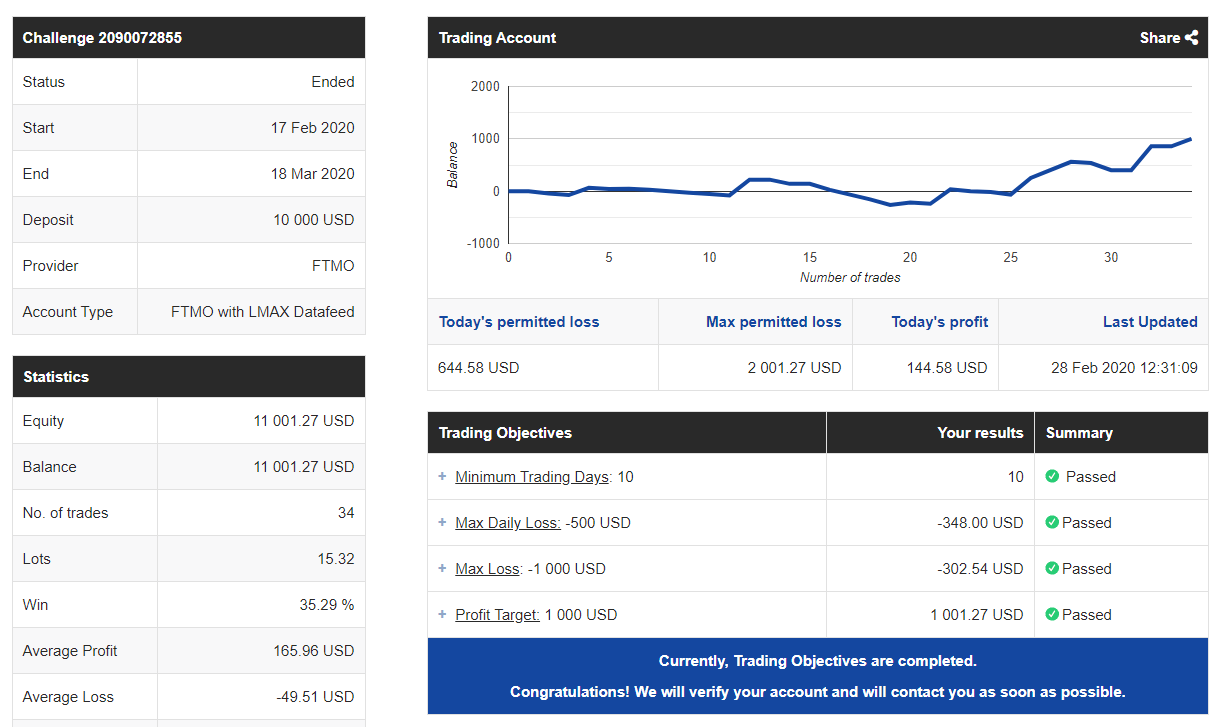 What to improve?
As I'm having the bad discipline and trading psychology, I have to keep improving these areas to achieve great success in my trading career.
Has the Challenge helped me?
It was ABSOLUTELY HELPFUL. If you are not disciplined enough, let the prop trading firm limit your trading goals so that you won't go beyond what's expected by them (Which is 5% daily loss, 10% max profit & loss for normal risk trader)
Do I recommend the Challenge?
Yes. I would recommend traders to start with a trial Challenge for free so that you will be able to know how to achieve the trading objectives set by FTMO. It will make you more disciplined in trading and improve your trading psychology at the same time.
https://ftmo.com/wp-content/uploads/2020/03/PSD.jpg
628
1200
Adam Bakay
https://ftmo.com/wp-content/uploads/2019/02/logo_ftmo.png
Adam Bakay
2020-03-18 11:13:53
2020-03-18 15:02:02
Price Action FTMO Traders who recently got funded by us