Time to time, we bring you stories from our traders who are in some stage of our evaluation process. This one comes from our trader Maxim S. who lives in New Zealand. Max is young and ambitious trader who is very determined to succeed and he doesn't just give up easily. He has tried his Challenge a couple of times and went into Verification. We believe Max is just a step away from being our next funded FTMO trader and we wish him all the best! Be inspired by the following article.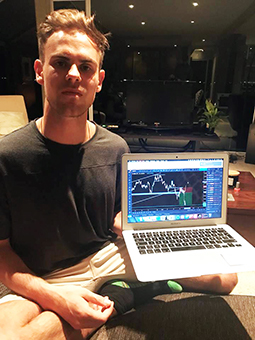 I don't believe that people figure out what brings them joy because they have an epiphany.
People figure out what brings them joy because they force themselves to follow their curiosity, to try, to learn.
Without being curious and open-minded I'd never find trading to be interesting for me. In fact, I thought this is complete BS as few of my friends were doing that for many years struggling. I never understood what the heck they were doing and why… I was finding betting on football is more fascinating.
For years I was actually searching for that one thing that would light my fire and makes hours turn into seconds. I knew I was ready to put in the work at something but didn't know what it was back then.
You won't be able to kick ass until you know your story.
When you own your story, that's where all the power lies.
So now that I've found my door, I am really happy about that and even though my results are nowhere where I want to be yet, I know that I am on my way (and closer than ever) becoming a consistently profitable trader.

The thing I like about trading is that it requires you to become a person who can achieve good results – the market doesn't care about your degree, emotions, feelings, working experience, in fact, it doesn't know you even exist.
Trading is being you vs you. And the market will always figure out really quickly if you have been lazy or if you haven't done your homework.
Participating in the challenge has been a great learning curve for me so far as it puts you under pressure to perform. Even though I have made a lot of mistakes in my trading along the way I know for sure that I have been improving all the time.
3 months ago I joined Falcon Trading Guidance and honestly, I don't know a better place to learn about how the market works. The content is just incredible and I have never had so much clarity in markets in my journey. I forecast a lot of moves correctly but at this moment my main issue is with my psychology, I am just scared to take the best setups that I am forecasting, which bank on most cases more than 10% without scale ins, and instead, I am taking average setups that are actually ruining my confidence to take the best setups. This month served me well as confirmation that these moves really play out as I am expecting, but just lacking the decisiveness when its time to pull the trigger.
But nevertheless, I know for sure that I am becoming consistent with my approach and forecast, in addition, I am in the best community and environment, where people bank double digits every month. Surround yourself with the right people and you will become one too.
Even though I failed my previous Challenge I am happy to take another one and if needed another one, but quitting has never even crossed my mind.
In fact, I am in love and fascinated with patterns just as ladies are in love with flowers so there is no way back. 🙂
It's not your current situation, obstacles, or your past that determines where you will end up in life — it's what you believe, act on, and overcome that will make the life you want your reality.
The fastest path to trader success is to focus on understanding yourself and not on making money. Yet it can take a lot of years and frustrations before getting to know who you are and what is your perfect style.

Author: Trader Max
If you are inspired by Maxim's story or his trading endeavor, you can follow him on Twitter or Instagram under @maximili0n. 
https://ftmo.com/wp-content/uploads/2018/11/Trader-Max_340_245.jpg
340
255
filip@ftmo.com
https://ftmo.com/wp-content/uploads/2019/02/logo_ftmo.png
filip@ftmo.com
2018-11-08 14:40:10
2019-08-02 08:38:18
Our determined and ambitious trader from New Zealand