Olumide from Canada got a taste of trading while being an employee of major brokerage firms. He started as many others, he first experienced losses, which opened his eyes. He didn't give up, worked hard, developed his strategy and now he is a successful trader. We wish Olumide good luck and stable profits.
" Losses did not stop me, but it got me 'fired up' to learn discipline, money management and perfect my trading strategy''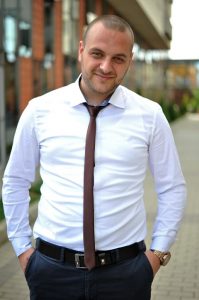 Tell us something about you. How did you start trading?
My trading journey started about ten years ago when I joined the Alpari and FXTM as the marketing and public relations manager (these are major forex brokerage companies with headquarters in Russia and Cyprus respectively). I got inspired with the success of some of the traders with my company which made me decide to learn how the FX market works, not necessary for me to becoming a trader, but as a support to my marketing/sales and public relations career. I made huge losses at the beginning, I can categorically say that these were some of my most painful moments as a trader, but the good thing about this experience was that the losses did not stop me, but it got me 'fired up' to learn discipline, money management and perfect my trading strategy. I had to travel to Alpari headquarters in Russia for training, and those investments has finally paid off. The best part of my story is that I have become a successful trader with consistent profit.
Can you briefly describe your trading strategy?
In the course of my trading experience, I have tried all kinds of strategies, which made the chart more confusing and unclear until I decided to have a very simple strategy. My trading strategy is a very simple one, it is based on technical analysis. I use Bollinger Bands, RSI and Fibonacci Retracement. Using these indicators, I always look for only three conditions and will ONLY take a position when the market meet these conditions and stop loss and take profit levels are properly indicated.
What did you do well?
The Challenge and Verification are great initiative, it has further highlight my ability to be consistently profitable as a trader in as much as I maintain the trading discipline. The Challenge account analysis are very insightful.
What do you need to improve?
Not an that I can think of right now.
Was the Challenge helpful?
Yes, the account metrix did help in tracking my trading progress
Would you recommend Challenge to other traders?
Yes.
https://ftmo.com/wp-content/uploads/2018/12/olumide.png
423
476
juicycactuz@gmail.com
https://ftmo.com/wp-content/uploads/2019/02/logo_ftmo.png
juicycactuz@gmail.com
2018-12-07 16:19:07
2018-12-09 12:09:52
Olumide - Former broker employee shares his journey to profitability.