We would like to welcome new FTMO traders who just got funded by us. As always, they share a little bit about themselves, their journey and their strategy. We hope you enjoy their insights!
Trader James from Australia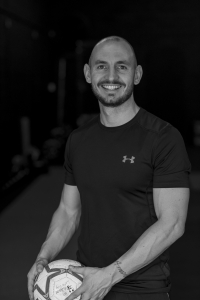 About me:
I wanted to learn a skill that would enable me to have the ability to earn money from any location in the world and was not limited to me having to be any specific location. I am from the UK, my wife is from Brazil and we live in Australia so travel will play a big role in our lives. After working in health & fitness for over 10years I wanted to make a big change and discovered forex trading after investing In the stock markets for the last 5 years.
I have had several mentors the most recent Ben from BSAPPSFX introduced me to FTMO. As soon as I learned about FTMO funding skilled traders I had laser focus and this became my primary focus – to receive funding and trade a large account.
Today I have passed the 50,000 evaluation process and will continue to pass the evaluations until I am successfully trading the 300,000 limit accounts using my strategy. In times of economic uncertainty, I am very grateful to have found this opportunity and am very excited about what the future offers working with you.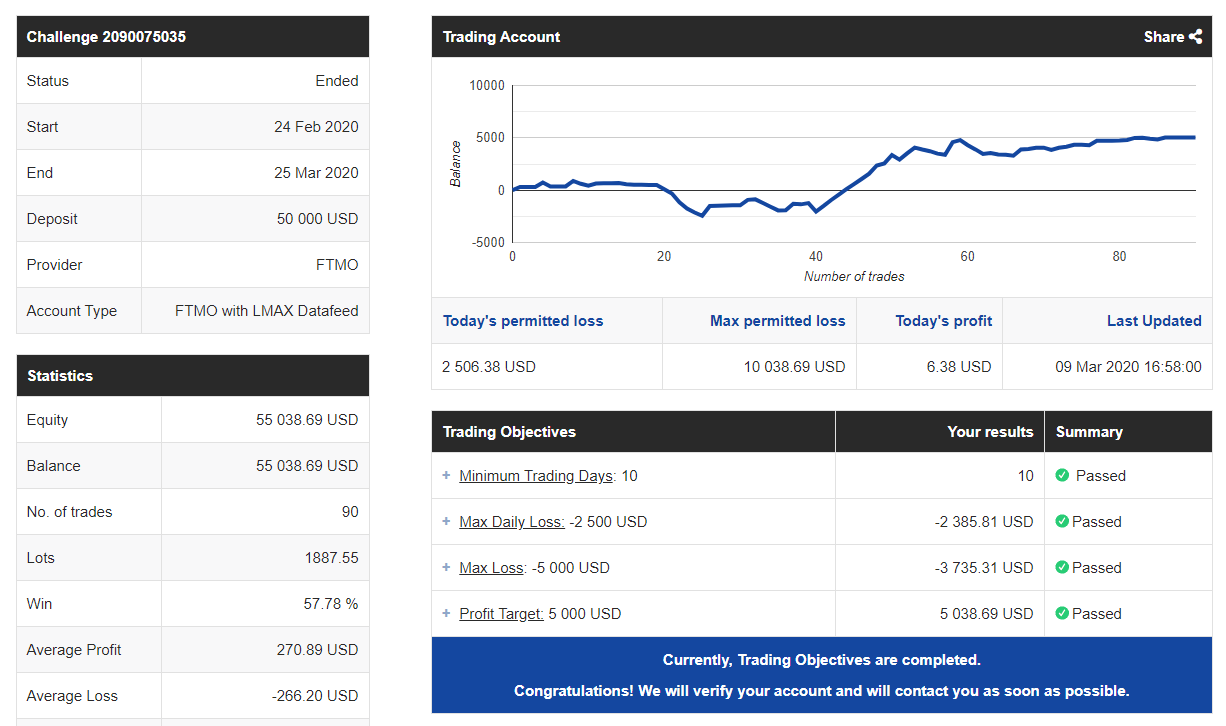 How do I trade?
I take a keen interest in the macro-dynamics of the overall sentiment risk on risk-off, including stock markets and commodities. This helps me decide which instruments may be attracting volatility for the upcoming week or weeks. Once I decide this I narrow down my Interest to about 5-6 instruments and start analyzing weekly and daily time frames. This confirms my directional bias on the chosen instruments. Once I have made a decision on the bias I check the upcoming fundamentals for the week ahead. This helps me narrow down a specific day or days that potentially offer the best trade setups.
I then use the H4 and H1 timeframes to identify keen price regions for reactions that align with my overall bias on a pair. I then set an alert for a given pair and use a 15min TF to refine a more accurate entry with correct risk management of 1-2% per trade set up.
My goal is to enter setups that offer 3:1 or better R:R.
The strategy I use is trading existing trends and use of tools such as daily H4 support resistance, trendlines and Fib levels – again I prefer 4,5 confluences before taking entries.
What went well?
The Challenge and Verification process was a really good learning opportunity for me. The Metrix tool helped me learn where I was making mistakes it really supported my application to journaling trades better and then reflecting on where I was going wrong. I passed by being aware daily where my loss limit was at and how my overall profits were scoring. The rest was just improving my process and learning with each trade taken.
What to improve?
Patience when taking an entry, sometimes I was getting into a trade too soon and having to emotionally observe larger drawdown than desired. I also found sometimes I have set a TP price level and I closed the trade too early to lock in profits, only to find the trade eventually went on to hit my profit target initially identified. Trusting the plan and sticking to it.
Has the Challenge helped me?
Yes. Improved my overall trade awareness and trade management.
Do I recommend the Challenge?
I already have recommended it to other people in the same mentorship group. I have shared my journey as I have been trading over the last month.
Trader Charles explains his Moving Average Strategy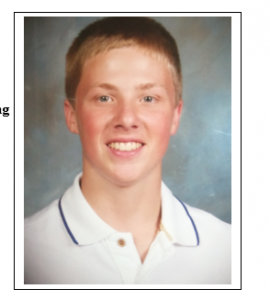 About me:
I have a degree in Finance from Washington State University. And have helped other people with their portfolios.
How do I trade?
I trade-off of a 15 EMA, 50 EMA, 150 SMA, Major Quarters, and Quarters.
What went well?
I cannot wait to see what I can do in a month. I met my PT in about two days. Looking to compound into the 100k challenge size after a little profit while still managing my 10k account.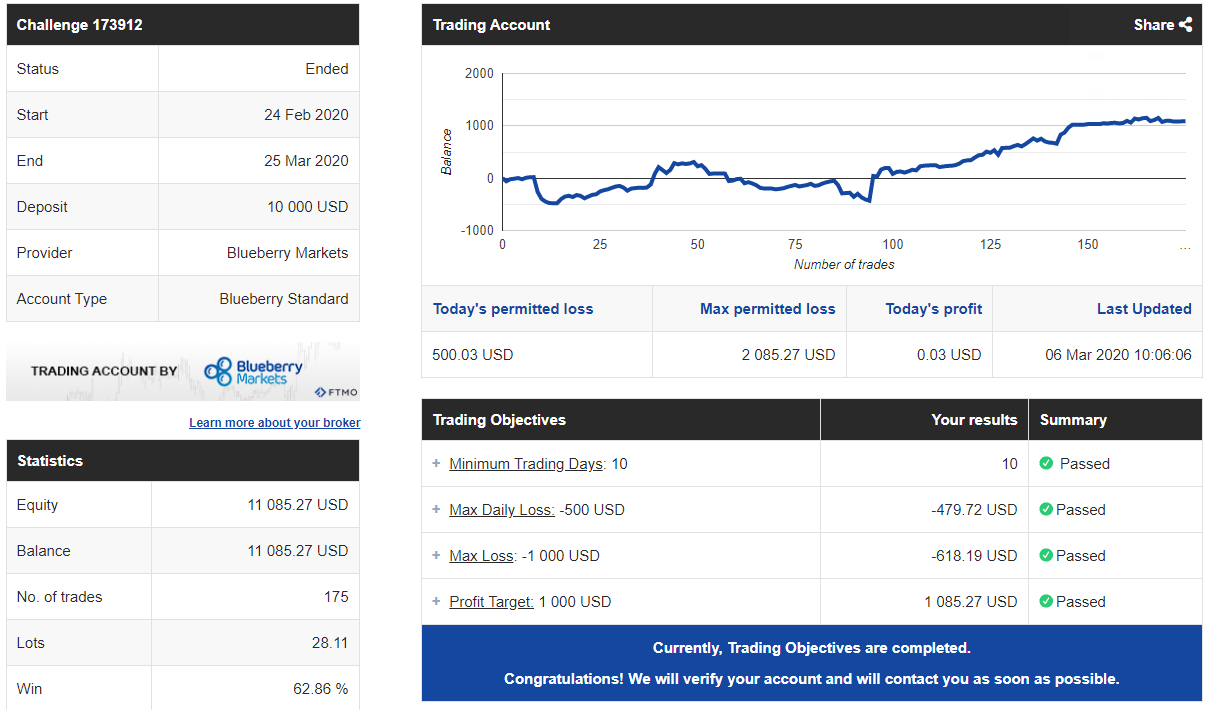 What to improve?
Patience always. Perfecting that entry to see no drawdown.
Has the Challenge helped me?
Definitely. Teaches you drawdown limits and how to perfect entries. Helps you with trading disciplines in every area.
Do I recommend the Challenge?
I would 100 per cent recommend it for someone who knows what they are doing. And who has already back-tested their strategy
Trader Trevor from the United States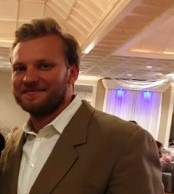 About me:
I was introduced by a friend of mine and once I noticed how challenging trading was, I fell in love with it.
How do I trade?
I try to find many confluences in the market and I usually trade with the trade 80% of the time and the other 20% I look for swing possibilities.
What went well?
The Challenges are great. I love how you give traders enough time to show their skill. In the beginning, I lost multiple trades, but one trade can make up for all of those loses.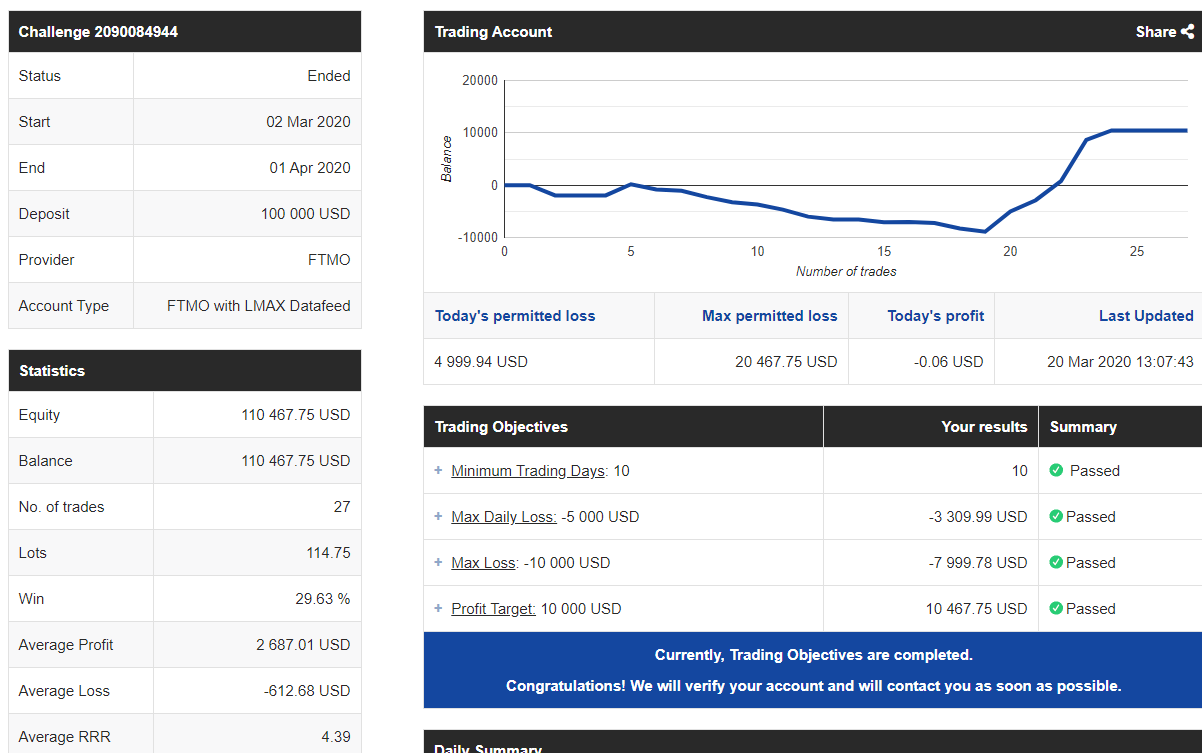 What to improve?
I need to become more patient. Once I see one confluence, I like to draw out and analysis. I have been working on seeing at least 2-3 confluences because even think about putting my time into the execution.
Has the Challenge helped me?
Yes, it was very helpful. There are limits you cannot pass and you must be very mindful when trading to make sure you do not exceed those limits.
Do I recommend the Challenge?
100%.
Trader Asif from Dubai, UAE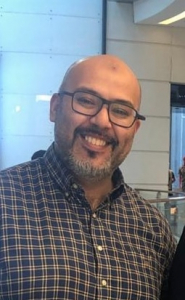 About me:
I watched my dad trade when I was little and I was always keen.
How do I trade?
I'm an Elliot wave trader. I look for 3 2ave corrections to sell or triangle patterns they are my favourite.
What went well?
It was tough but fair. It taught me discipline after failing a few times but it was valuable for me to be able to be a consistent trader.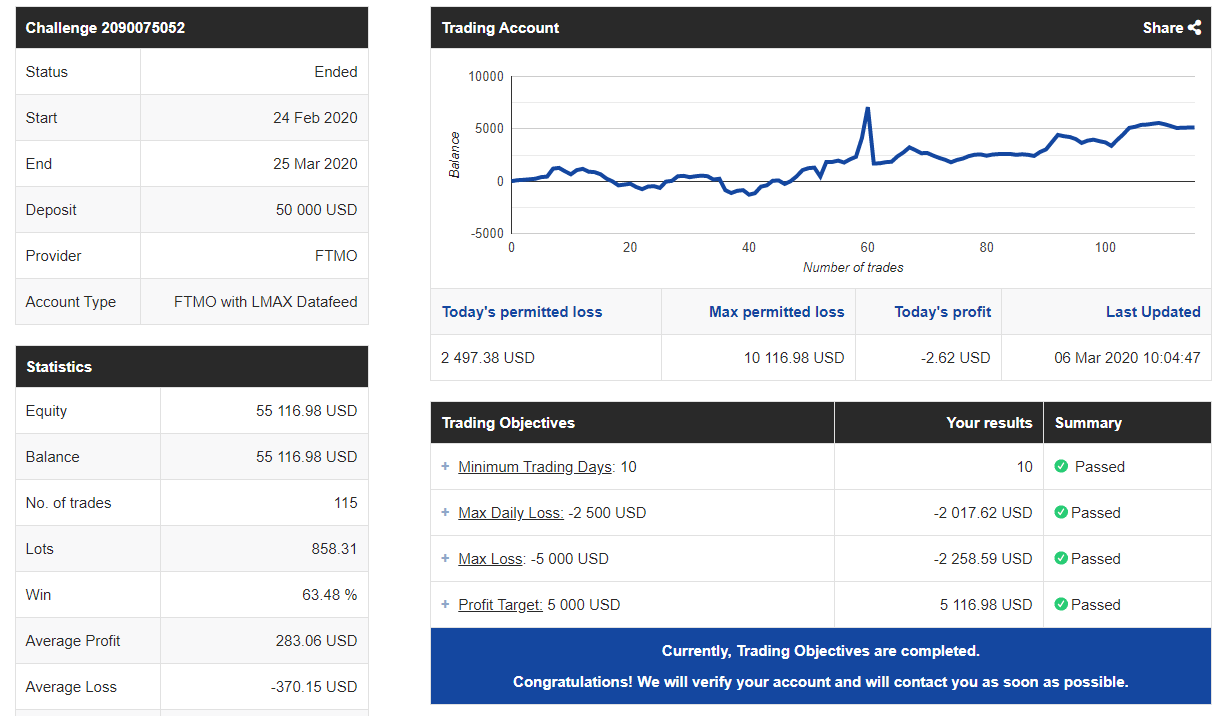 What to improve?
Learn to let my profits run instead of taking profits too early.
Has the Challenge helped me?
Yes. The discipline it taught me was beneficial.
Do I recommend the Challenge?
Yes already have to so many people.
Trader Paul using naked charts for success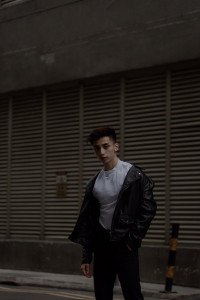 About me:
I started trading out of curiosity and belief in making good profits.
How do I trade?
Naked charts are the way to go, market structure, price action & RSI is all I need.
What went well?
My Challenge went well, however for Verification I took a big loss day as I didn't stop myself from trading after losing 2 trades.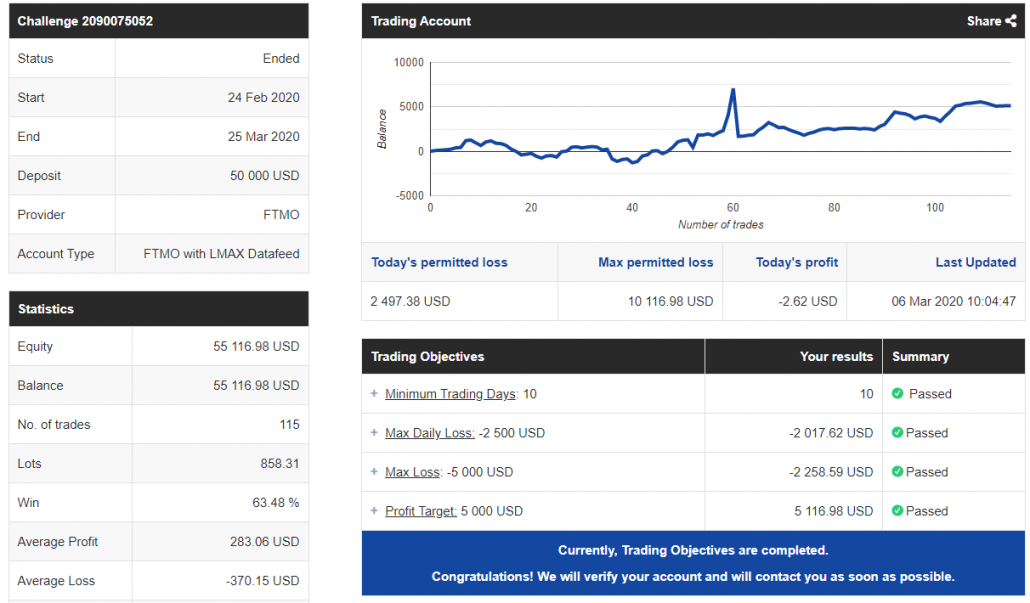 What to improve?
Ability to hold trades for days.
Has the Challenge helped me?
Definitely.
Do I recommend the Challenge?
Definitely.
https://ftmo.com/wp-content/uploads/2020/03/nahledak-2.jpg
628
1200
Adam Bakay
https://ftmo.com/wp-content/uploads/2019/02/logo_ftmo.png
Adam Bakay
2020-03-25 14:00:03
2020-03-25 15:01:03
Newly funded! A warm welcome to our latest FTMO traders!