Shortly after a very recent compilation, we bring you yet another batch of our new successful FTMO traders who made it through to get funded by us. These traders know that success is the result of hard work, strong discipline and dedication. We can only wish them to keep up their great and profitable trading.
Robson shares his divergence strategy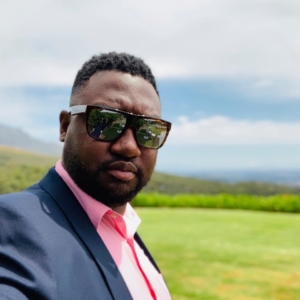 About me:
My Name is Robson and I live in South Africa ( For now ). I started trading out of necessity. after I got made redundant at my job as a Solutions Architect for one of the biggest banks in Africa I decided to go 100% into forex trading.
How do I trade?
I trade divergence on the higher time frames. I look for the mismatch between price and momentum and trade the reversal. I am also adding a trend continuation strategy to my toolbox to allow me to also trade pullbacks when the market is trending.
What went well?
The first Challenge I did, I did not pass because I was overtrading and went into a big drawdown when I started but I was able to bring it back to above break even. On my repeat Challenge, I made sure to focus on quality setups and not quantity. I also focused on using 2% risk instead of 1% which means I could pass the Challenge in a few trades if all my setups played out in my direction.
What to improve?
I need to learn to hold my trades a bit longer and let them play out fully. Its something I noticed in my Challenge is that I was closing some of my trades at 1:1 and not letting them fully play out.
Has the Challenge helped me?
Most definitely. The Challenge teaches you how to be disciplined and not over trade because of the daily and max loss limits. It also teaches you how to trade under pressure.
Do I recommend the Challenge?
Yes, I would, taking the challenge separates the traders who over risk and the traders who have a long-term view of their trading.
Alfred from Romania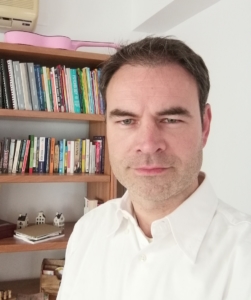 About me:
From a young age, I was intrigued by the stock market. At the end of 1999, I took some positions in a couple of Dutch company shares, but I had no idea if I was buying something expensive or cheap. Well, everybody remembers the dot-com bubble which stood centre of bear markets worldwide and as a result, I took quite a big hit. After that, I finished university and went on to work for a service company overseas. As an employee of this company, it was possible to buy their shares at a discount which I did of course. Was that very profitable? Not really, as those shares dropped like a rock since 2014. The fact that it was so easy to lose money also meant that on the other end someone was making it.
In 2015, I decided to take some proper training with lat.london and OTA (also London), which really got me going. In 2016, I quit my job and started full-time trading in Forex, Futures, and Options. However, the first two years were not as great as I wanted them to be. The reason was mainly Trading Psychology. I really had underestimated that aspect of trading. Nowadays, Trading Psychology forms a vital part of my trading.
How do I trade?
I use OTA's core strategy with technical analysis as odd enhancers among others. Fundamentals are generally already priced into the market and are not a big part of my decision-making process.
What went well?
It took me two Challenges and one Verification to pass. During the first Challenge, I was maybe a bit too much focused on some of FTMO's objectives resulting in a couple of forced trades. During the second Challenge, all trades were properly planned while psychology was also good. The Verification was quite straight forward with profit target slashed in half and the period-doubling.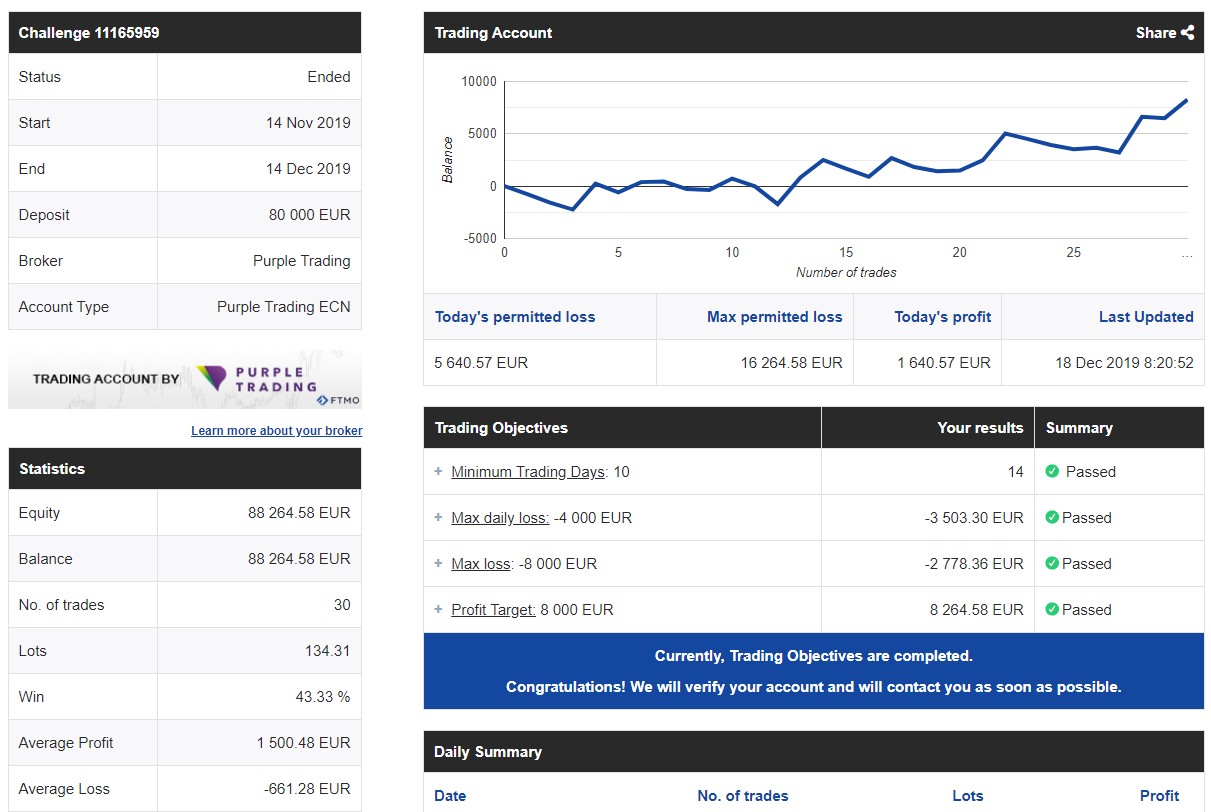 What to improve?
The feedback loop of "trading-logging-analysing-improved plan" doesn't always receive the needed attention. Also, the speed of going over charts plus decision making could be a bit faster.
Has the Challenge helped me?
Yes, the Challenge objectives and rules were a great addition to my own plan. Personally, I don't include losses from open positions into my daily loss limit for my personal trading but I do appreciate this addition to the FTMO trading account.
Instead of 1% risk, I will probably drop the risk per trade in the FTMO account to 0.75% to accommodate this.
Do I recommend the Challenge?
Absolutely. Especially if the trader has some training (courses) and trading under his/her belt. Also, don't be discouraged if trading doesn't immediately work out. For me, it was quite a process to go from the certainty of a job to the world of putting the odds into my favour.
Trader Sunday getting $100,000 FTMO account only after 1 and a half year of trading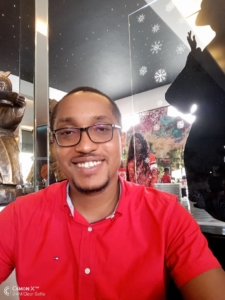 About me:
I love trading, looking at charts, analyzing trends and following global economic news and projections. I started my trading journey in October 2018. Practised with a demo account for 1 week and jumped into live trading and of course… you know the end… I blew my account. After which I started learning from my mistakes, and improving on my strategy. But then I still blew a few more accounts before getting it right.
How do I trade?
I use Bollinger bands and RSI, coupled with price action to enter and exit trades. I also follow the news like a hawk to avoid being caught up in a spike.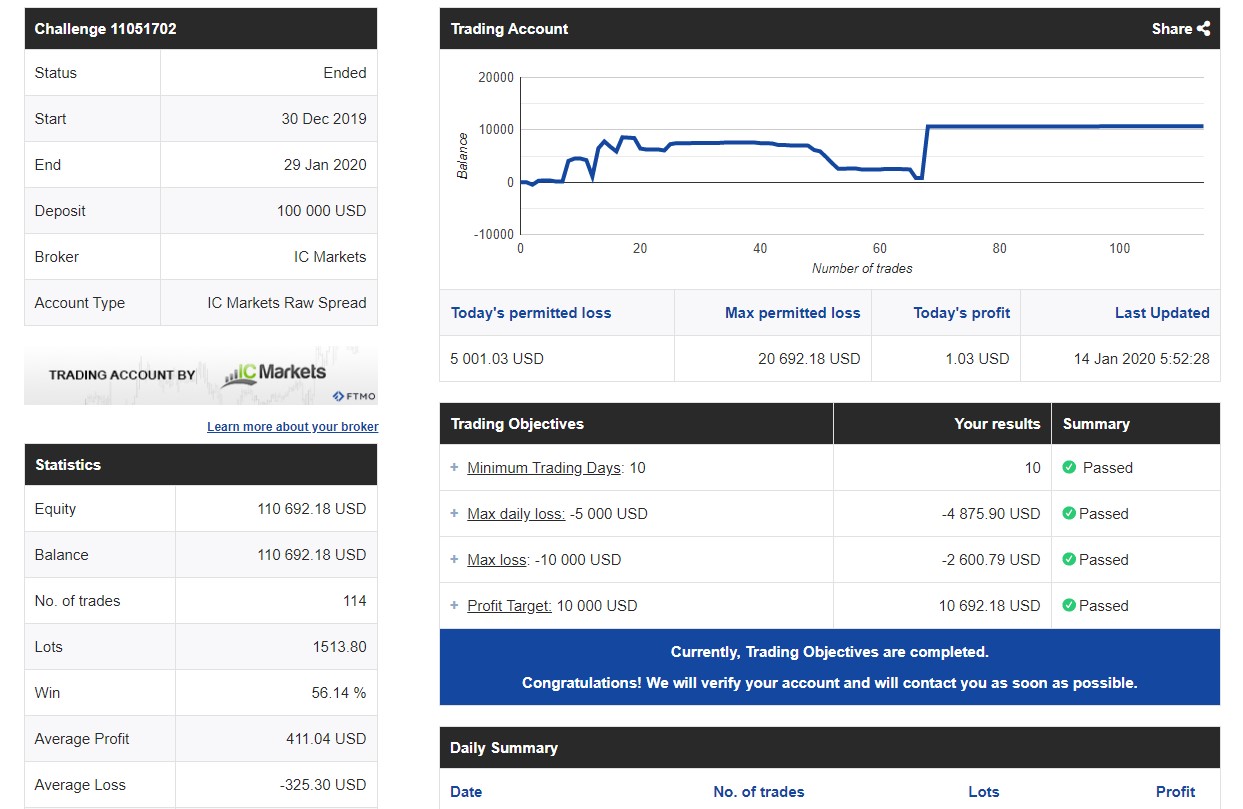 What went well?
Forex isn't a get rich quick scheme. You have to practice good money and risk management to survive in the long run. And truly, that's what FTMO Challenge and Verification mainly hinged on.
What to improve?
I think I still need to work on my lot sizing. I want to use the same lot size consistently for 3 months. The varying lot size for different trades isn't really a good idea. I am still working on this part of my trading.
Has the Challenge helped me?
Obviously yes! The Challenge/Verification has helped improve my trading discipline, though I am still a work in progress. It's a continuous learning curve.
Do I recommend the Challenge?
Of course, I will, and I have already told some of my friends who are into trading.
Trader Ken finishing the Challenge with 16% profit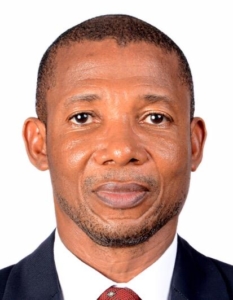 About me:
I got interested in trading after giving a certain amount of my money to someone to manage trading Forex, which he eventually lost. This incident made me curious and to find out more about trading, so I started looking for successful people in the business on the internet. And I was able to find but a few. Traders like Ed Seykota, Steve Cohen, Richard Dennis and others. I also went ahead to read a book, titled Trading In The Zone by Mark Douglas. My trading career started on the 6th June 2006 and ever since I have been trading the Forex market.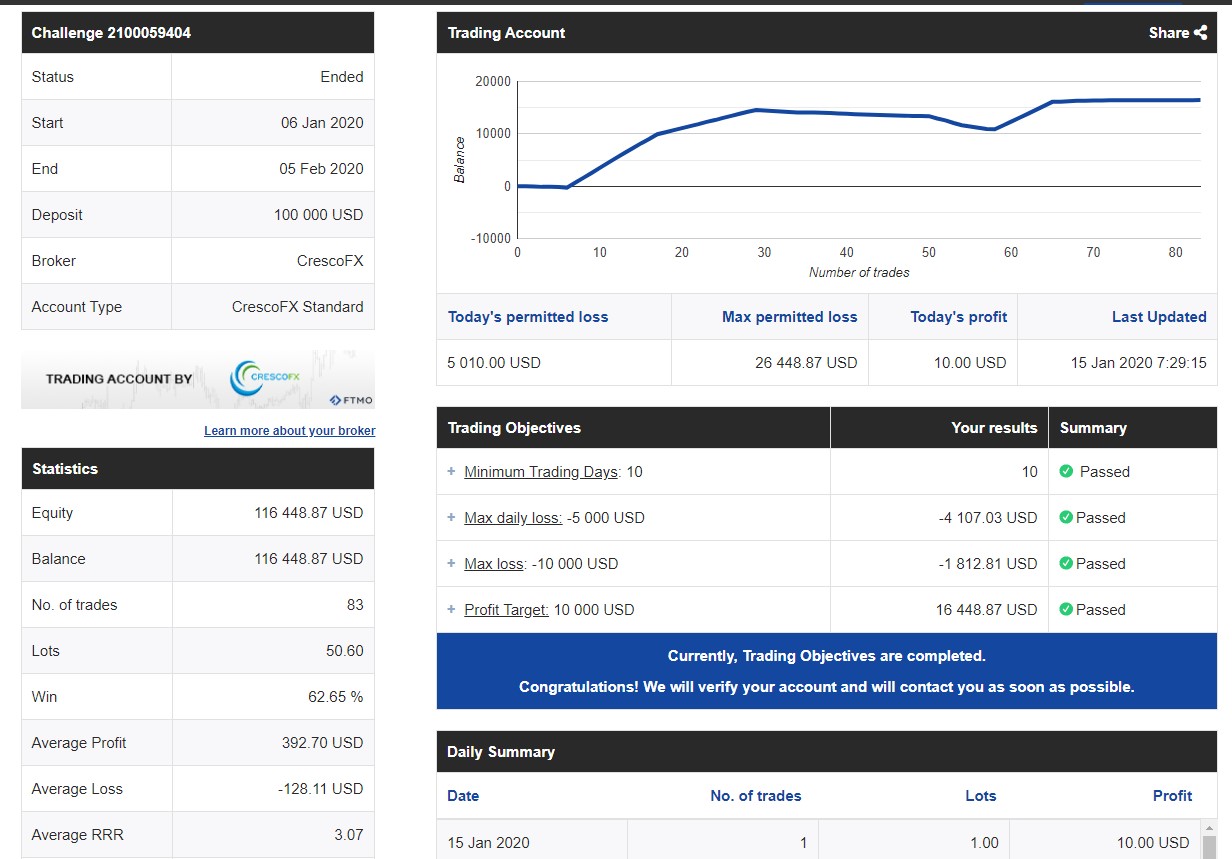 How do I trade?
My trading strategy is very simple. I am fully technical, I deeply rely on price actions at the market turning point, focusing on a single time frame. A contrarian and swing trader at the time, that keeps buying or selling the market turning point until my mind is changed fundamentally while keeping my risk constant at 2% of equity per signal.
What went well?
The Challenge and Verification teach the most important thing a trader requires to be successful in the market. And that is Risk Management. The ability to accept RISK is very important in trading.
What to improve?
To keep having the right mindset of trading. Thinking in probabilities, because every trade is unique in outcomes.
Has the Challenge helped me?
Yes! Absolutely helpful.
Do I recommend the Challenge?
Yes, I will. And I have already started recommending FTMO to the people I know that trade the market.
Young trader Ilias started when he was just 16 years old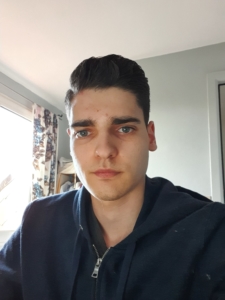 About me:
I started with trading when I was 16 via Ads on the internet.
How do I trade?
Yes, historical data. trendlines. the market structure on different timeframes and in correlation. I love psychological S & R for entries and I love to trade like a casino against the 70 %
What went well?
It was a pretty nice experience. because that was something I needed to become successful in trading. I have no capital. but the right mindset and strategy is everything. like you can see 2 times I failed. because of not a stable mindset. till I understand the RR and the market better . also the objectives is something I like to work with permanently because of its a mind-frame in the market for me for the right mindset towards real trading.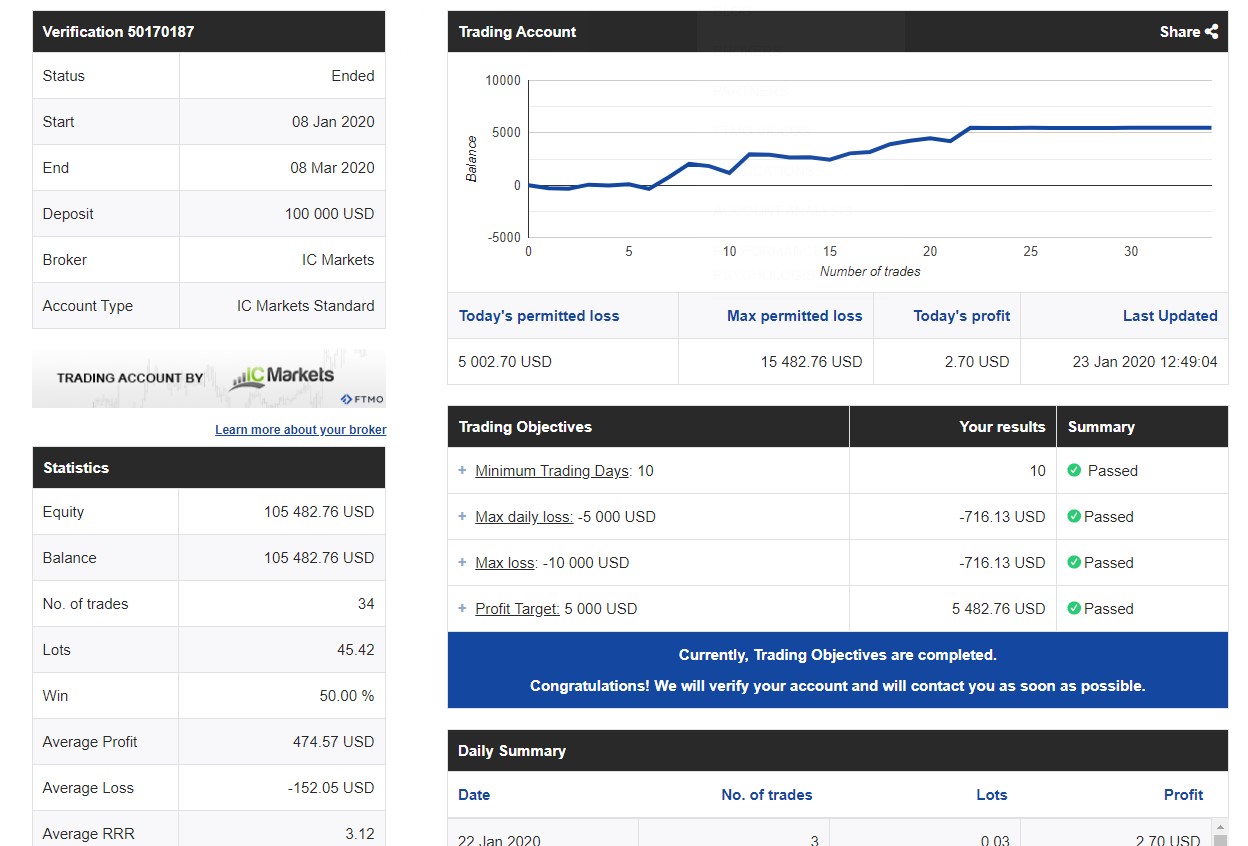 What to improve?
Filtering the good ones from the bad ones.
Has the Challenge helped me?
100%. the FTMO helped me in everything about trading and the right psychology.
Do I recommend the Challenge?
Yes, I did it. my best friend is also doing the Challenge.
Trader Alexander from Estonia
About me:
I started trading a little less than 2 years ago when my childhood best friend started promoting her boyfriend's trading success on her Instagram stories to recruit people into this MLM company that teaches Forex trading. I ended up joining the company and I stayed there for about 4 months until I felt like I wasn't really learning anything new at one point. I was on my own for about 3 months and on the verge of quitting until I found my mentor Trei Norris's Telegram group and he took me under his wing and brought back my passion for trading. I started learning in his group and by his teachings and eventually began to see things way more clearly, that's when the real learning curve began and when the real beginning of my trading begun in my opinion.
How do I trade?
I trade a fairly simple zone strategy which is basically just support and resistance zones and I focus on trading the break and retests mostly. I guess you could say a break and retest trade is my signature trade.
What went well?
I think my Challenge and Verification went extremely well, cause I finished BOTH within the time window that was given for only the Challenge phase, also both phases were completed in the minimum 10 trading days. The Challenge phase was a little bit trickier cause I was still getting used to the big numbers, but on my Verification phase, my account balance didn't go into negative even once.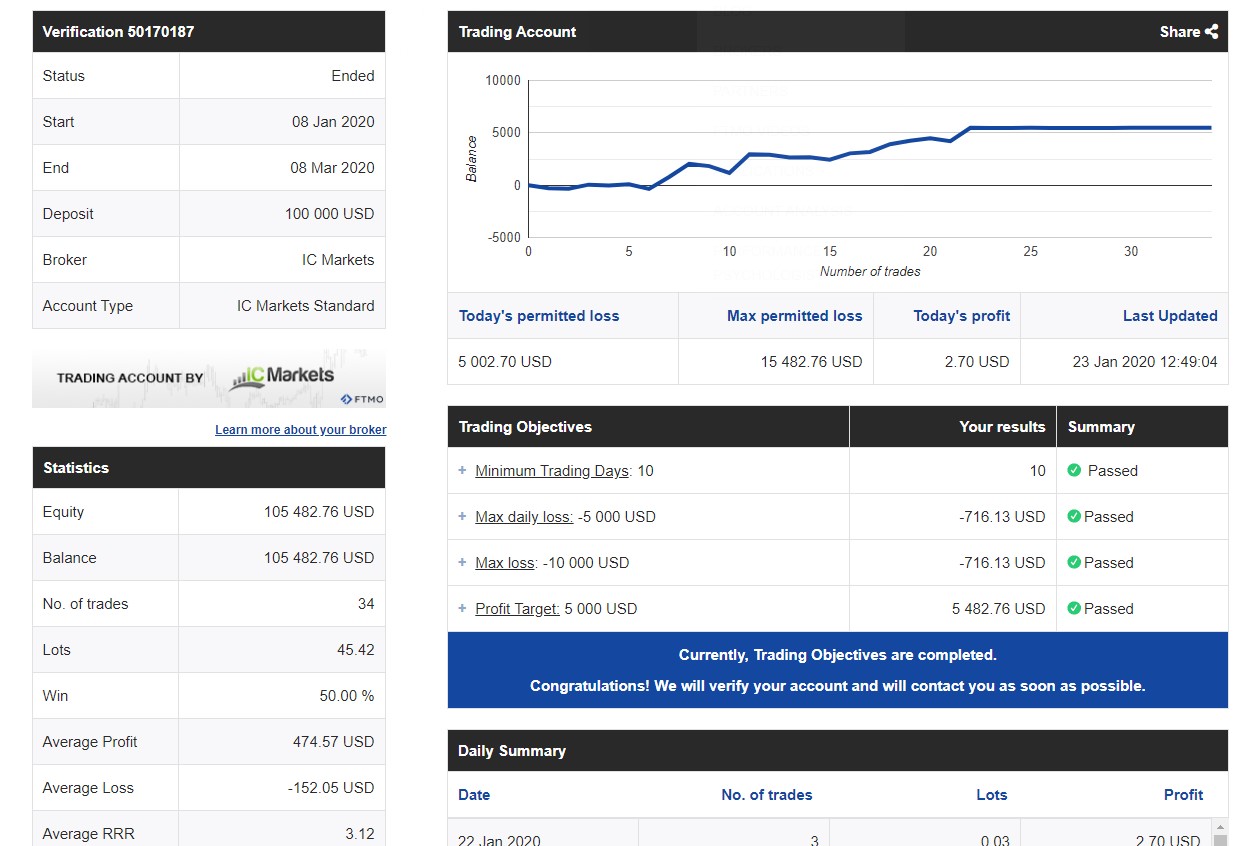 What to improve?
I definitely need to work more on the psychological part of my trading. During the Challenge and Verification phase, I learned to let go of the bad habit of not setting a certain SL and TP and sticking to them and I learned not to raise my SL once the price was reaching it in hopes of price reversing to profits.
But I still have to work on being able to just leave my trade be without checking it every 30 minutes or worrying about it. I'm currently listening to a great audiobook about trading psychology so I think I'll have that flaw ruled out rather soon.
Has the Challenge helped me?
The Challenge phase was definitely helpful for my trading. As I mentioned in the previous paragraph, the Challenge phase taught me to start setting a certain SL and TP and sticking to it, having it carved in stone. It also taught me how unhealthily I was trading previously with smaller accounts by overleveraging and eventually blowing my account every time. With a bigger account such as the Challenge I applied for, I didn't have to overleverage and could keep my risk at a definite size that would allow me to make more money and lose less.
Do I recommend the Challenge?
I would definitely recommend this Challenge to any traders that feel like they have the skills necessary but not the funds. It's been an amazing journey so far and I feel like my trading success is definitely going up from here!
Business graduate Ahmad shares his story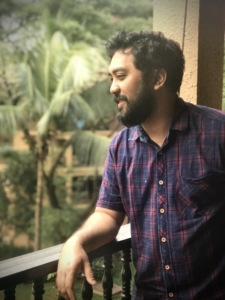 About me:
I graduated in business economics, I've always had a real interest in market dynamics that influence economic conditions, as well as the psychology of the stock market participants. So when I was introduced to forex trading by a binary options broker in 2015, I was instantly hooked! I spent a lot of time in front of the computer, learning techniques over the internet, trying out tonnes of indicators and EAs while making painful losses in the process. It was a valuable lesson though, as my self-thought trading journey brought me to where I am today.
How do I trade?
I trade using a trend trading strategy on the 4-hour chart, taking into account market sentiment with risk on/off pairs. I also use indicators for volatility and to gauge the choppiness of the market.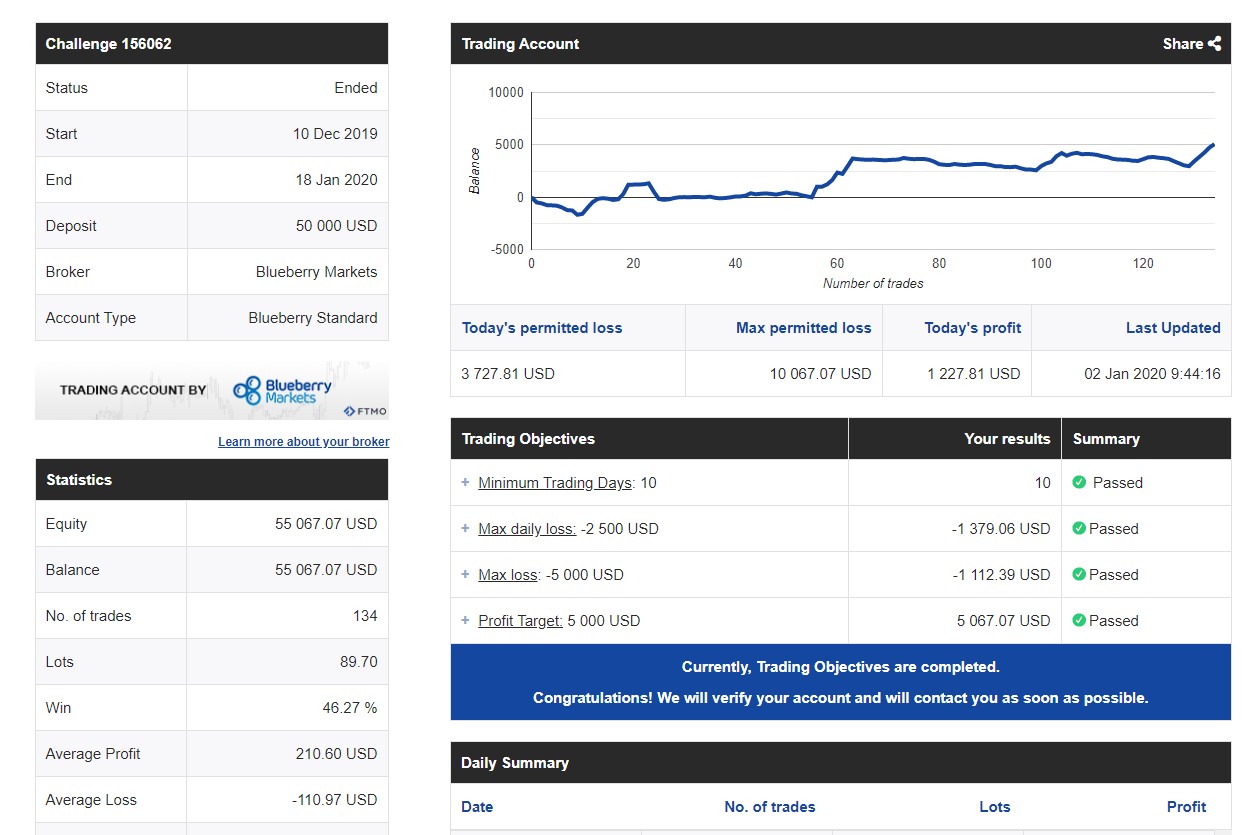 What went well?
My Challenge and Verification were challenging due to the period of so much indecision influencing market movements. First, it was the Brexit election, then the China Phase 1 trade deal, followed by the Iran attack and recently the coronavirus situation. There were not many sustainable trends to hold the trades for longer periods as the market usually went sour within the next session.
What to improve?
Over-trading and taking entries during low volume period.
Has the Challenge helped me?
It was definitely helpful. Having the stats shown in the account MetriX really challenged me mentally as a trader, to be better especially bouncing back from losing streaks.
Do I recommend the Challenge?
Yes if you want it to discover the honest truth of your trading career and the best (or worst) in you as a trader.
https://ftmo.com/wp-content/uploads/2020/02/Bez-názvu-1-1.jpg
628
1200
Adam Bakay
https://ftmo.com/wp-content/uploads/2019/02/logo_ftmo.png
Adam Bakay
2020-02-03 14:48:00
2020-02-17 08:34:22
Another batch of new FTMO Traders who got our funding