A new FTMO Traders compilation is here. We would like to give an extra thank you to all of these new FTMO Traders for taking the time to share their story with us. 
Blake – talented US trader
1)  How did you start trading? 
I got into trading from an early age by watching finance movies like the Big short and Wolf of Wall Street. My trading has been evolving every day since. I have now started my own website and courses, where I teach and help people all around the world, every day get better at trading.
2) What is your trading style?
I call my strategy 'Massive Confluence' I and my team have backtested many strategies and it is one of the best ways to maximize your long term trading profits. The strategies backbone is Elliott Wave but its a very slight twist on traditional Elliott wave theory, it also uses Fibs, Algos, VVS Cuts and parts of Doji strategy.
3) What did you do well?
Both Challenge and Verification were very easy once I was using Massive Confluence. I believe this is the very best way to trade with these types of accounts as well as with the funded account.
4) What should you improve?
I am always open to new strategies and slight changes to improve Massive Confluence, every time one of my students from VVS Academy tells me about a new strategy I always listen and backtest to see if I like the strategy, to which I'll add the strategy to my course and if it backtests well, to which I'll consider adding it to the way I trade.
5) Was the Challenge beneficial to you?
The Challenge was a great use to my time. I built a specific program/ adaptation to my strategy for it, which it helped me pass in no time and made me learn a little more about financial programming and the exact way that I trade.
6) Would you recommend the Challenge to other traders and why?
I already have. I recommend FTMO to all my students in VVS Academy, provided they are far enough along in my course where I believe they are ready to prove their skills.
Henry – US trader, found freedom in trading
1)  How did you start trading? 
I began trading when I saw the potential through an old client of mine. I was in a successful career working my way up the corporate ladder and when I saw the lifestyle that my client was enjoying I knew I wanted tolearn how to trade. That started a now 2-year-long process of trial and error that led me to my trading mentor Giuseppe Basil who taught me the method that I now use and helped with my trading psychology.
2) What is your trading style?
I'm a swing trader who tries to spot algorithmic involvement in the market. Most of my entries come around a 50% retrace between a swing high and low. I like to hold most of my trades for a few days to a couple of weeks, but that definitely depends on the time-frame I place the trade in.
3) What did you do well?
I loved the process! Individually the different aspects of the challenge didn't seem difficult to me. However, the combination of all of the requirements put together really helped me to focus and stay consistent with all of my trading.
4) What should you improve?
For me I tend to rush my entries which leads to poor R:R(reward to risk) on trades, ideally I would be at least 3:1 R:R on every trade but I noticed through the data that the challenge gives you that my entries had been slipping on some trades.
5) Was the Challenge beneficial to you?
Absolutely. I've already mentioned a couple ways it has benefited me but another aspect that it really helped with was the psychological confidence that comes along with sticking to strict guidelines and passing the challenge. Passing inspired a cautious confidence that I think most traders lack.
6) Would you recommend the Challenge to other traders and why?
I would definitely recommend the challenge to other traders. I think no matter if you've been trading your own accounts for some time and are just looking to get some extra capital or if you're just learning the skill of trading and want some solid feedback the challenge would be valuable either way.
Hussein – Fundamental trader from Lebanon
What can you tell us about your trading style?
Started back in 2012 upon graduating high school. It's a mixture of fundamental analysis strengthened by technical analysis in order to choose the correct entry and exit. I always use correlated risk management alongside my trades as well as a confident emotional intelligence.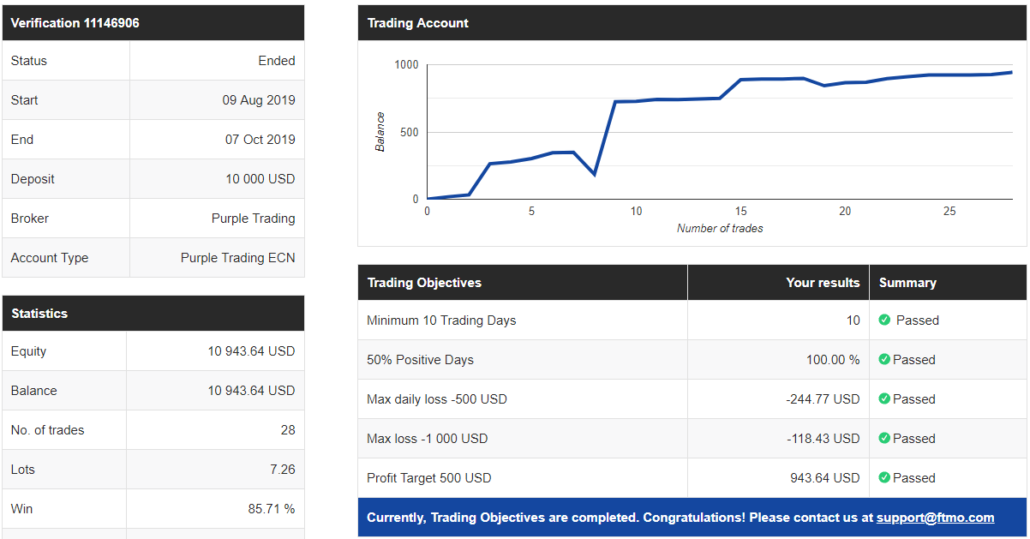 As you can see, anyone can really become the FTMO Trader and manage our capital. No matter what your origin is, the only aspects that matter is your discipline, work ethics and determination.
Good Luck to all of our new FTMO traders!
https://ftmo.com/wp-content/uploads/2019/09/new-ftmo-traders-welcome-thumbnail.jpg
628
1200
FTMO.com
https://ftmo.com/wp-content/uploads/2019/02/logo_ftmo.png
FTMO.com
2019-09-10 14:07:29
2020-04-07 12:35:45
New FTMO Traders – Welcome