Even though we are in extremely volatile markets right now, we have a handful of new FTMO traders who passed our evaluation process and became funded by us. They are so kind and willing to share their experiences. If you think you can manage risk in tough market conditions, you are the one we are looking for!
Trader Holy from the United Kingdom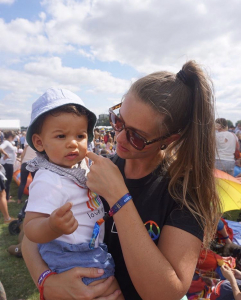 About me:
I started trading in September 2018, my daughter was born and I knew that I wanted to be able to see the world and have the freedom to spend as much time with her as possible. I looked online and come across trading, I was initially sucked into the get rich quick scheme, and quickly realised it was not as simple as that, but completely possible to make a living and achieve the things I wanted with hard work and determination.
How do I trade?
I trade pure price action and only pay attention to the 1-hour chart, I like to keep things as simple as possible, do not believe there is any need for indicators etc.
What went well?
I failed the first time, I got bad FOMO (Fear of missing out) and started to trade recklessly, I decided to try again as I knew I could do it, this time staying in my own lane and focusing on my own trades rather than others.
I enjoyed the Challenge and can't wait to start trading the $100k account for real. I just need to remember to be calm and patient as I've worked too hard to lose this account.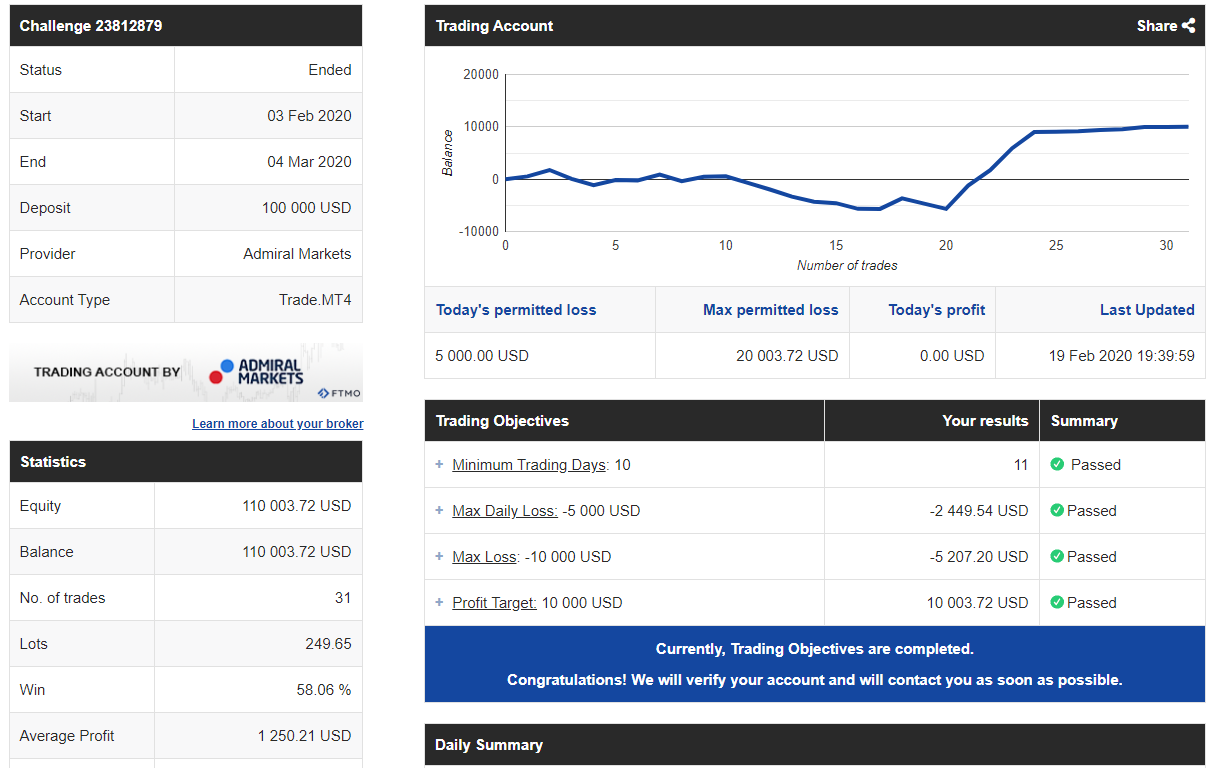 What to improve?
I need to improve my patience, my revenge trading is my biggest issue. Hopefully having this account will help me overcome that as I do not want to lose it as it has the potential to change my life.
Has the Challenge helped me?
100% when I trade a smaller account, its so easy to trade everything, on the Challenge it really matters what you trade, therefore I only took higher probability trades, which I hope to continue to do when trading the live account.
Do I recommend the Challenge?
Yes, this has huge potential to change mine and my family's life, this is the start for me. If I wanted to trade a $100k account it would take me years to get there, once I've had my first payout, I will be applying for another account.
Trader Lucas about his journey and strategy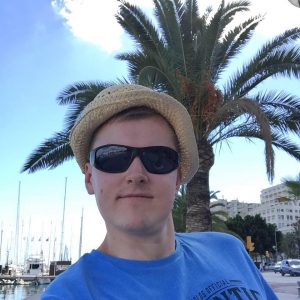 About me:
My interest in trading started in 2014. It was a very long and bumpy road to be where I am today. One thing I can say for sure is that if you want to achieve something you need to believe in yourself and never give up. Otherwise, you are losing your time. I had many failures on the way, but I never gave up, and today I achieved my goal, to be a Funded Trader. My end goal is to be able to do what I want when I want. Not the money, but the opportunity to do whatever I want – freedom.
How do I trade?
There are so many strategies on the internet/everywhere pretty much that you can be confused sometimes. What I am trying to do every day when I trade, I like to keep it simple.
I look into: price action, resistance, support, patterns, time-frames (from monthly to 1H), I use RSI, EMA. I am aware of market sentiment and of course, you simply cannot forget about fundamentals. I can say I look overall on those things and I make my decision based on that. Timing is key, and of course, when your trade is going your way, don't be scared to add to the position and enjoy the ride.
What went well?
Challenge and Verification went really well, especially Verification. I have learned a lot from them. You shape your risk management, patience and emotions.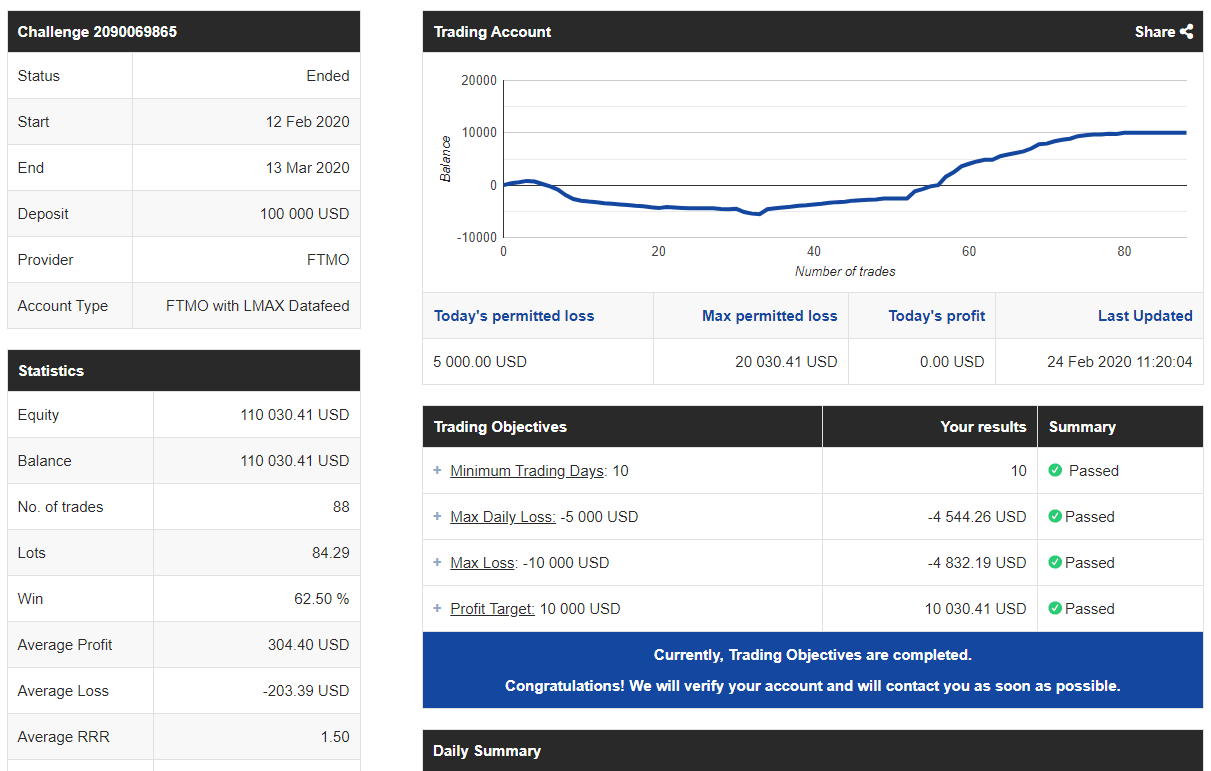 What to improve?
I could be better in terms of timing, to execute positions better and I need to work more and improve my risk management. There is always room for improvement. If you think you know everything, it is the day you already lost! You need to be better every day, and I try to remember this. You learn every day. The market is a great teacher.
Has the Challenge helped me?
Yes, I think so. It's really fun to have a Challenge. You can challenge your emotions and patience and test your trust to yourself. Once your trade is going your way – add to the position and enjoy profits, but you need to trust your process and believe in yourself. Sometimes your positions are first in negative, but you trust your process and guess what? They are in positive after some time (hours or a day). The key here is to not over-leverage and be prepared for drawdown first. You need to have good risk management, which you can test in the Challenge.
Do I recommend the Challenge?
Yes, of course! Everything I have mentioned before, Challenge will test your ability to trade and to master your emotions.
Trader Gregory reflects on his Challenge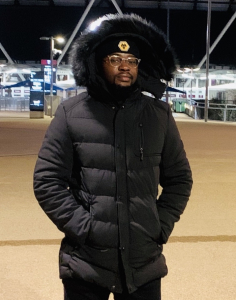 About me:
I grew into a chart analyst from the passion of researching how to predict certain events from a technical approach. From 12, I always wanted to be a meteorologist, young and curious on how the weather is predicted but later in life, I ended up falling into forensic science. Within forensics I was attracted to one module analytical techniques, comparing soil samples to solve crimes. These two academic choices lead to fuelling my excitement in looking for flaws in my own strategies and creating a whole new way of looking them graphically. I've always had a connection when it came to analyzing but it was never rewarding like a trade analyst, so I focused my 10000 hours screen time on chart analysis.
How do I trade?
My entries are based on specific timeframes and price changes. The exits, resistance and support strikes and volume patterns.
What went well?
My MetriX data showed it had a steady growth graphically, the lot size where measurable, every trade I entered thoughtfully. There were some trades I opened that were not successful but I did go back and analyzed and journaled every trade and improved my strategy.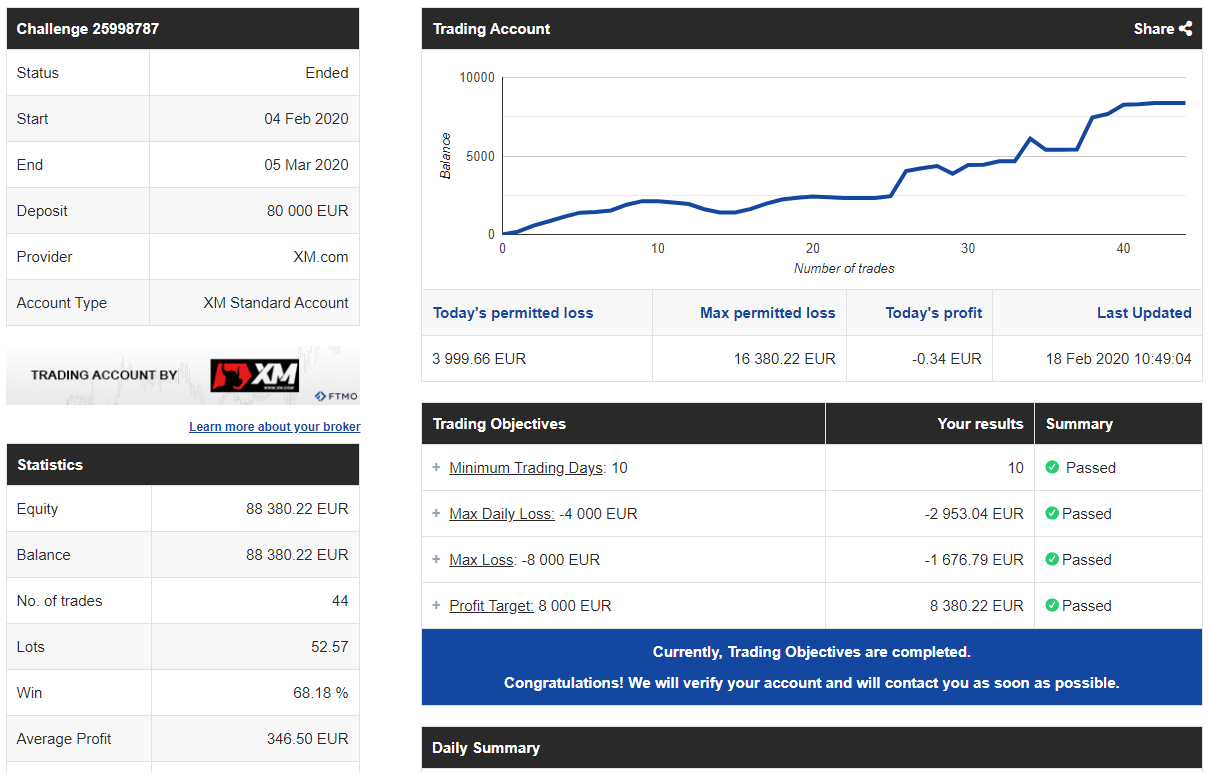 What to improve?
I need to think of the bigger picture for lack of better term PnL than trying to perfect my strategy or expect my strategy to work with all pairs and markets. I spent so much time looking for why the market disobeyed my strategy but now I've developed my mindset to know that randomness does happen in the market and that I also need to continuously improve my risk management skills.
Has the Challenge helped me?
These stages really improve my skills – Risk management, money management and scaling. It really layered the importance of coming up with a plan on managing your margin. After my fourth attempt, I eventually overcome my mistakes in managing my lot sizes in ratio to my daily loss limit.
Do I recommend the Challenge?
I would definitely encourage experienced traders to take part in FTMO Challenge to improve risk management, money management and accountability. Working with rules around money is important, for me, it worked on my psychology on the money.
Trader Sun from China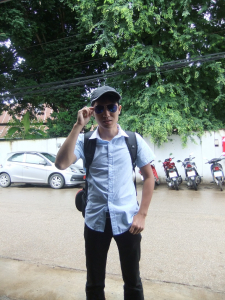 About me:
I'm from China, a transaction enthusiast. The stock transaction, forward business, digital currency transaction and so on are the types of transactions I carry out, among which the foreign exchange transaction is my favourite. Frankly speaking, the stability of my trading performance is not ideal because I have been under too much pressure and focused too much on it. However, I am very confident because I am always improving.
How do I trade?
I use the K-line form when I do transactions, rather than indicators because the K-line form is enough for me.
What went well?
To be honest, I was under a lot of pressure to achieve my profit goal. This situation didn't improve until I found something for myself to do, that is to spend a lot of time outside the transaction. With less pressure, trading results began to improve.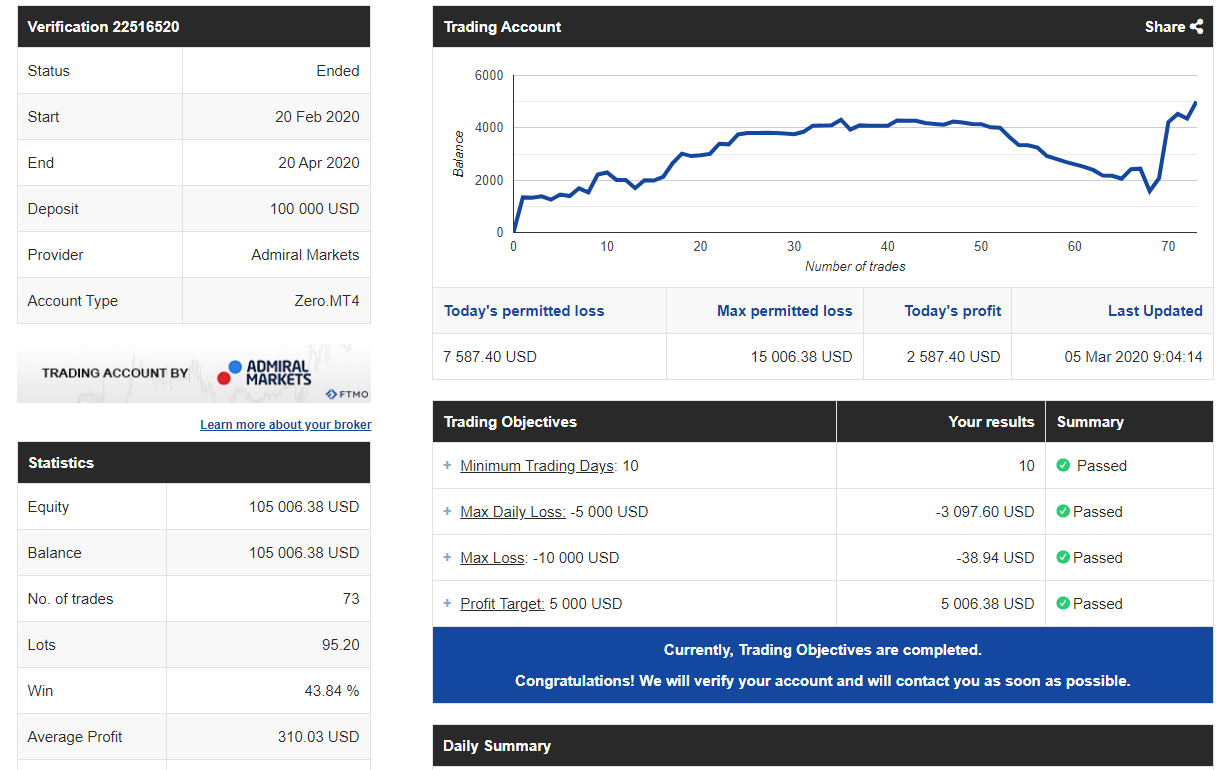 What to improve?
Too large positions can have a series of negative effects.
Has the Challenge helped me?
Yes, of course.
Do I recommend the Challenge?
Definitely.
The aggressive approach – trader Samuel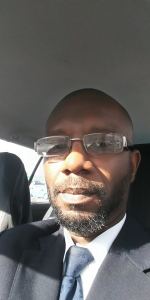 About me:
I started trading in September 2017. It has been an interesting journey till now. I was very successful very quickly and made over 100% return in just one month. Clearly it was more of beginner's luck, as I eventually blew the account and some more. I trade very aggressively and during the Challenge(failed), I hit my target and managed to break the daily loss limit on three occasions.
I had to tweak my strategy in order to pass the fourth. I will say to everyone on the same journey, be patient and don't give up, never.
How do I trade?
I trade price action, using trend lines and support and resistance. I mostly trade the 5mins chart, whilst watching the higher time frames.
What went well?
The Challenge was very tense but during the Verification, I was more relaxed and made about 5 times the target.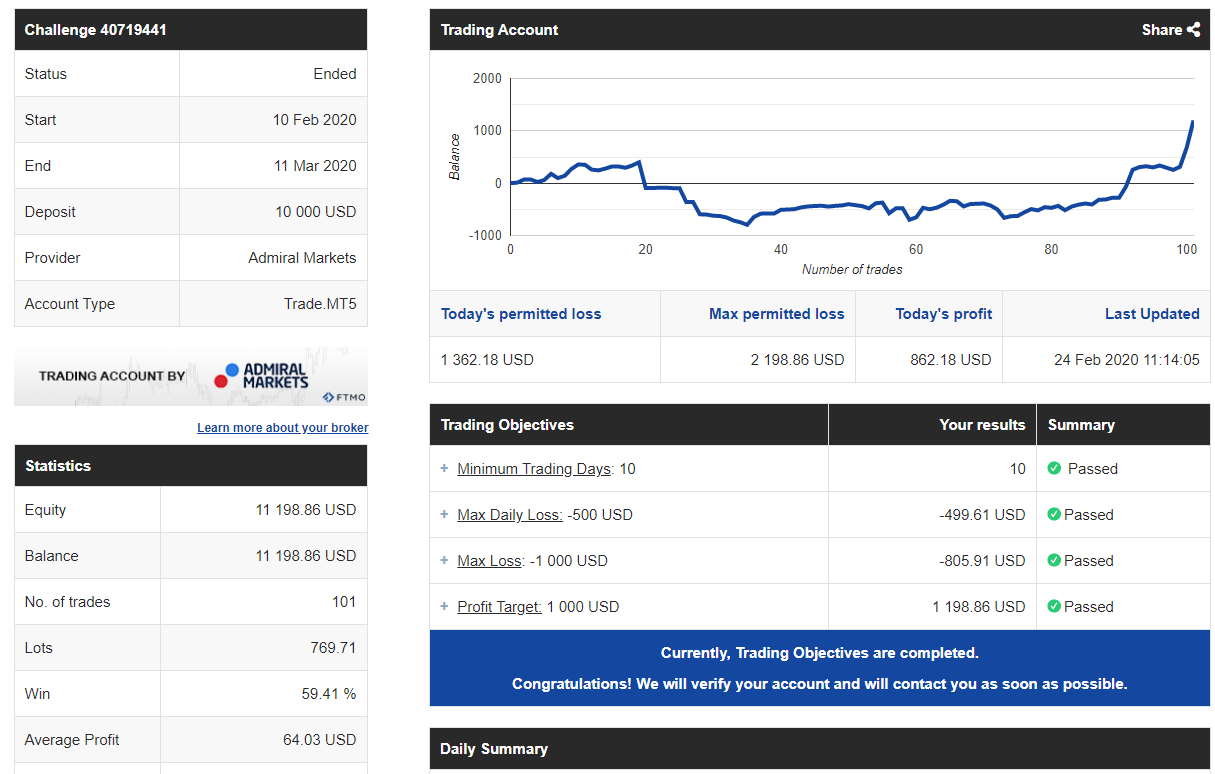 What to improve?
Trust in my statistics and cut losses, knowing that the strategy is profitable.
Has the Challenge helped me?
The Challenge was very helpful in that I had to stay within the daily loss limit. I have built a new discipline approach which will help me not to over trade.
Do I recommend the Challenge?
Definitely will recommend it. You have to learn to chase higher returns and at the same time manage your downside.
Trader Barry from Canada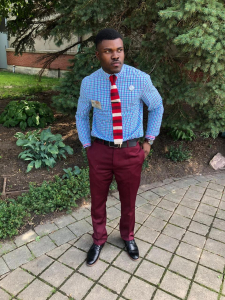 About me:
I was introduced to trading by my girlfriend in June 2019. She had a friend that was posting charts on his social media pages and was interested and told me about it.
How do I trade?
I trade smart money and Wyckoff concepts.
What went well?
I think the Challenge/Verification was good. It allowed me to showcase my skills and also boosted my confidence and risk management.
What to improve?
Honestly, I am content with how I trade but being disciplined to my trading rules is one improvement that can be made.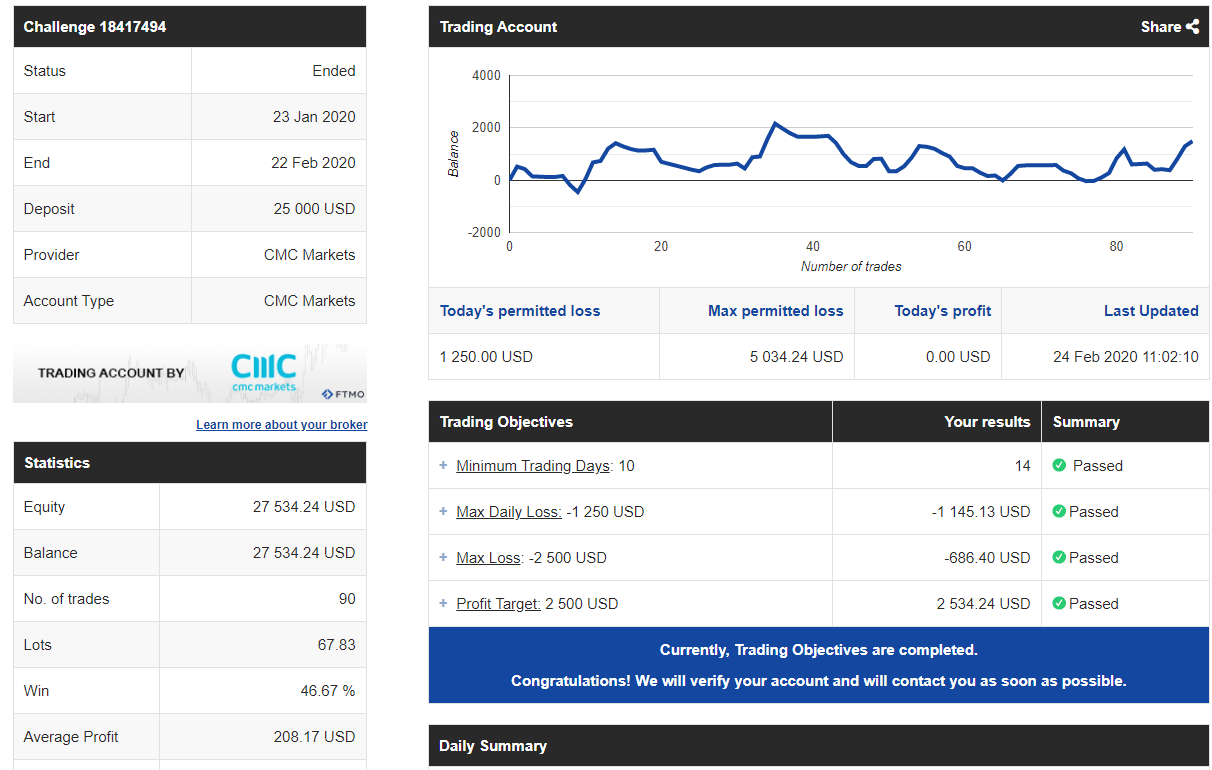 Has the Challenge helped me?
Yes, definitely, the Challenge has helped me tremendously with my risk management and staying disciplined.
Do I recommend the Challenge?
Without a doubt, all aspiring full-time traders should take on this Challenge and even if they already are they should still take on this Challenge. Why? Within the trading space, FTMO has become a staple in terms of proving that you know how to trade properly (not gambling).
Thus, being funded shows that you have what it takes and also increase profitability due to the large sums of money that you can trade.
https://ftmo.com/wp-content/uploads/2020/03/nahled.jpg
628
1200
Adam Bakay
https://ftmo.com/wp-content/uploads/2019/02/logo_ftmo.png
Adam Bakay
2020-03-10 10:50:12
2020-03-11 14:07:04
New FTMO traders pushing through troubled waters