So many good traders have recently joined our ranks and we almost have a backlog of articles from all these newly funded traders to share with you. To inspire you and make reading easier, the feedback questionnaire is standardized with the same questions. We already have traders from all over the world and it doesn't really matter where you come from. As long as you are disciplined, you can become one of our Funded FTMO Traders. Kudos to all of our newly funded FTMO Traders!
The first trader is Josip from Croatia:
1)  How did you start trading? 
Interest for trading developed after more than a decade of studying different types of investing in various financial markets. What started as a hobby transformed to educational expertise and more importantly, exhaustive practice and tremendous input of working hours needed in order to see slow but steady progress in forex trading.
2) What is your trading style?
After analysing FTMO Objectives and restrictions on the funded account, I decided to create a trading plan which had the most sense in the long term. I am trying to filter trending versus non-trending days and trade as little as possible if conditions are not in favour of my trading strategy. Mostly I daytrade EURUSD and aiming to earn RR 4:1. I exploit large leverage and trying to reach my targets as soon as possible.
3) What did you do well?
Challenge went smoothly, I earned a profit target in just several days. Verification, however, turned out to be a more difficult task, even though the profit target is cut in half, and there the deadline to reach this profit is doubled in comparison to the Challenge. Those facts describe beautifully how discipline, patience and rationality must be practised on every single trade, otherwise, it would be impossible to achieve satisfying results.
4) What should you improve?
Currently, I am working on the implementation of the order flow, volume and delta of a day in order to help me recognise the power of the momentum.
5) Was the Challenge beneficial to you?
It is always nice and psychologically beneficial to achieve a difficult task. Experiencing specific objectives and nature of pressure will help me to manage the funded account successfully.
6) Would you recommend the Challenge to other traders and why?
There is almost no difference in trading real money to this type of Challenge so it is a perfect step toward finding out if you have what it takes to be successful as a trader. It is also a great option for controlled risk of losing personal money and/or receiving a sufficient amount of money for making trading a profession.
Let's stay in Europe, the next trader who shared his trading journey is Daniel from Spain.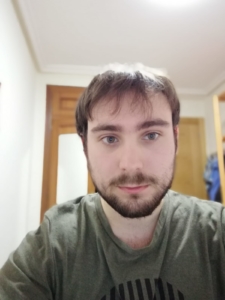 1)  How did you start trading? 
I am 23 years old and I am Spanish, I have always liked the world of finance, but especially five years ago when I started the Economics Degree, and I learned more about the operation of financial markets. I have been studying and operating in the financial markets since the beginning of my degree, especially in FOREX, first in demo accounts and then with my savings, until by chance I discovered FTMO, that it is just what I was looking for to obtain more capital to trade If you think this is your passion, fight for it, without worrying about what the people around you say.
2) What is your trading style?
I am swing or intraday trader, my strategy is based solely on technical analysis and price action, all coupled with a strong discipline to control risk and occasionally I using some indicator such as moving averages or RSI to see divergences.
3) What did you do well?
It is a unique opportunity for people who already know how to trade and earn money. It is good to reaffirm your knowledge and know-how, to finally get an account funded to earn more money.
4) Was the Challenge beneficial to you?
The challenge has helped me especially to have greater control of risk since that was my greatest weakness. And in this way get better money management.
5) Would you recommend the Challenge to other traders and why?
Of course, I would recommend this Challenge to all traders, but I also have to say that before starting the challenge, traders should already be making money, because they do not teach you anything, it is only useful to demonstrate your talent. I would tell you that if you are not yet a good trader, first study the financial markets and then try the challenge.
Our FIRST Filipino trader who got funded is Edmund. It is our pleasure to welcome you between our FTMO Traders.
1)  How did you start trading? 
I am Edmund from the Philippines. I am happily married to my lovely wife Elisa, who is very supportive with my trading career. I started my journey as a trader by trading the Philippine Stock Market way back in 2009 as a means of supplementing my salary. Following that same year, I got introduced to Forex Market and got interested in its potential to earn some huge amount of money and which is open for trading 24 hours a day / 5 days a week. My early journey as a trader is not a smooth ride. I have experienced a couple of failures also but this did not stop me to continue in learning and pursuing my passion as a trader. I am thankful for those past experience which mold me to who I am today.
2) What is your trading style?
I am using a trading strategy which combines Price Action and Elliot Wave Analysis. In basic terms, Price Action Analysis is the study of the price movement of the market. As a Price Action trader, I am using a plain candlestick chart and identifying key support and resistance levels. Elliot Wave Analysis is basically the study of the market psychology, which according to Elliot forms a repetitive structural pattern. This structural pattern is what we are interested in. By being able to do so, will help us identify possible market tops and bottoms which traditional technical analysis won't be able to tell us. Along with this strategy, I am also applying the following 5 pillars which I have written in my blog: https://pawaver.wordpress.com/2018/03/17/the-5-pillars-to-become-a-successful-forex-trader/
3) What did you do well?
This is my first time joining the FTMO challenge/verification. The only thing I can say is that it is created very well. The trading objectives is really designed to separate profitable traders from those who are not. Yes, sometimes traders will get lucky but the verification phase will see to it that you are really capable of managing the companies funds.
4) Was the Challenge beneficial to you?
Yes, for it really made me only choose from all my possible trades the best one. It also made me focus on the 10% profit target while always monitoring and keeping my overall risk well below the daily drawdown. This way I was able to really build huge positions by constantly scaling in and trailing my stop loss to keep my risk low all the time.
5) Would you recommend the Challenge to other traders and why?
Yes, I will definitely recommend it.
Trader Wi Sonn is from another sunshine country of Malaysia.
1)  How did you start trading? 
I have been learning and trading forex for the past 10 years with mostly losses because the most important fact very few would really emphasize on, which is money management. And how to effectively use it to protect my trading fund is none clearer than what FTMO have provided. With the trading objectives laid out clearly, I can really safeguard my funds by stopping my trading for the day if things are not going my way. Only now that I fully understand what it means by \"live to trade another day\" for a simple fact that I could not catch the intention of the market every single day. This daily limit also restricts me from over trading which is another hidden account killer.
2) What is your trading style?
Watching price action, probability of trades going up or down and paying attention to momentum guides me to the direction of my trades.
3) What did you do well?
These levels taught me a lot about being in the correct mindset every time before pulling the trigger. Being trigger happy will definitely kill the account in the shortest of time and will definitely drag down the win %. Keep calm always and put my emotions at bay and be a sniper always.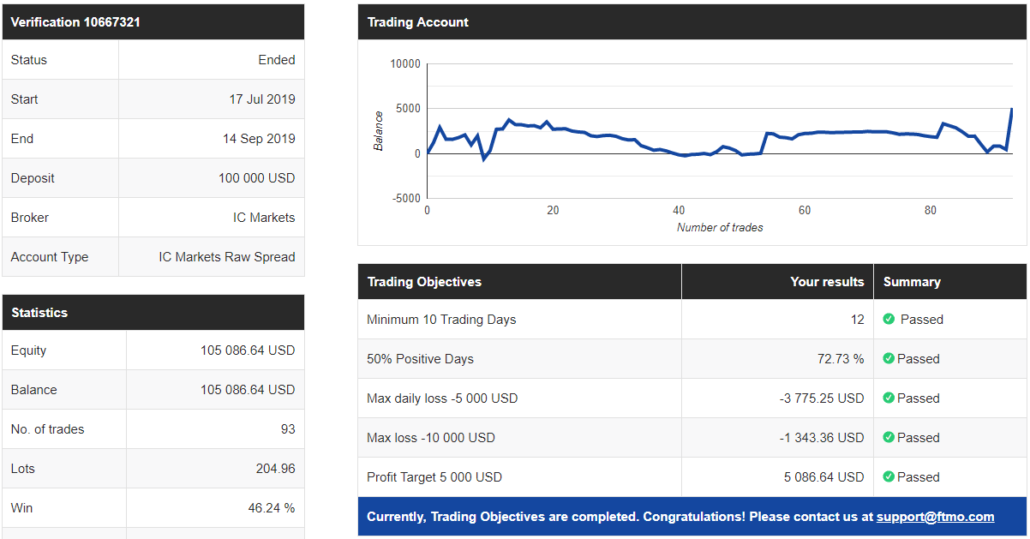 4) Was the Challenge beneficial to you?
Definitely! I think I would not have gotten such gains if it were not for the objectives stated in the Challenge.
5) Would you recommend the Challenge to other traders and why?
Most definitely. If you think you have gathered enough experience but always find your account depleted at the end of the month please do try out at least the Free Trial. From there you should be getting your bearings corrected through better money management. There are no limits to the number of Free Trials. Once you feel confident, take the plunge into the Challenge.
Nathanael is a young and talented trader from Canada.
1)  How did you start trading? 
I started to learn to trade in October 2015, I heard about trading on the internet, the next month I became interested and I started to learn trading. My apprenticeship started on the internet, I quickly realized that to become a professional trader I had to go further in my apprenticeship, so I decided to use my money to pay for several online trading formations. I then learned how to handle several information from different educators to make my own trading idea. I started by learning the swing trading method, then day trading and scalping. As time went by, I focused on myself, I developed a list of my qualities, faults and strengths and weaknesses, this list allowed me to know what type of trading I was going to adopt. I chose to do Day trading.
2) What is your trading style?
Every morning, I look at my notebook of psychological disciplines and then I look at my charts to identify the key levels in day trading, the high points and the low points as well as my technical indicators (stochastic). At the end of each day, I make a return on my trades and I note my results and the evolution of my trading capital on my trading log. My trading strategy is based on support breakout and daily resistance.
3) What did you do well?
This business plan is a very good plan for those who want to trade but do not have a lot of money. The Challenge / Verification steps are very useful, they help give the trader discipline, patience and consistency. For me it was a great advantage to go through these steps, they allowed me to adapt my trading style.
4) Was the Challenge beneficial to you?
Yes of course!
5) Would you recommend the Challenge to other traders and why?
Yes, for all those they want to do serious trading.
Trader Mohammed is from the UK.
1)  How did you start trading? 
I've started trading for a year and 1 month or so. First few months, my discovery of trading wasn't quite pleasant and I lost a lot of money. Once I did my course with a trading company, I discovered a different approach to the financial world and haven't looked back since!
2) What is your trading style?
My strategy contains capital management – with the daily DD of 5%, I aim to trade every session risking €125 = 1/4 of daily Drawdown. Technical – RSI indicator @30:70 / Strong Buy to Strong Sell Fundamental – trading upon high impact news.
3) Would you recommend the Challenge to other traders and why?
I have already 🙂
Ian is from a remote island of Grenada. He has just passed the Challenge, which means that he still needs to pass the Verification to become the FTMO Trader. If he succeeds (and we believe so), he will be our first trader from Grenada to get funded.
1)  How did you start trading? 
Well, I started trading 4 years ago and I was unsuccessful until I came across pip society that showed me the ins and outs of the financial markets.
2) What is your trading style?
Well, basically my main strategy is trading the Ms and We of the highs of the day and also the highs and lows of the week.
3) Was the Challenge beneficial to you?
Yes, the challenge was pretty much helpful cause it thought me a valuable lesson in terms of been disciplined and sticking to the trading plan.
4) Would you recommend the Challenge to other traders and why?
Yes definitely recommend it to other traders who want to challenge their trading in terms of been disciplined and patient in sticking to a proper money management plan.
Muhammad from Pakistan has passed the Verification just yesterday. We wish him all the best forward in his FTMO Account!
1)  How did you start trading? 
I start trading in 2014. when I started, I was a government employee. Now I left my job and I am a professional trader. I have taken training from the best trader in Pakistan and I have been trading in the markets for the last three years. I am now a full-time trader.
2) What is your trading style?
I simply do trading volume, spread analysis and price action.
3) Was the Challenge beneficial to you?
Yes, definitely it was. The Challenge helped me to control the Money Management rules, it also helped to limit position size and number of trades. The Challenge helped me in improving discipline in my trading activities and also daily loss limit helped me to curtail my trading activities on a bad trading day.
4) Would you recommend the Challenge to other traders and why?
It is a very good opportunity.you have to pay a very low amount and can earn more money with a big fund.
As you can see, anyone can really become the FTMO Trader and manage our capital. No matter what your origin is, the only aspects that matter is your discipline, work ethics and determination.
0
0
FTMO.com
https://ftmo.com/wp-content/uploads/2019/02/logo_ftmo.png
FTMO.com
2019-08-14 12:14:48
2019-08-29 15:47:38
Multiple interviews with Funded FTMO Traders!