The month of May is here and we welcome new FTMO traders to our forces! As always, read their stories and get valuable insights into how they traded to get funded by us!
Trader Alexander shares his story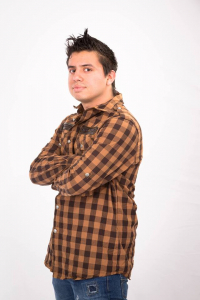 How did you manage your emotions when you were in a losing trade?
It has taken four years of failures, anger, frustration, revenge trading, and taking the time to develop a profitable strategy. Not to mention losing money! As of now, I never risk more than 1% per trade, and my SL are generally tight. I always wait for a setup to occur, and I never chase a trade. Losing is part of the game, but the goal is to have more profitable trades, so that when a trade goes bad, overall you are still profitable. The trades that I lost during the challenge were always made up due to my conservative risk management. By having conservative risk management, I can trade with a peace of mind knowing that losing won't blow my account.
What was more difficult than expected during your Challenge or Verification?
The time constraint during the Challenge was more difficult than expected. Market conditions play a huge role on the success of trades, so I was fortunate the market has been moving well this past month. If traders don't have a sound strategy, they could be tempted to get their profit targets with one trade. This is my 5th challenge. I got intimidated during the beginning of completing the objectives in 30 days.
I didn't have a consistent strategy, so I violated the objectives many times, and never fully hit my profit target until now. I overcame the constraint of 30 days by attempting to make at least 3% per week, while staying consistent with my strategy and, I was successful!
Do you plan to take another FTMO Challenge to manage even bigger capital?
Yes! I have already completed an additional challenge and I am currently waiting to complete verification. Eventually, I plan on trading with both accounts using one to withdraw profits and allow the other to grow.
Describe your best trade.
My best trade involved the pair USDCAD. I trade untested major support and resistance lines on the 4hr time frame. I wait for the first reaction as price reaches these major areas in the market. As price breaks these areas, I wait for a "lightning bolt" price action pattern, which is an initial impulse, then a pullback to these areas, witness that the areas are respected, then finally take the trade as price action continues in my given direction.
My entries are always on the 15 min time frame. This strategy allowed me to take a position at 1% risk on USDCAD and achieve a 1:7 profit, which resulted in $977, the majority of the profit target with just this trade!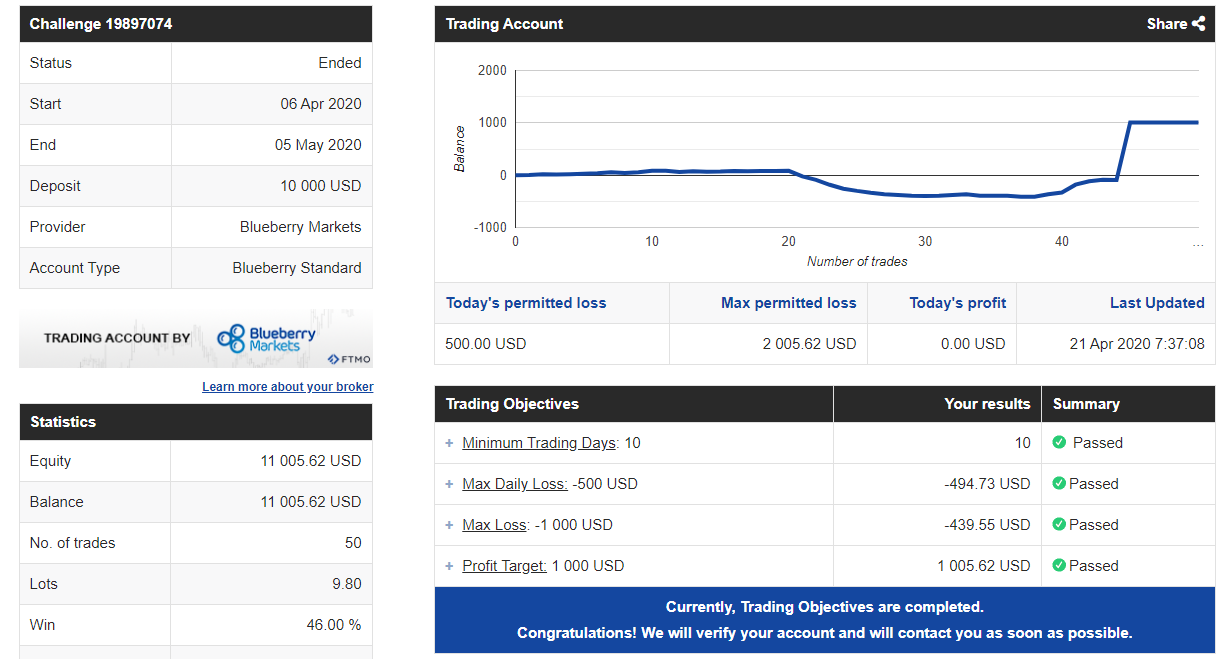 What do you think is the most important characteristic/attribute to become a profitable trader?
Throughout my journey as a trader, I have taken many courses and tried dozens of strategies. None of them were consistent, and I kept losing money. I am in Nursing school, and I was looking for a way to help pay my education. I was at the point of quitting thinking I could never be profitable. It wasn't until I met my Mentor Ken, that I finally got my strategy that works for me. He preaches the importance of having a trade plan. A trade plan makes sure that you are trading with a specific goal in mind, and it also prevents you from over trading.
My plan begins with the start a new month. For the first two trading weeks, I focus only on achieving 1:1 targets until I am up 10%. For the remaining of the month, I swing my trades for additional profit, while making sure I maintain at least a 10% growth when the month ends. That ensures every month is profitable. If it wasn't for Ken, I wouldn't be in the position where I am confident when I trade, and no longer stare at my charts hoping a trade goes my way, so THANK YOU!.
What would you like to say to other traders that are attempting the Challenge?
Make sure you have your trade plan down cold. Make sure your ROI% is consistent, so that when you transition to the challenge, your time will be smooth. If you don't, you will fail. That's what happened to me. I would highly recommend taking advantage of the trial challenge that is offered. It gives you very similar conditions to the actual challenge and you can attempt them as much as you want. I did 5 total free trials before I committed to attempting the challenge again. Do as many as you need before you commit any investment to starting a challenge.
I would advise people who are not ready to start the challenge, to practice with a demo account in the amount of money you plan on taking the challenge with. There is no point in practicing with a $100,000 account if your challenge is going to be $10,000. It would set unrealistic expectations. Most important, if you are not successful, don't give up.
Look at me, this is my 5th challenge, but I finally completed it. I am grateful for every failure because it forced me to evaluate my strategy every time to the point where I see consistent results, and I never would be the trader I am today without it. Now I'm currently paying my way through nursing school with trading and its an amazing feeling. Did I forget to mention that my Mentor Ken deserves a ton of credit. Thanks again!
Trader Muhammad, from stocks to forex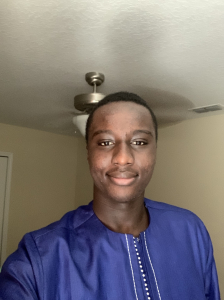 How does passing the Challenge and Verification changed your life?
I have been trading for a while now, I started stock market trading a little over a year ago and then learned about forex and got into that. My biggest problem was the psychology I blew multiple live accounts before I started getting any kind of consistency. My passing of the challenge just confirmed that I could do this and the way FTMO sets things up just makes things less stressful. Because of this Challenge, I am going to be able to leave my part-time job and focus more on my trading career.
Do you have a trading plan in place, and do you follow it strictly?
I do have a plan in place which allows me to take more risk and increase my stop loss without having any crazy drawdown.
Has your psychology ever affected your trading plan?
My psychology has affected my trading plan for sure, but I am learning to trade with little to no emotion to better my trading career.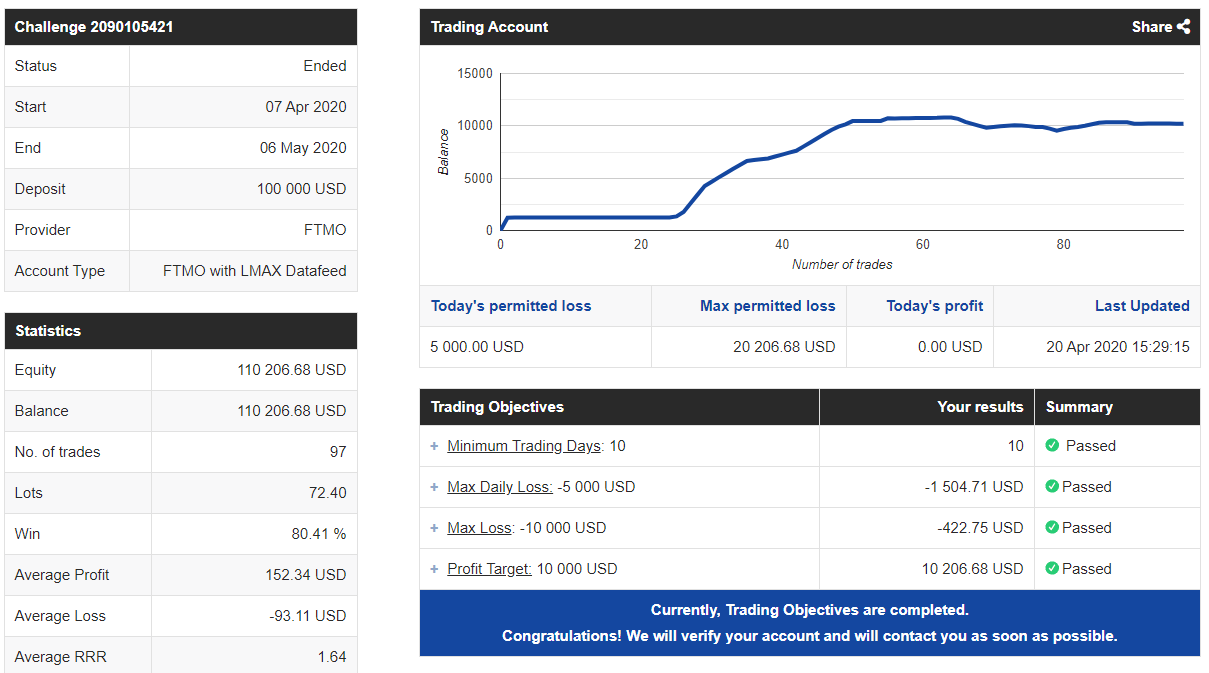 How does your risk management plan look like?
When it comes to risk management I try to start off the day going straight into profit by doing some scalp work with very tight stops, usually 1:1 RRR, and then I will slowly increase my stops for any trades I plan to hold for more than 4 hours.
What was the hardest obstacle on your trading journey?
The hardest obstacle on my trading journey was myself. My psychology always got in the way because I know how to trade but there were times where I did not know when to stop.
One piece of advice for people starting the Challenge now.
Anybody starting the Challenge should focus on controlling risk and placing good trades. There is no point in rushing because if you control your risk the profits will follow and your confidence will be boosted.
Trader Brady on importance of following the trading plan and strict risk management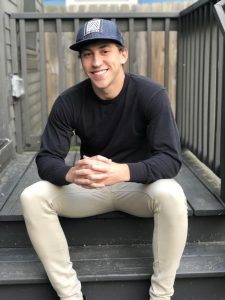 Describe your best trade.
I had a trade on GJ with a 25:1 R/R. I entered on a liquidity spike with a 4 pip stop loss after the set up met three of my confirmations. My take profit target was hit in less than two hours.
How does your risk management plan look like?
I rarely risk more than 1% and I look for high probability setups with at least 2.5:1 R/R. I used to trade 8+ currency pairs and now I stick to 2-3 pairs, which has improved my consistency and discipline by limiting the amount of trades I'm in.
What was the hardest obstacle on your trading journey?
Overtrading, without a doubt. I used to always get the urge to be in a trade regardless of the time of day or currency pair.
I'm still working on limiting the amount of trades taken per week, but my trading has improved since I started focusing on 2-3 pairs and only taking trades on those pairs in high volume sessions.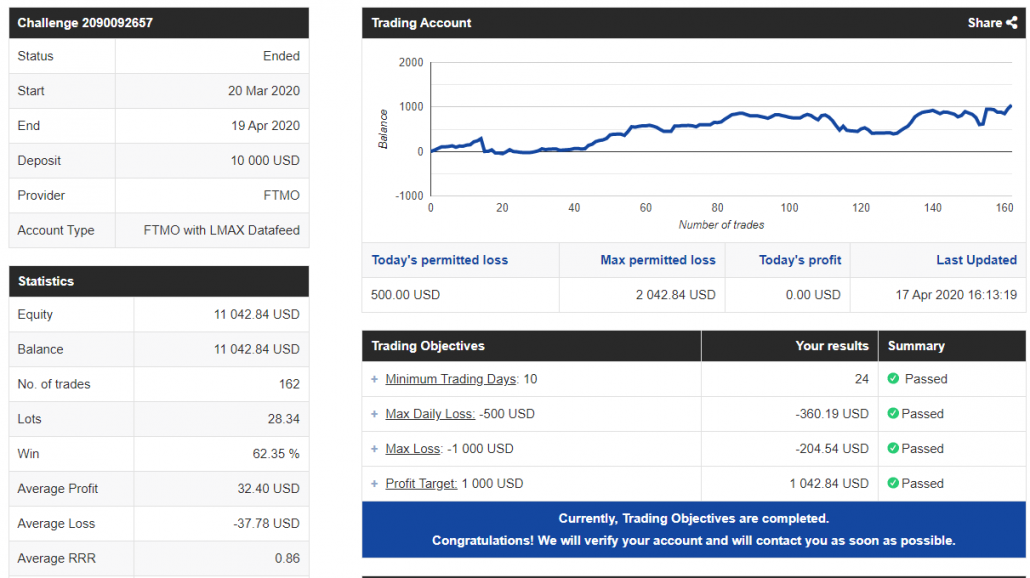 How does passing the Challenge and Verification changed your life?
Passing the Challenge and Verification reflects consistency and discipline that I know will only help me in the long run. As for getting funded, this will accelerate my trading journey because I'll be managing much more capital than what I currently trade with. I plan on taking more challenges this year too.
How did you eliminate the factor of luck in your trading?
I stuck to my plan by patiently waiting for multiple confluences before taking a trade and I was always comfortable risking 1% or less per trade. I understand that I'm not going to win every trade, so that's when proper risk management comes into play.
What would you like to say to other traders that are attempting the Challenge?
Risk management is key and it's extremely important to understand the level of risk that you're comfortable with as a trader. Develop a system that works for you and stick to it. Throughout the Challenge, I secured partial profits on a majority of my trades and it helped me in the long run. Don't feel like you need to beat the Challenge in 2-3 trades, you have plenty of time!
Technical trader Victora from the US

What inspires you to pursue trading?
Definitely the potential to live financially free. I view trading as my means to acquire a substantial amount of capital to invest in other business ventures.
What do you think is the most important characteristic/attribute to become a profitable trader?
I think an essential characteristic would be the absence of ego, particularly for retail traders; as well as being able to manage risk and accept losses. The market favours no one, so it's important to be able to adapt and be humble about ones P/L – the market can take just as quickly as it can give.
How does your risk management plan look like?
When doing analysis for potential setups, I like to have at the very least a 1:3 risk/reward ratio, and never risk more than 1-2% per trade.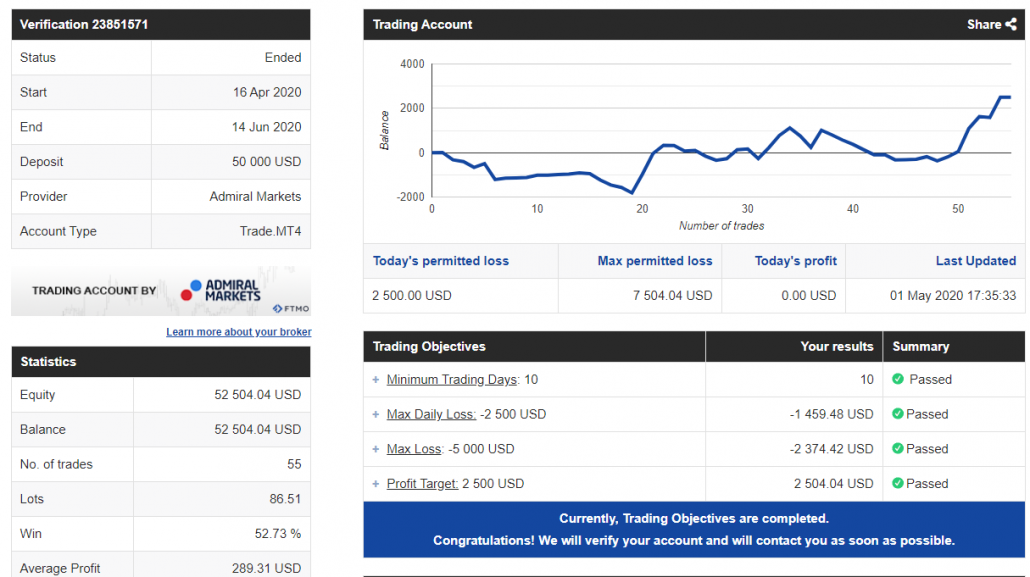 How did you eliminate the factor of luck in your trading?
I would consider myself a mainly technical trader, so studying price action and backtesting my strategy to give me the confidence in executing my plan. I do pay attention to fundamentals as well, so gathering as much information as I can to help give me that edge in the market, as opposed to treating it as a guessing game is how I'd consider eliminating the factor of luck.
What was the hardest obstacle on your trading journey?
Definitely managing my risk, not over-leveraging my account, and maintaining proper psychology throughout my trading journey as been an ongoing process and the most difficult to overcome; however, with the rules and guidelines placed by FTMO, I have noticed a HUGE improvement in all those areas, as it has forced me to become more disciplined.
What is the number one advice you would give to a new trader?
Not view trading as a get-rich-quick scheme, but treat it as a long term business plan. Spend as much time on the charts + backtesting and be extremely disciplined with risk management.
Trader Connor getting funded at 19 years of age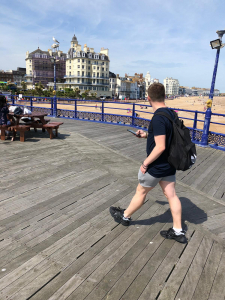 How did Maximum loss limits affect your trading style?
I have a strict risk management system in place, therefore the maximum loss limits we're not anything that fazed me. 5% in a day, with my trading style, I should never be taking more than 3 trades in a day, and stopping after 3 losses in a row. Therefore losing 5% in 24 hours was virtually impossible due to my strict risk management and system.
What do you think is the most important characteristic/attribute to become a profitable trader?
For me, to become a profitable trader, it's about self-belief and psychology. For me, the reason that I waited to do my funded trader test, even though many traders I work with thought I was ready, but my psychology still wasn't there. You need to be the best version of yourself. Physically, mentally, spiritually. Law of attraction is important for me, believing you will reach your goals. It's more than your trading ability, it's about diet, exercise, routine, discipline, practice, friends, family, beliefs, affirmations and so much more. I always say, set your dreams as your goals and make your goals a reality. One day, I came home and I had this gut feeling to do my test. Within a week, the Challenge was passed and I was on the Verification stage.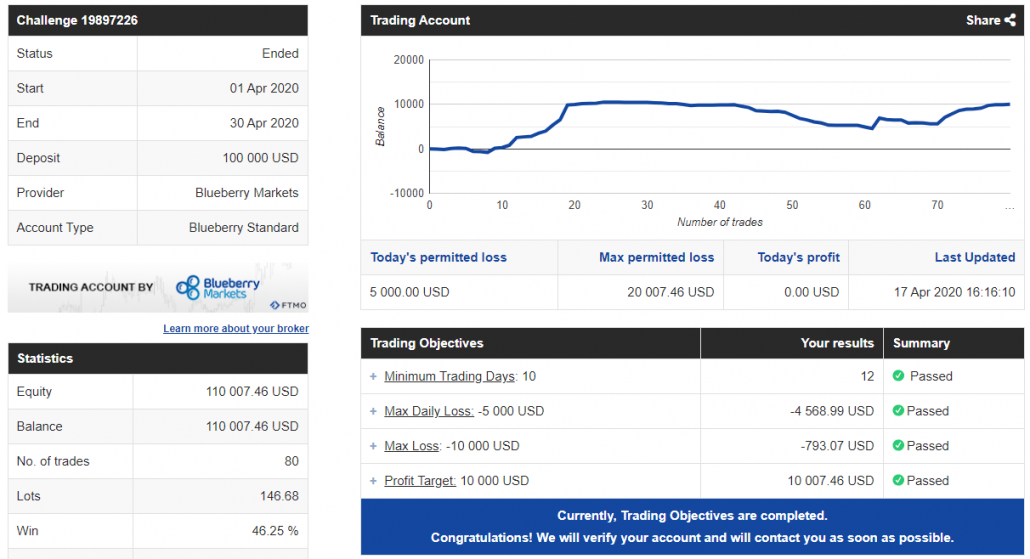 How would you rate your experience with FTMO?
So far, it's been great. The Challenge process was a challenge of self belief, consistency and ensuring you risk manage correctly and understand the level of calmness it takes to perform under pressure.
What inspires you to pursue trading?
I grew up as someone who was always good at various things, but never excelled in one thing. I had part time jobs earning minimum wage, I worked countless hours along side my education. Going to university, I didn't want to be the average student, I wanted to be exceptional. Being a 19-year-old fund trader and business owner is something that very few can say. For me, it's about being a mentor. 'To educate and to inspire'
How did you manage your emotions when you were in a losing trade?
In trading, it's important to become detached from the monetary side of trading. To focus on percentage. Be comfortable risking 1% as long as your reward is higher. Become confident and consistent within your strategy and you will understand the nature of your strategy and be able to read price action to determine whether it's in line with your analysis and bias. It's important to not become over emotional with your trades, trust in your ability and let your results speak. One losing trade doesn't determine your day, your week, your month, your quarter not your year.
What would you like to say to other traders that are attempting the Challenge?
Ensure you are consistent for a period of months before attempting the Challenge. Ensure you are performing at your highest ability, ensuring you have your routine, your journal, your trading plan all accurate and ready to take to the next level. Ensure you are comfortable with your strategy and are performing at peak level ready for the Challenge. Also, make sure you're not distracted or busy / stressed with work, education, business etc. Good luck!
https://ftmo.com/wp-content/uploads/2020/05/succtrader0505-thumbnails.png
628
1200
Adam Bakay
https://ftmo.com/wp-content/uploads/2019/02/logo_ftmo.png
Adam Bakay
2020-05-05 11:40:47
2020-05-06 11:56:41
Meet our new FTMO traders who are about to manage our capital