Time to time, we bring you a short feedback from our traders. Now it's from our trader Rajeev T. He has completed his Challenge on the second attempt and is just a couple of days away to complete his Verification, which looks absolutely superb! We can see that Rajeev is an example of a trader who is highly determined and pursuing his trading desire. We welcome another funded FTMO trader and wishing him all the best! Be inspired by Rajeev's journey.

Tell us something about you. How did you start trading?
My first trade was in November 2008 for 3,000 Indian Rupee -INR (bought stocks in Indian stock market) and just because it was my first trade I was very excited and I was hopeful of 10% increase in stock price on the same day, although there was no rationale behind it. From November 2008 to April 2012, my trading capital was always around just INR 15,000 to INR 20,000. From May 2012 to September 2016, my trading capital was around INR 100,000. From October 2016 to date my trading capital has been INR 200,000 to INR 300,000. In all these years I have almost always blown up my account. And in all these years I used to trade based on a business news channel and experts recommendation. In September 2016, I thought if I continue to trade the way I was trading, I would blow up my account no matter how many years I remain the market.  So from September 21, 2016, I started learning technical analysis and I have learned almost everything i.e. indicators, candlestick pattern, Elliott waves, etc. And only after learning price action, I came to realize that in order to trade successfully, the only thing required is understanding Price Action, Risk Management, Emotional discipline and to have a reasonable expectation from trading.
Can you briefly describe your trading strategy?
I trade based on Price Action on Daily, H4 and H1 chart and I use one indicator – MACD for spotting good divergence signal but that too needs to be aligned with Price Action. However, sometimes I lose emotional discipline and I over trade which I really need to work on and I am working on that. These days I am trying to improve my emotional intelligence which I think is the single most important factor in trading.
What do you think about your Challenge?
Though I have over traded in the Challenge phase, I needed to control this in the Verification phase. I always kept checking on Daily loss limit of USD 5,000. Sometimes when I was very confident about trade set up, I took a significantly larger position and actually that helped me passing the Challenge phase in just 10 days. This is my second Challenge. My first challenge was for USD 10,000 which I could not pass due to overtrading and also because just USD 10,000 account was too small for me to attract my proper attention. So I started bigger Challenge of USD 100,000 and finally I have made it. Now definitely I need to keep an eye on my over trading aspect in the Verification phase.
Has Challenge helped you with anything in particular?
I think Daily Loss Limit should be capped at 2 to 3% of capital in Challenge, Verification and Funded Account.
Would you recommend Challenge to other traders?
Challenge was really helpful for me in checking my emotional discipline in large account size.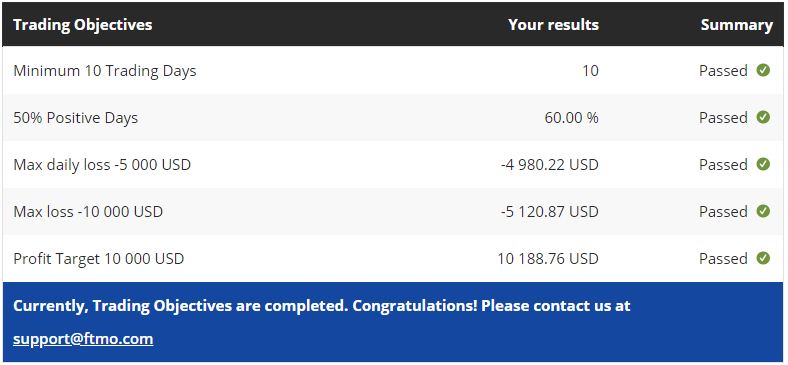 https://ftmo.com/wp-content/uploads/2018/10/Photo_Rajeev-e1538663631959.jpg
245
340
FTMO.com
https://ftmo.com/wp-content/uploads/2019/02/logo_ftmo.png
FTMO.com
2018-10-09 09:47:58
2019-08-02 08:38:59
From Indian stock market to a fully funded $100,000 account