Hello, fellow traders and Challenge takers. In this article, I will show you how I achieved the profit target of 8000 EUR in just 5 trading days using very simple price action strategies on the DAX 1-minute-chart.
First of all, let me introduce myself. I am Khac Tu and I've recently started working at FTMO at the German Support Desk. Before, I used to be just like many of you; a simple trader trying to become funded with FTMO and after that trying to start earning some real money in the markets. I've passed a few Challenges before, but when my dream was only steps ahead of me, I fell down as fast as I got there.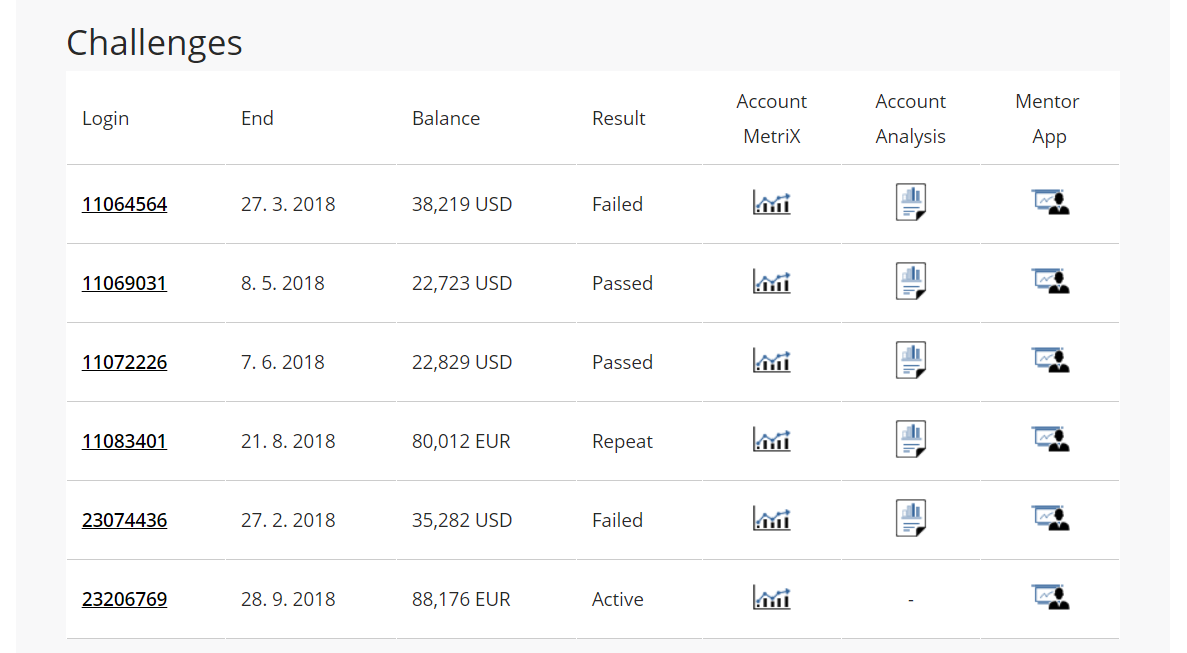 In the screenshot above, you see my journey with FTMO. I started out miserably, but thanks to months of dedication, I worked on my trading to the point where I am starting to see some results. As I've failed all Verifications so far, I'm still in queue to becoming funded with FTMO. This time I think I'll have a good shot.
Nevertheless, let us see some trading.
Here are the results of my trading on the Challenge 80 so far:

Now, let me show you the core principles of my trading strategy and apply them to the DAX 1-min-chart.
Price Action – Breakouts
The core principle of my trading strategy is trading breakouts of basic consolidating price patterns. There are a few price patterns that you should know. I will present some basic patterns in real trade examples that I took during this Challenge 80 on a 1-minute-chart.
The Triangle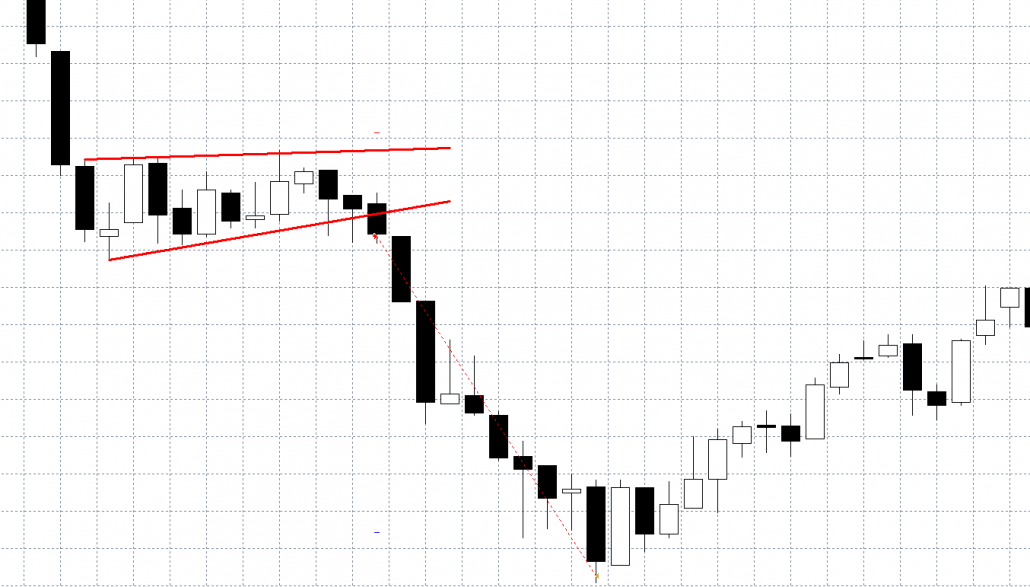 A consolidation pattern with 2 converging trendlines. Entered short at the break to the downside.
The Rectangle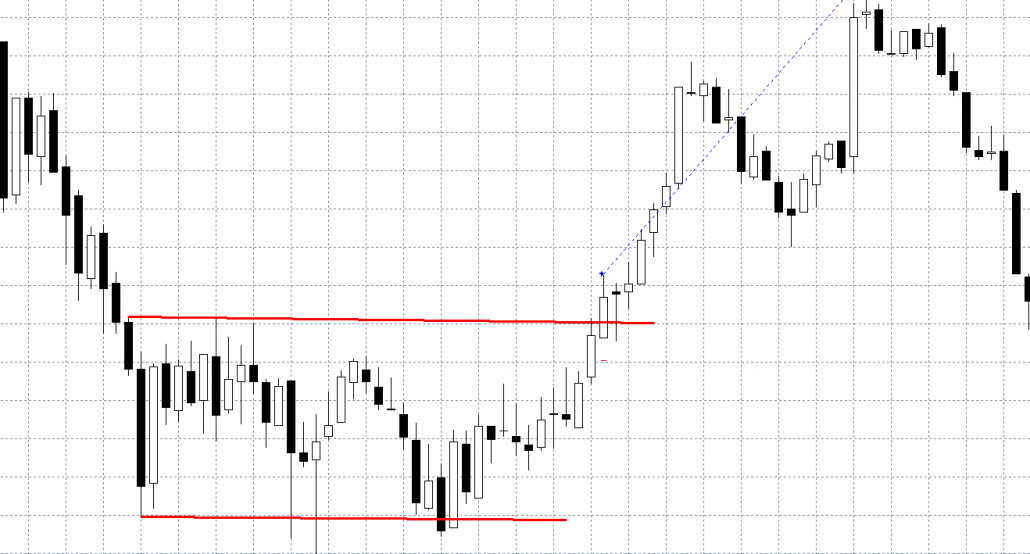 Two horizontal S&R lines define a range. A breakout to the upside of the range signals bullish momentum.
The Channel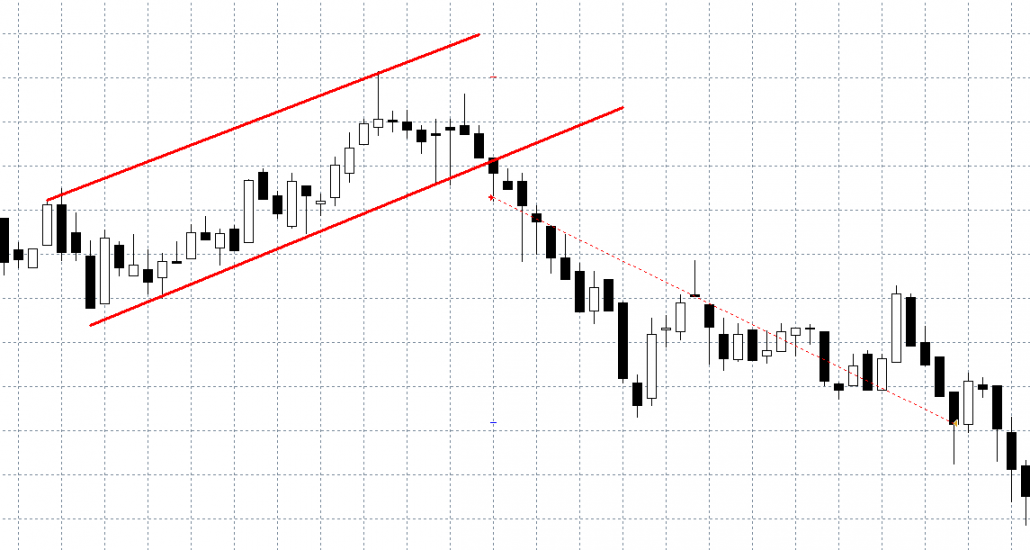 Two parallel trend lines create this consolidation pattern. In this case, a break to the downside signals to go short.
These are the three most basic price patterns I like to use. There are certainly many more and other variations. As you can see, this is Price Action breakout trading in its purest form. With proper Stop Loss and Take Profit placements you can create a very good strategy which showcased good profitability during this Challenge.
Don't believe me? Here are my Account number (23206769) and my Investor password (priceaction1) and check it yourself on the AdmiralMarkets-Demo server. You will always be able to draw one of these three patterns on my trades. Open the 1-minute-chart on the DAX and drag my trades from the Account history to your charts. My trades will appear there.
If you're interested in why I entered a specific trade, you can contact me at khactu@ftmo.com. I'll be happy to answer.
Application
on the
DAX
1-minute-chart
I'm certain that you're interested in why I decided to trade the DAX instead of Forex or other Instruments. For me, trading on the 1-min-chart generates more than 10 signals every day, therefore it is already sufficient to focus just on the DAX as I can consistently trade it on a daily basis. As you know, short-term-trading requires a lot of focus and for inexperienced traders, it's a roller coaster of emotions. It should also be noted that traders are faced with huge leverage and are vulnerable to slippage, hence a lot of responsibility and discipline is advised.
TRADE #1 Rising Channel- short
31.08.2018, 15:37:58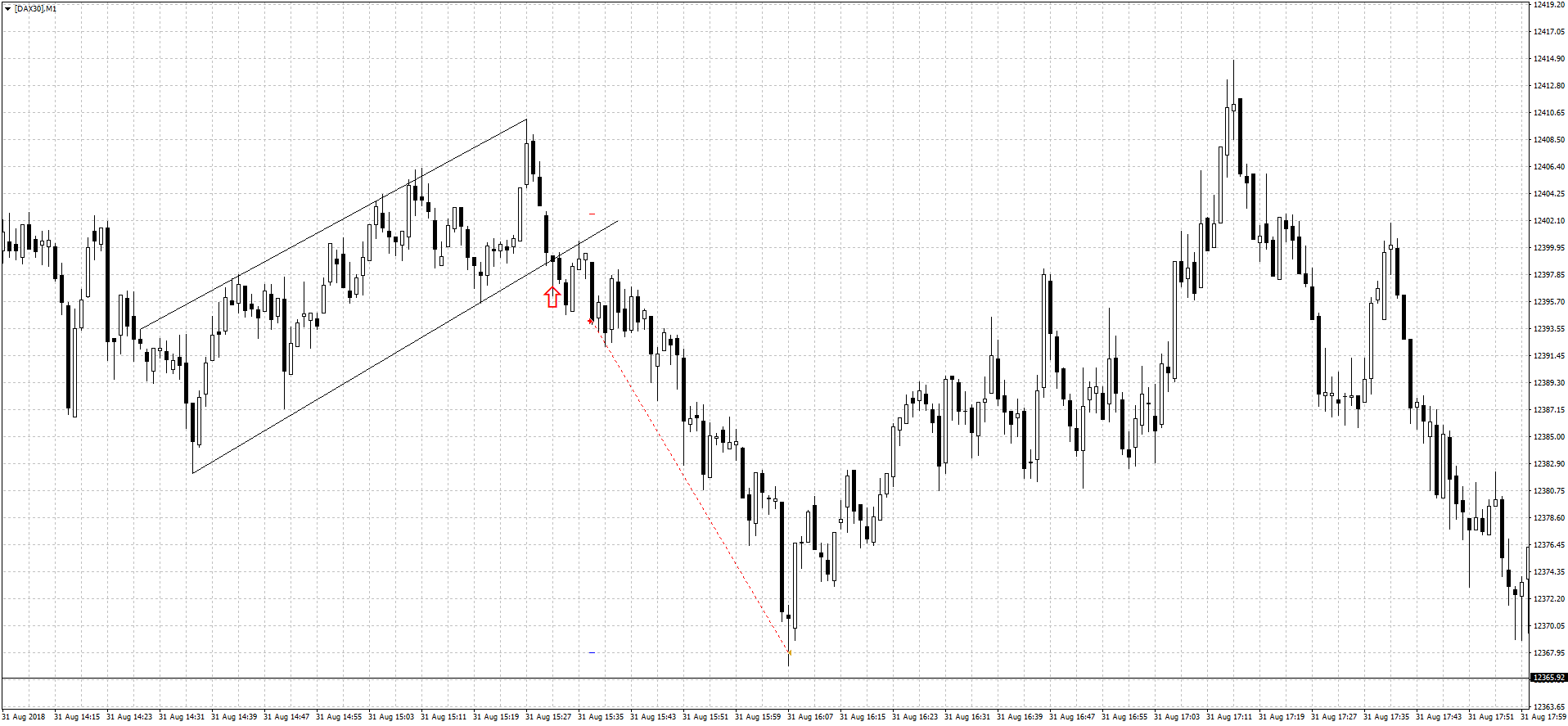 This is a very clean breakout trade I took last friday on the DAX. The red arrow shows the moment when price broke down to the downside. I put my SL above the Channel high and put my TP above a significant support level (you can almost call it a perfect entry and exit). I was able to capture 260 points with a profit of 1048 EUR in just 30 minutes.
Trade #2 Descending Triangle- short
04.09.2018, 10:17:44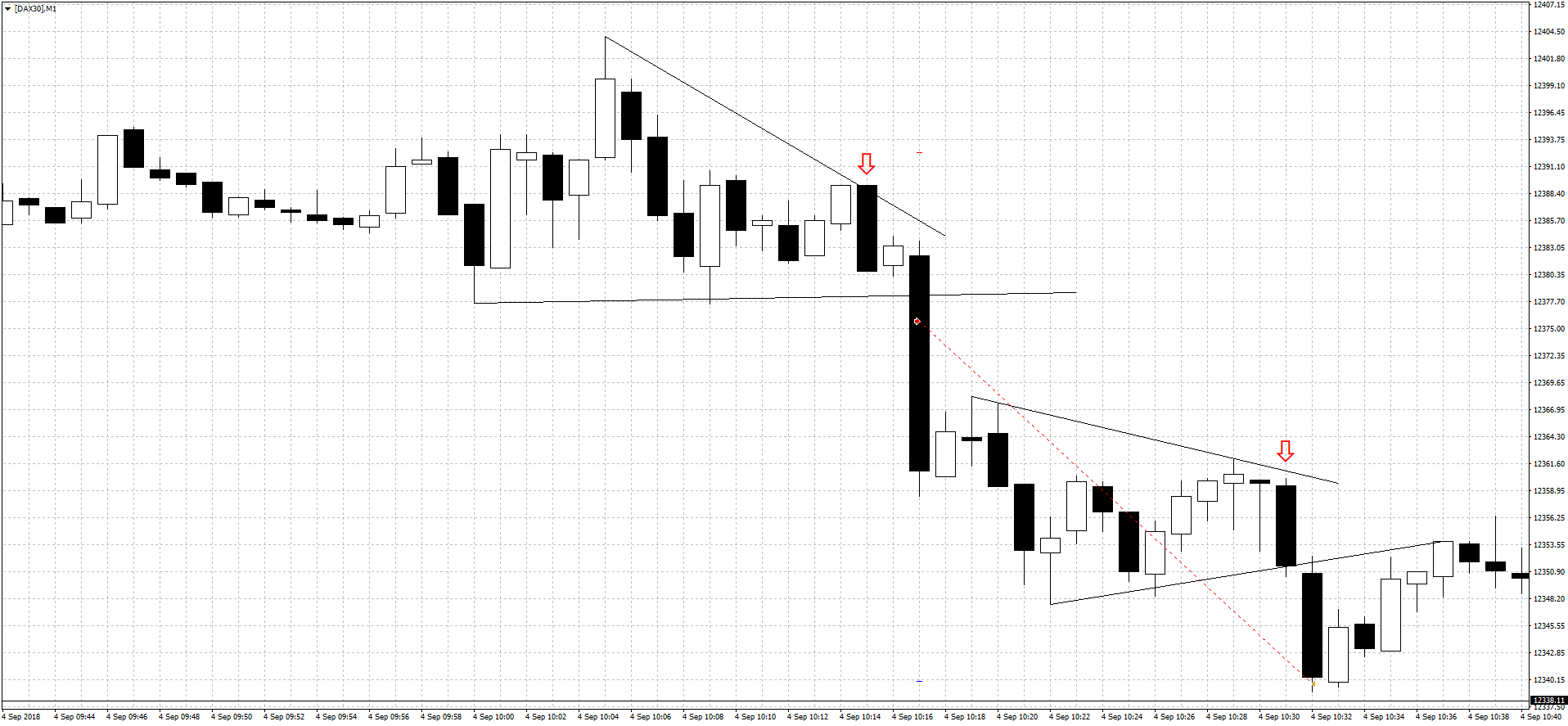 This trade is a very interesting one. Initially, I entered on the break of a descending triangle with a SL at the first arrow. However, before price reached my TP, another triangle pattern emerged. After the second break (which is a trading opportunity on its own), I simply moved my SL above the recent high (second red arrow) of the second triangle, locking in some profits. This trade captured 360 points with a profit of 1441 EUR in just 15 minutes and also shows good trade management.
Trade #3 Falling Channel- short
04.09.2018, 17:00:49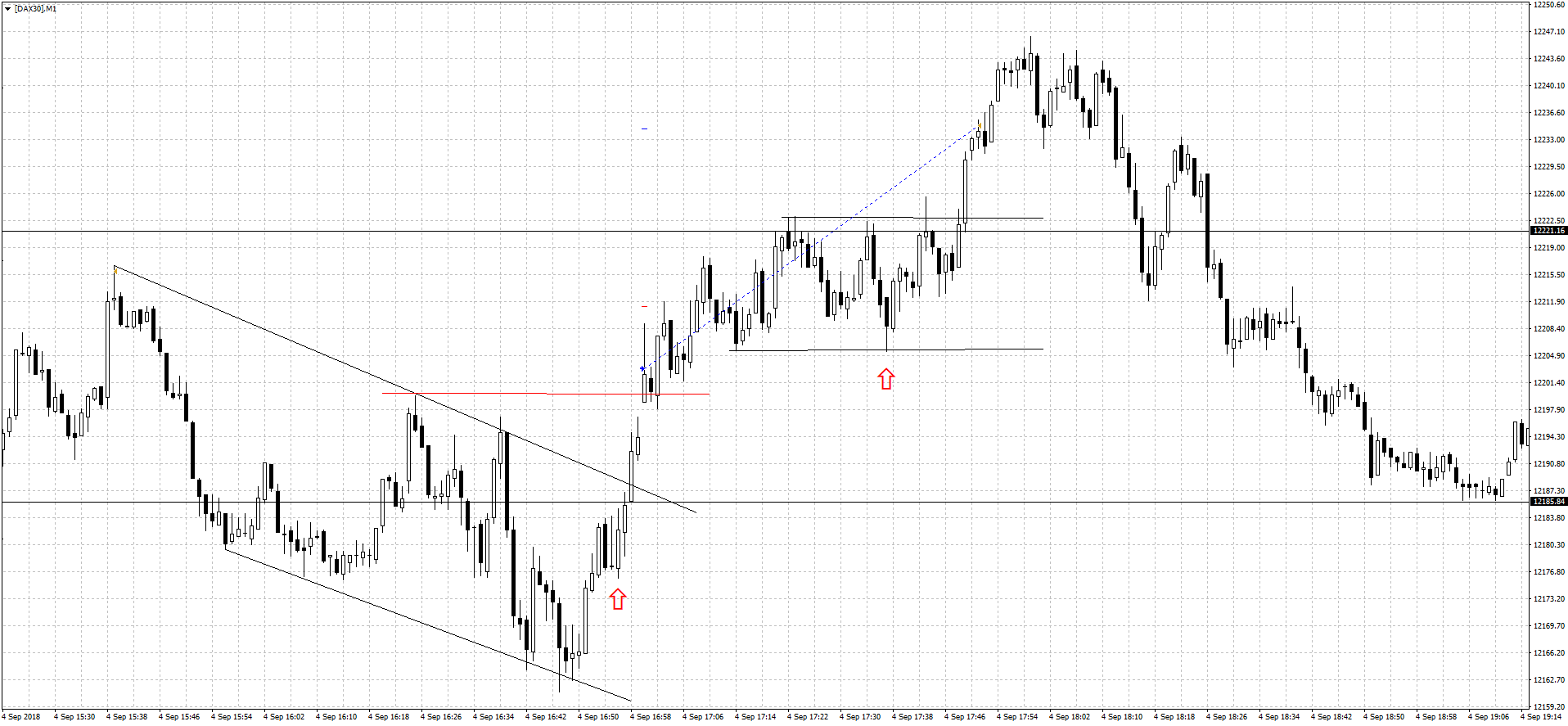 This trade is similar to trade #2. I entered long on the break of a falling Channel above the recent high (red line) and put my initial SL at the recent low (first red arrow). Later, the market formed a rectangle pattern and after the break of the rectangle, I moved my SL below its range (second red arrow). This trade captured 310 points with a profit of 1265 EUR in 51 minutes.
Note that these trades are only ideal examples. In a real trading environment, you will regularly incur losses. A healthy Account History should look something like this: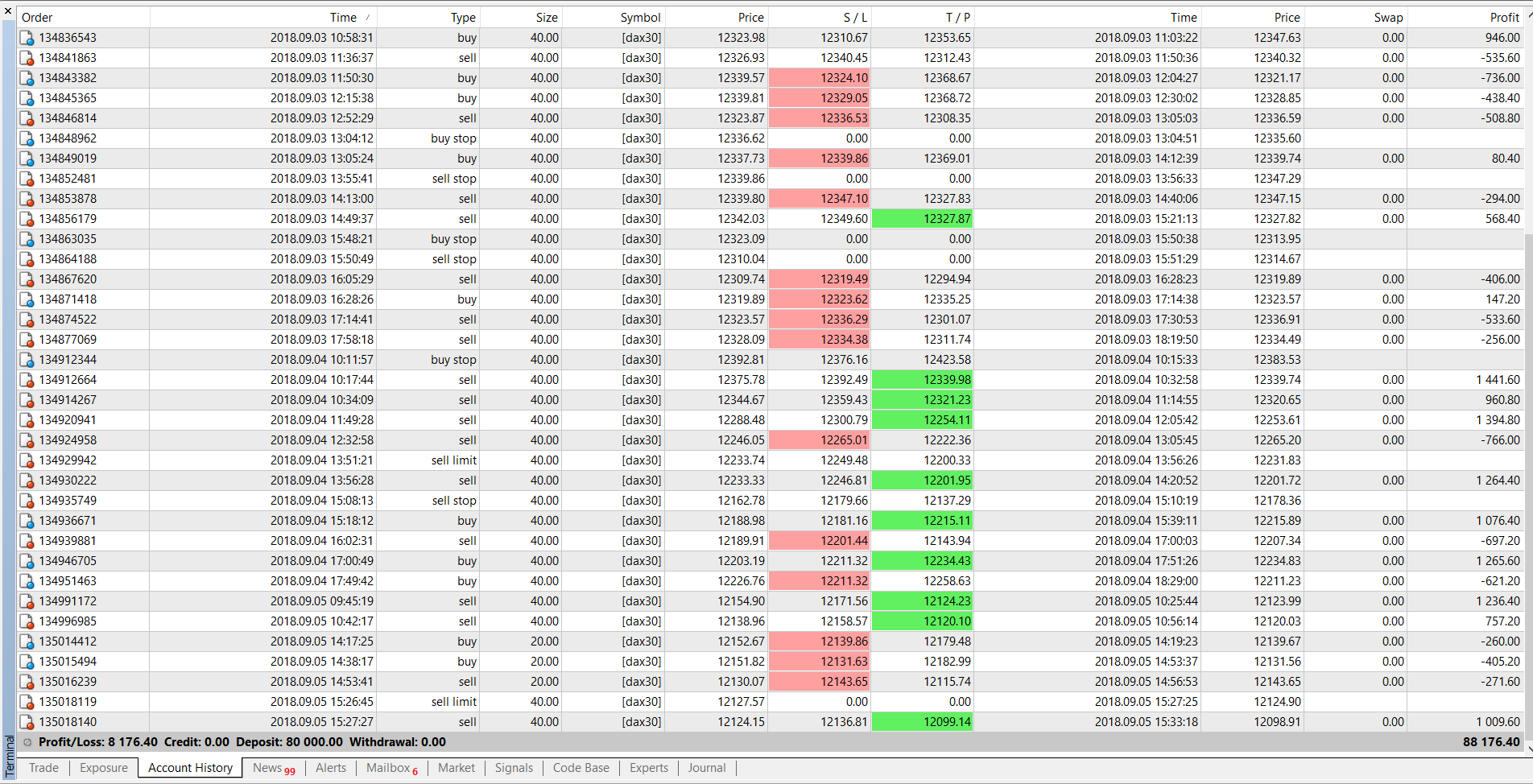 In spite of the losses, you can see that with proper Risk Management and with finding good Reward-to-Risk trades, this strategy proves to be quite profitable.
This strategy carries a healthy balance between the win-rate and the reward-to-risk ratio. It performs really well in trending markets, but you'll have to endure drawdowns during ranging markets.
This chart shows the range of the day on the 5-minute-chart. These market conditions are not ideal for breakout trading and I realized a loss of -1518 EUR that day. I opened 13 trades that day out of which most of them faked out. (chart below)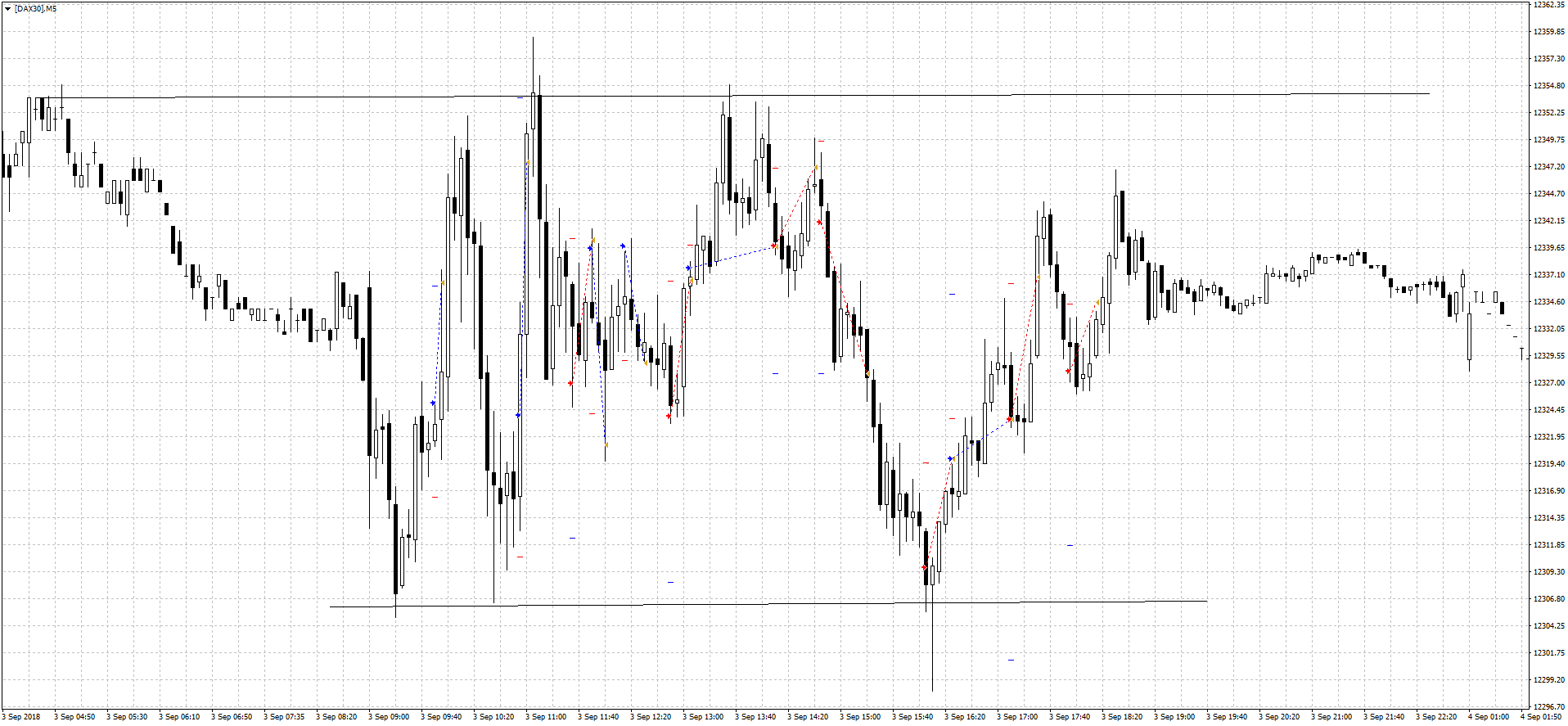 On the other hand, this chart shows that when markets are trending, you're offered with a lot of opportunities to make money. I achieved an unbelievable profit of +5319 EUR after 9 trades. Stay disciplined and you will be rewarded for your patience! (chart below)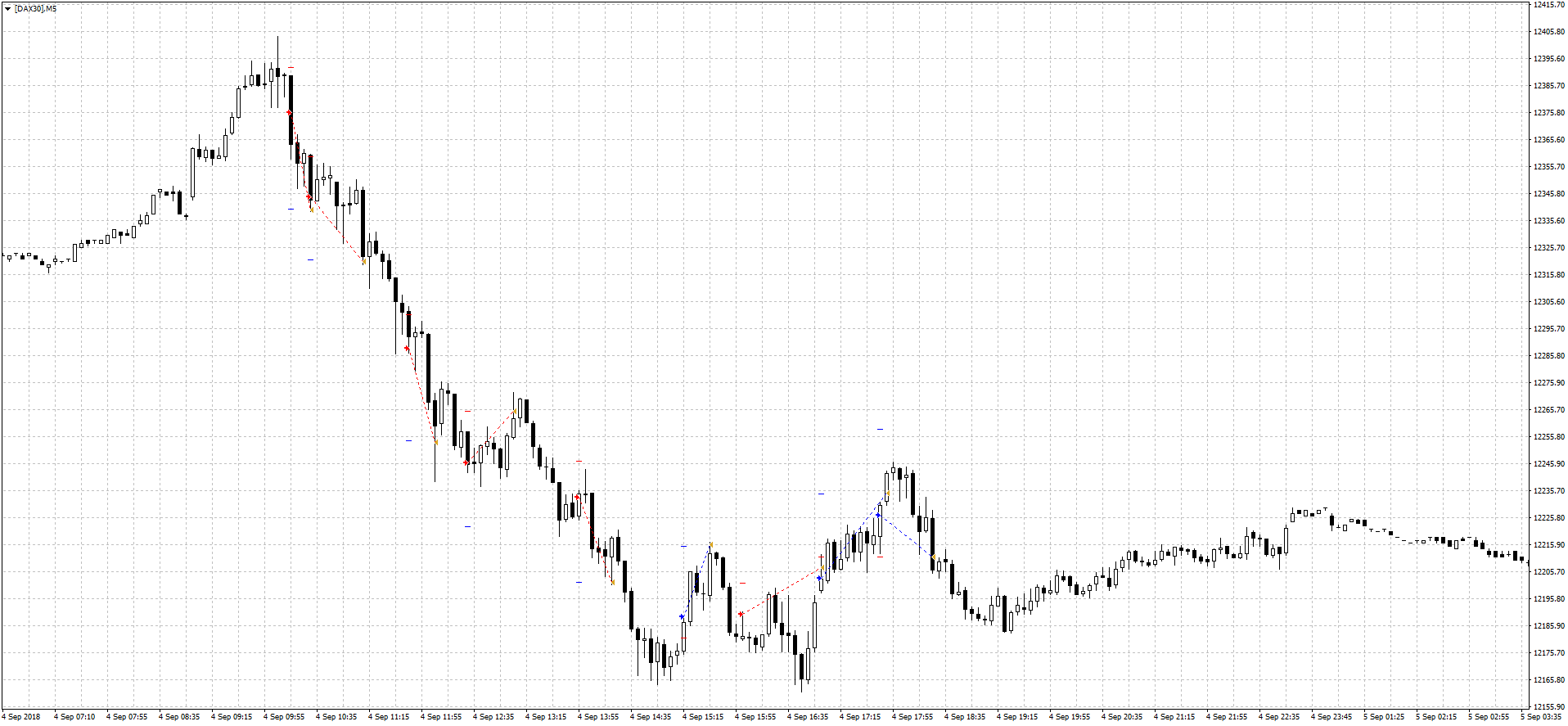 Lastly, here are some general statistics of my strategy: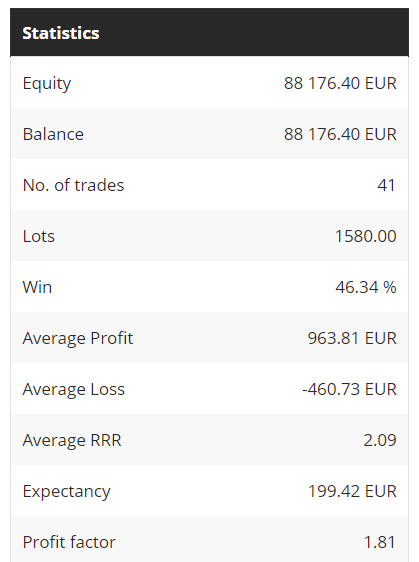 I hope you've enjoyed this article and I hope to see more Price Action traders amongst you.
Cheers!
Khac Tu Nguyen, Support at FTMO
https://ftmo.com/wp-content/uploads/2018/09/1-4.png
222
590
https://ftmo.com/wp-content/uploads/2019/02/logo_ftmo.png
2018-09-21 11:30:42
2019-08-02 11:08:48
Conquering the Challenge 80 000 EUR – DAX trading 1-minute-chart